Dwight and Bev Rutter have gone native.
Their 640-acre, or one square mile, farm on the Little Sioux River just west of Fostoria is now home to The Prairie Flower, a seed and plant nursery that provides native prairie and wetland plants and seeds.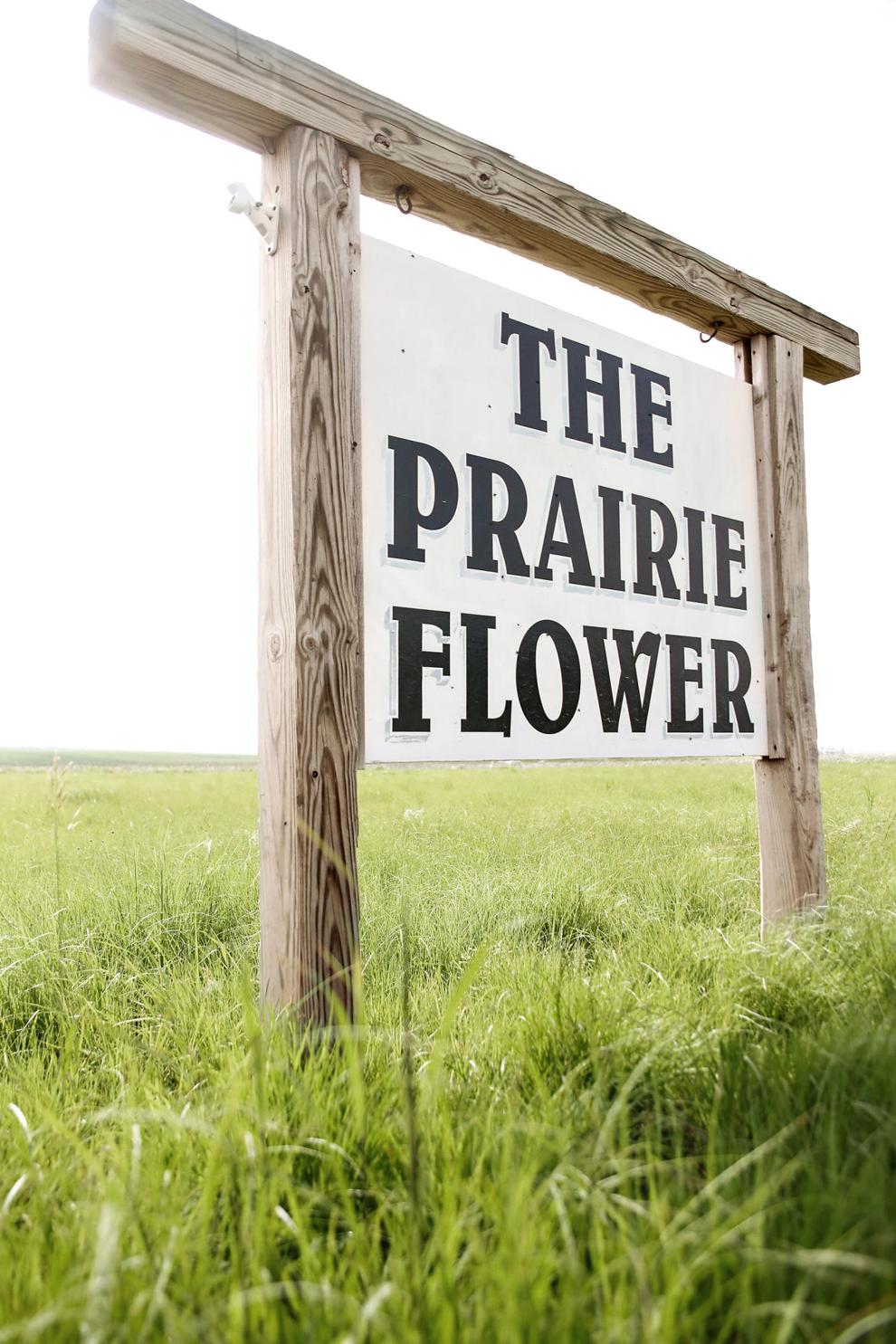 It's a business that has bloomed from a seed of interest that was planted long ago.
"Dwight has always been interested in native prairie grasses and plants," Bev Rutter explained.
"When I was a kid, there still used to be some native prairies around. I grew up 8 miles south of here and Bev grew up in Milford — our farm is now in the middle," Dwight said. "But those quickly went away and there was nothing like our place around."
"It's a hobby gone nuts," Bev said with a laugh.
They started in 2002 with just 40 acres and they experimented and learned each year as they expanded their seedings of native prairie and wetland plants every year. It can take about three years or more before you are able to harvest a crop, so this type of farming isn't for the impatient.
"We had to figure this out ourselves. It's just something that I really like to do and was interested in," Dwight said. "We are self-taught. The winters are long, so we did a lot of reading and research."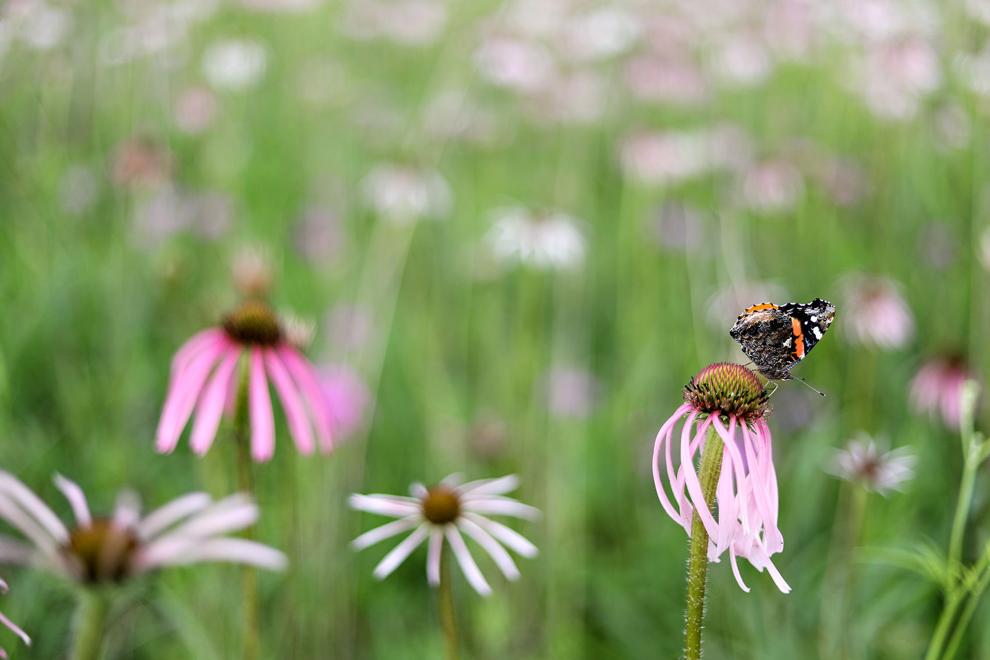 Before 2002, their farm was like many others in Iowa. They grazed cattle and raised corn, soybeans and six children on the farm. Earlier this year in May, they celebrated their 50th anniversary and 50 years on the farm. They have transitioned almost their entire 640 acres now to growing prairie and wetland plants native to Iowa.
They offer up 70 different varieties of native plants that they sell either as live plants, as seeds or in prairie seed mixes. They offer everything from butterfly milkweed to wild bergamot to rattlesnake master and foxglove beardtongue.
"A prairie naturally has about 400 varieties, but we do the best we can. The longer it stays prairie and we leave it alone, the more we will see," Dwight said. "Some of the seeds can lay dormant for many years waiting for the right conditions. We've had things start growing that we haven't planted like prairie turnips."
When the two originally started growing native prairie plants, their fields looked a lot different than they do now.
"Everything used to be separated into rows, but that was very time consuming and challenging with the weeding," Dwight said. "Now we just pretty much use a shotgun approach to planting where it is all mixed together."
They don't spray any chemicals and just help their fields of native plants grow the old-fashioned way.
"We also burn off sections here and there as a natural part of the prairie life cycle. Maintenance is huge when starting a prairie. We mowed three times the first year, a few times the second year and the third year we just let it grow," Dwight said.
Taking a ride through their property on the side-by-side is like taking a step back in time. Once you get away from the dirt roads and the buildings it is very easy to imagine yourself back a few hundred years ago walking across what the prairie might have looked like.
It's breathtaking.
There is one acre of land that Dwight particularly loves.
"We have one acre where we used to graze cattle that we just set aside and didn't do anything to it — just let it go," Dwight said. "I think it's the prettiest acre on the property."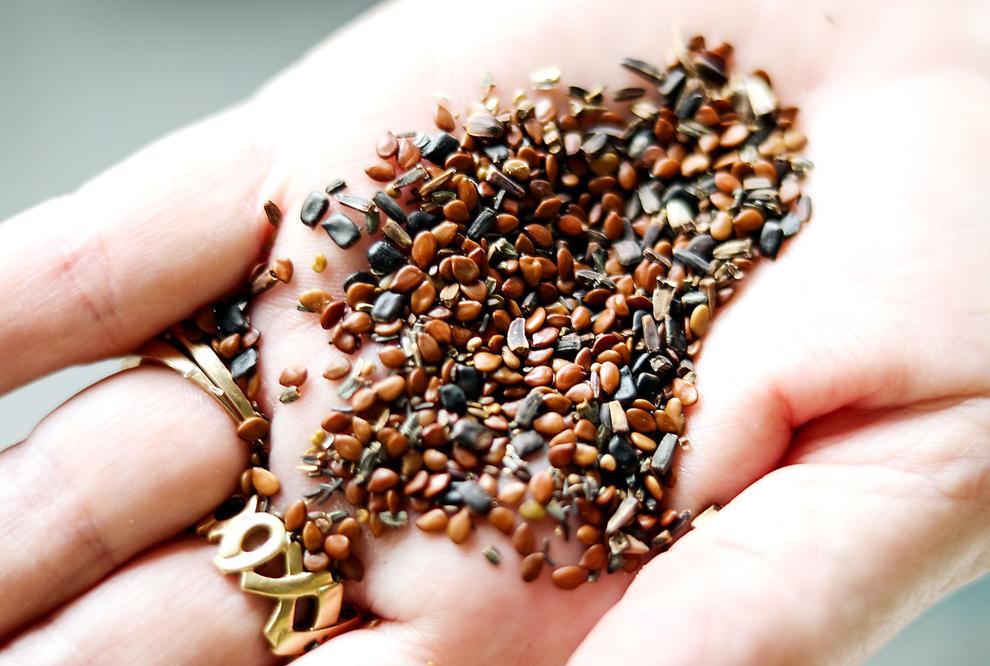 They harvest seeds with scissors and a basket. They also use their prairie as a source for potted plants.
"We harvest as much as we can and sell the seeds. We will harvest one thing for about five-six days and then we are onto the next thing in bloom," Bev said. "It's a fairly time-intensive process, but we can do it at our own pace and at our leisure."
After harvesting the seeds, they clean them and then put the cleanings back out in the field while the cleaned seeds are made ready for sale. You can buy specific plant seeds or mixtures by the pound. They will also sell the live plants.
They have a restored wetland on the property where they harvest native wetland plants.
They have sold their seeds and plants far and wide.
"We sell all over the U.S. We've sold as far away as Michigan, Colorado and Illinois," Bev said.
The Rutters works a lot with homeowners, groups, businesses and municipalities to help develop plans for adding native plants into their existing gardens, converting a piece of land back to native prairie or helping restore wetland areas and doing shoreline restoration. They also will do the seeding and planting for the projects if they are able.
Adding more native prairie and wetland plants is important to the environment, according to the Rutters.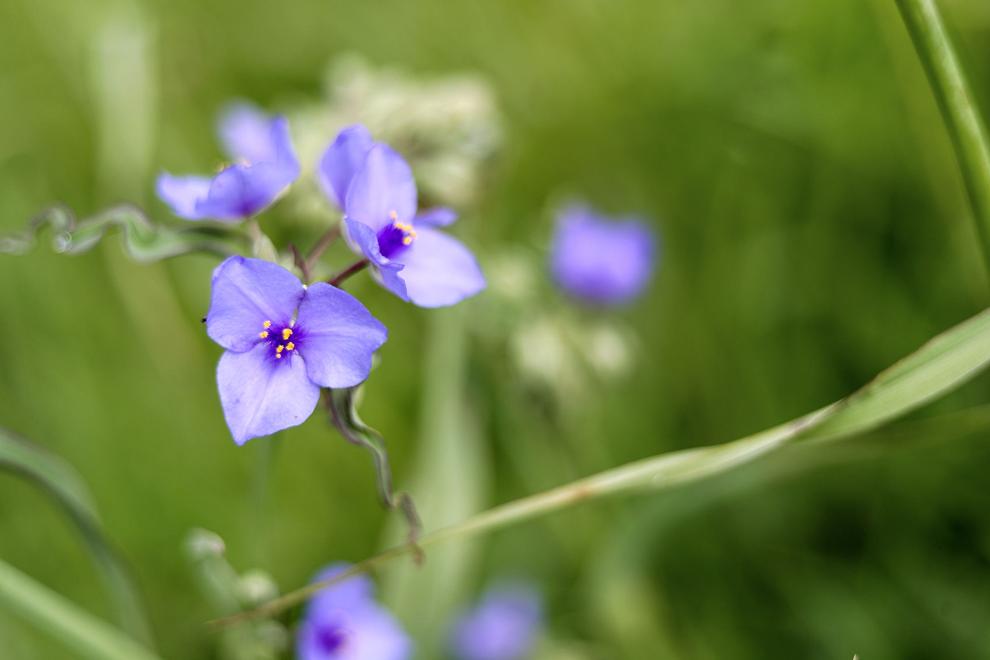 "Having more native plants helps with insects. We desperately need insects — not just pollinators in the ecosystem," Dwight said.
"These natives also help reinforce the soil. That helps fight erosion and also helps displace water more quickly so we can help avoid flooding situations," Bev said.
They used to do a lot of work with the pollinator program through the USDA's National Resources Conservation Service, but it hasn't been funded in Iowa since 2017, but there are other programs available.
One thing that they really enjoy is educating other people about native plants and flowers.
"We do a lot of education. We do about 60-70 tours a summer and we meet a lot of people — lots of college kids," Dwight said. "Four years ago, I counted and we had 700 people come through here."
"Most of the people we are meeting are really interested in what we are doing and are really wanting to learn," Bev said.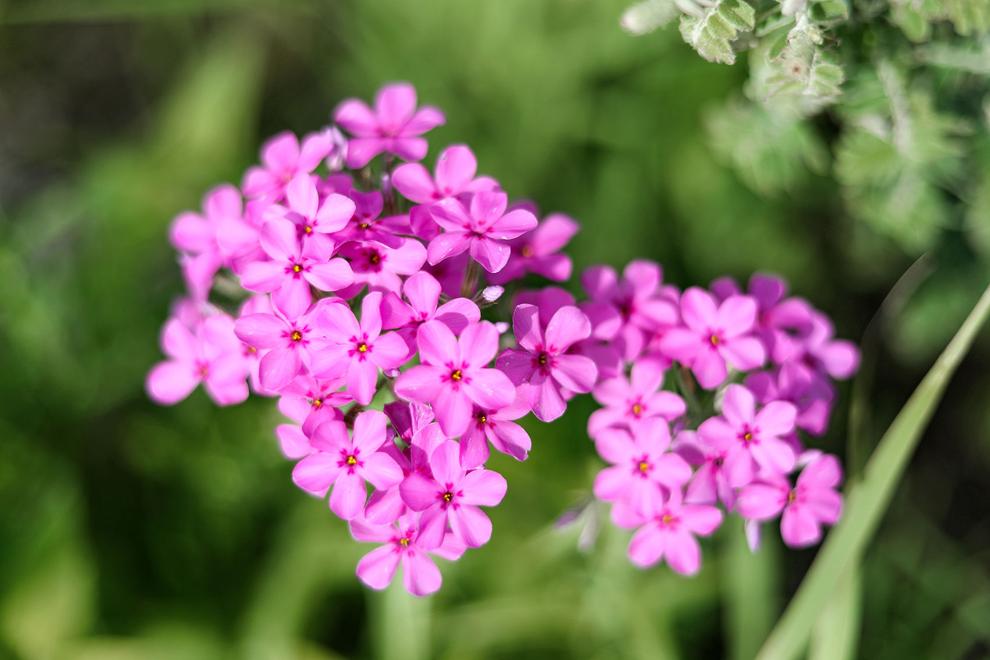 In the past, they have also hosted students, young people and those interested in learning more about what they are doing at The Prairie Flower. They come and work for room and board. Most of the people in the program come from the East or West Coast, according to Bev. They help harvest seeds and plants as they learn.
If you are interested in adding some native plants to your garden then the Rutters have some tips for you.
"Talk to someone who has been doing it. They will have lots of knowledge to help you," Dwight said. "Be careful and try to learn what you can before you jump on into it."
The Prairie Flower is their business but it's also their passion. The Rutters enjoy this more natural way of 'farming' their acres. It's hands-on and time-intensive, but they are able to call the shots.
"If I'm not napping, I'm pulling weeds," Dwight said. "I really like to be out there when it's really quiet in the morning and it's just me and the birds."
"We are able to do it at our leisure, for the most part," Bev said. "Everything has a season and we make the most of what we can, but everything is perennial so nothing's going to go to waste if we don't harvest every single seed. We like to let Mother Nature do its thing."
"Let it go and let it grow," Dwight said.