Rachel and Clinton Koster bring together two families
True love is hard to find.
Sometimes it takes some searching and you never know where you are going to find it.
Rachel and Clinton Koster found it a little later in life and, surprisingly, among friends.
Rachel grew up in Jackson, MN, and Clinton grew up in Lakefield, MN, but Clinton was about four years older than Rachel.
"He was actually friends with my sister and graduated from Jackson County Central with her in the early 2000s," Rachel said. "We grew up seeing each other, but he was so much older than me when we were younger I wasn't interested at all at the time."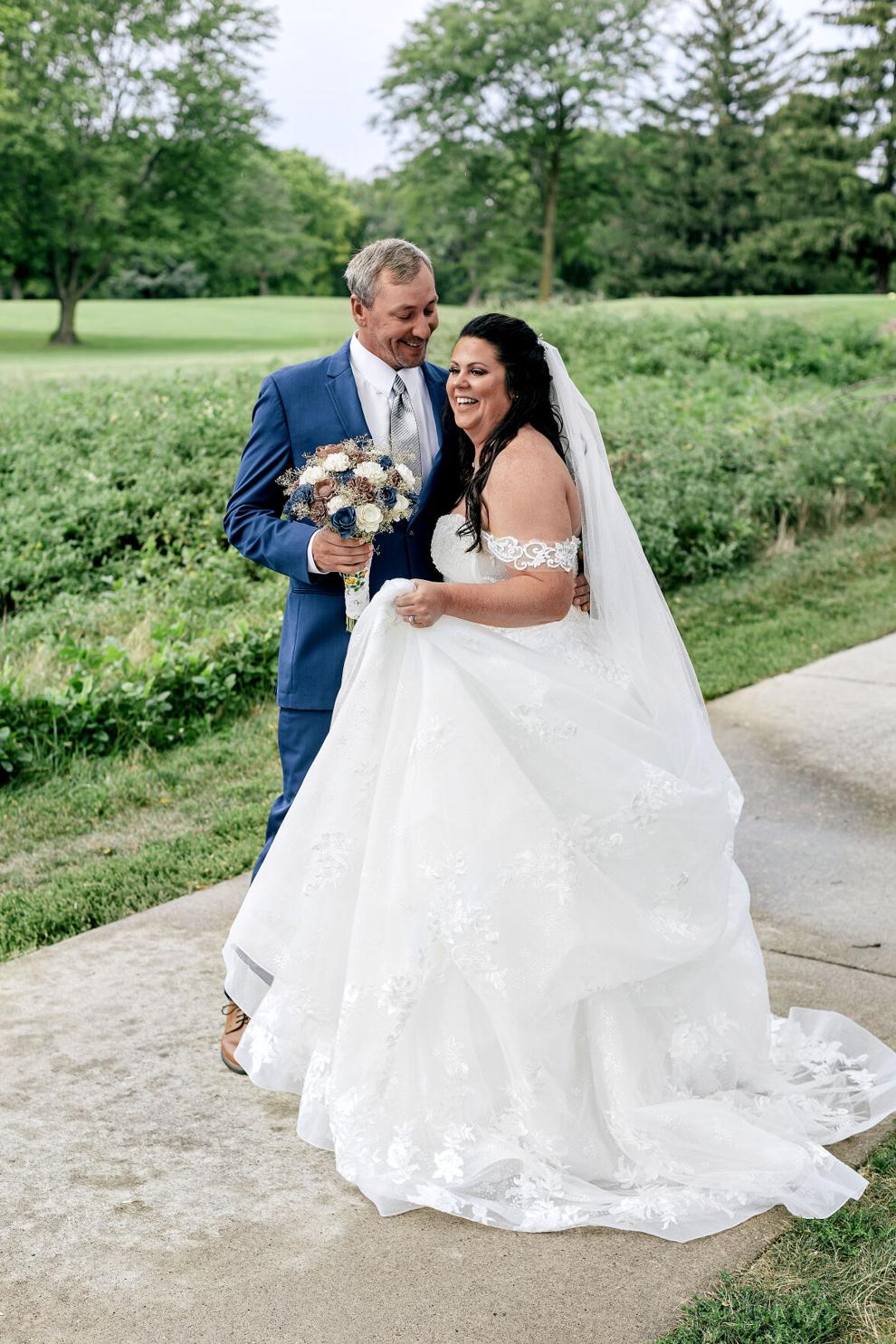 Time and circumstances brought them back together later in life when that four year age difference wasn't that big of a deal anymore.
"I started seeing him again because his son and my daughter were in hockey together so I would see him at practices and stuff," Rachel said. "He was with someone else at the time and so was I so we never pursued anything at that time."
Fate continued to bring them together until one night it stuck in 2019.
"Jackson has this holiday fest parade every year in December and we ran into each other there. I went home with a bunch of kids, made them spaghetti, drank some wine and ended up messaging him at 10 o'clock at night," Rachel said. "Growing up, I had always thought that we was good looking, but what was more important was that he was very kind and a good person and nobody ever had anything bad to say about him. I decided that this was it — the one and only time I've wanted something just for myself so I'm going to go after it."
They've been together ever since.
Clinton surprised her by proposing on Valentine's Day in 2021. She had a plan to spend the night at a hotel and go ring shopping while they were in Sioux Falls, but Clinton was one step ahead of her.
"We checked into our hotel and then I said we should go shopping. We got to the car and he said he needed to go back in to use the bathroom quick. It was taking him a very long time but he eventually came back to the car and we left to go to the mall. When we got back to our room he told me to open that bag of chocolates on the table." Rachel said. "It was a Spirit Lake Silver and Gold bag, and inside it was some chocolates and the ring. I was totally surprised."
The decision to have their wedding in Okoboji was an easy one, according to Rachel. Both had a lot of family who would be coming from out of town so they wanted the destination to be somewhere with enough accommodations for their guests. Plus, they wanted it to be beautiful.
They were married at Arrowwood Resort on Sept. 9, 2022.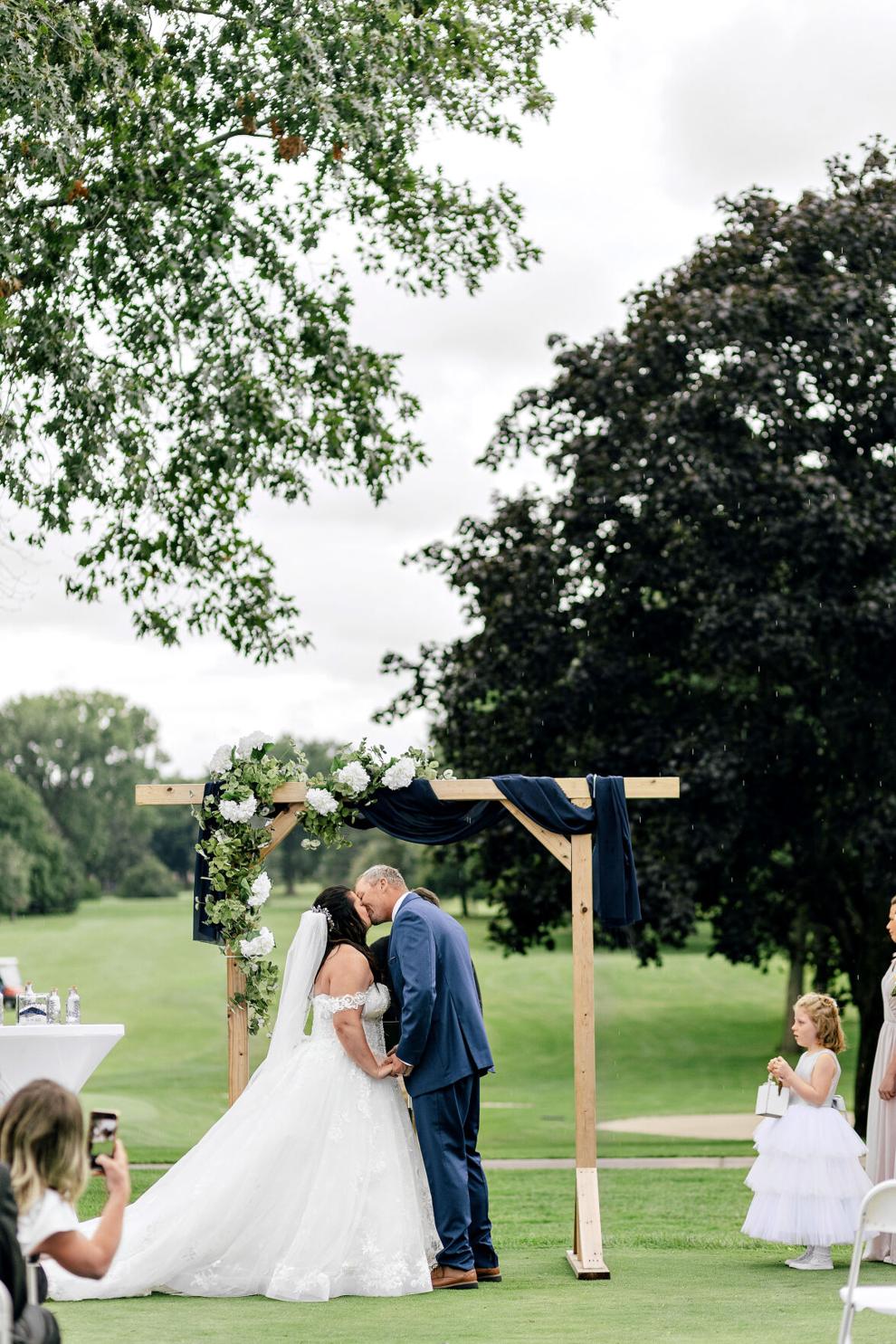 One important part of the day for the couple was to celebrate with their friends and family but also to remember those they had lost. Clinton's sister, who had passed away, was featured in pictures at the wedding.
"His dad had passed away so it was important to us to include a piece of him somehow. His dad gave his mom a wedding ring when they had gotten married, and even though they had gotten divorced and she remarried, she still had the ring he gave her, so we used that and tied it on my bouquet and we also have pictures of him," Rachel said.
The wedding was also a time when they cemented their two families into one. Rachel has one daughter, Mackena, and Clinton has two kids, Keagan and Makayla, and now they are just one family.
Coming together as one family is something they incorporated into their wedding ceremony.
Each child had their own color of sand that they poured into a vessel to create a new beautiful sand art.
"We did a unity sand ceremony that meant a lot to us. It was just all of us becoming one. Obviously, Clint and I becoming one, but then our kids having their own color and then we combined them. Now we are blended and no one color can be taken out," Rachel said.
The ceremony wrapped up right before the rain so the wedding party and guests ran inside for the reception.
The wedding was special and what made it even more so for Rachel and Clinton was being able to share it with those they love.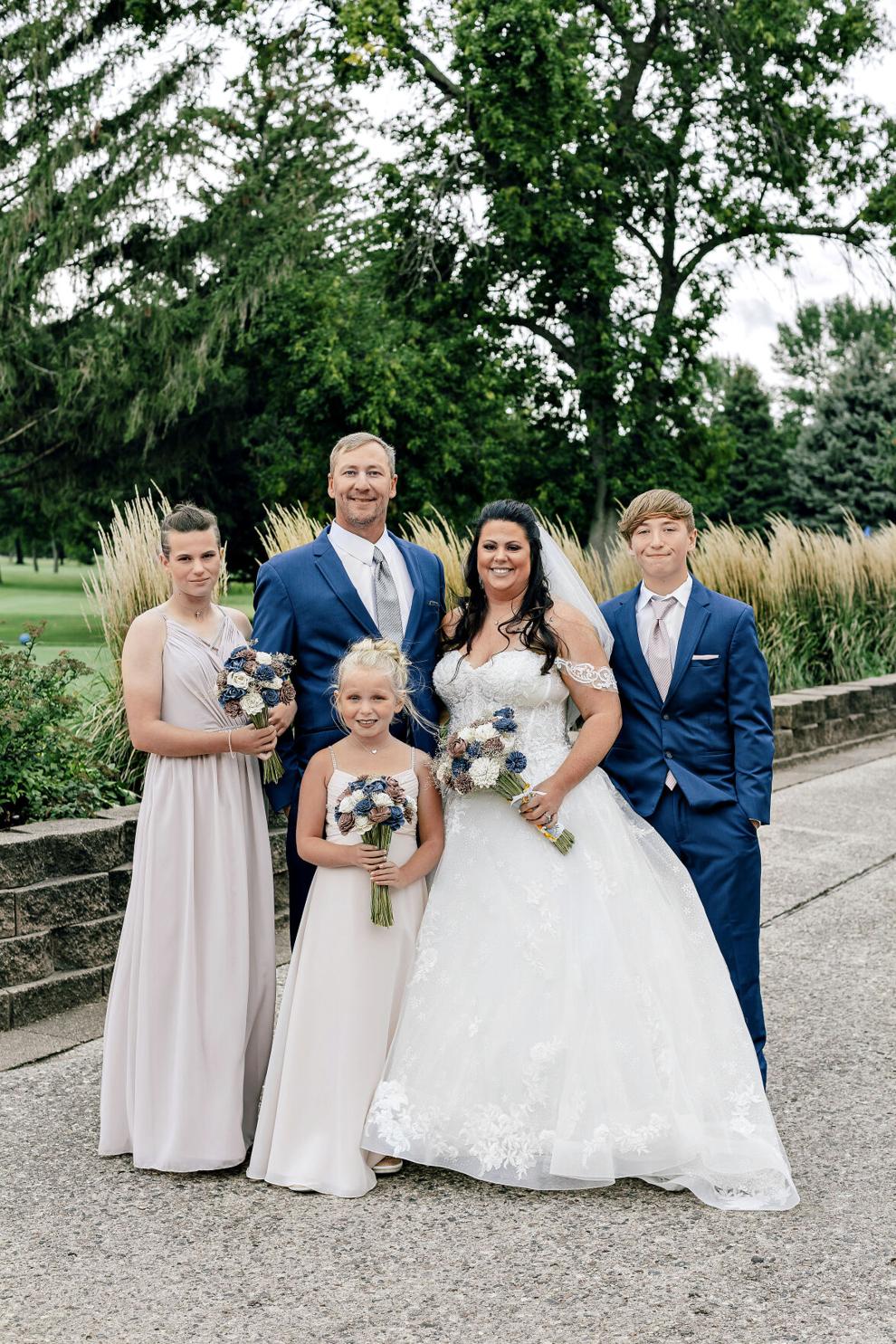 "Just having everyone that we love there — friends and family — having everybody together was so special," Rachel said.
Despite the fact that Rachel and Clinton have had their ups and downs when it comes to love, they couldn't be more happy that they've finally found the true love they'd been looking for the whole time.