Summer in the Iowa Great Lakes is many things to many people. It's hard to pick a favorite. We asked a few familiar folks to give it a try.
1. Herman Richter
"Start every day with an attitude of gratitude, then hang on. Smile and be grateful.
"Enjoy our beautiful Iowa Great Lakes, the campus of the University of Okoboji.
"Relax, be happy, and slow down, you're going too fast. Everyone has a reset button, find and use yours daily."
Those words of advice come from Herman Richter on how best to enjoy summertime in Okoboji.
"I've lived here all my life and I enjoy discovering new things every day," Herman said. "Whether it's a morning sunrise or an evening sunset, there are so many special things here all you have to do is slow down and look around."
When Herman gets the chance to heed his own advice, he enjoys reading up on the history of the area, as well as strolling through a particularly picturesque stretch of trail.
"There is a stretch through the Lower Gar State Recreation Area that Chuck Offenburger calls the prettiest mile of trail in the state of Iowa," Herman said.
And no summer would be complete without taking a ride on the Queen II, the only required course at the University of Okoboji.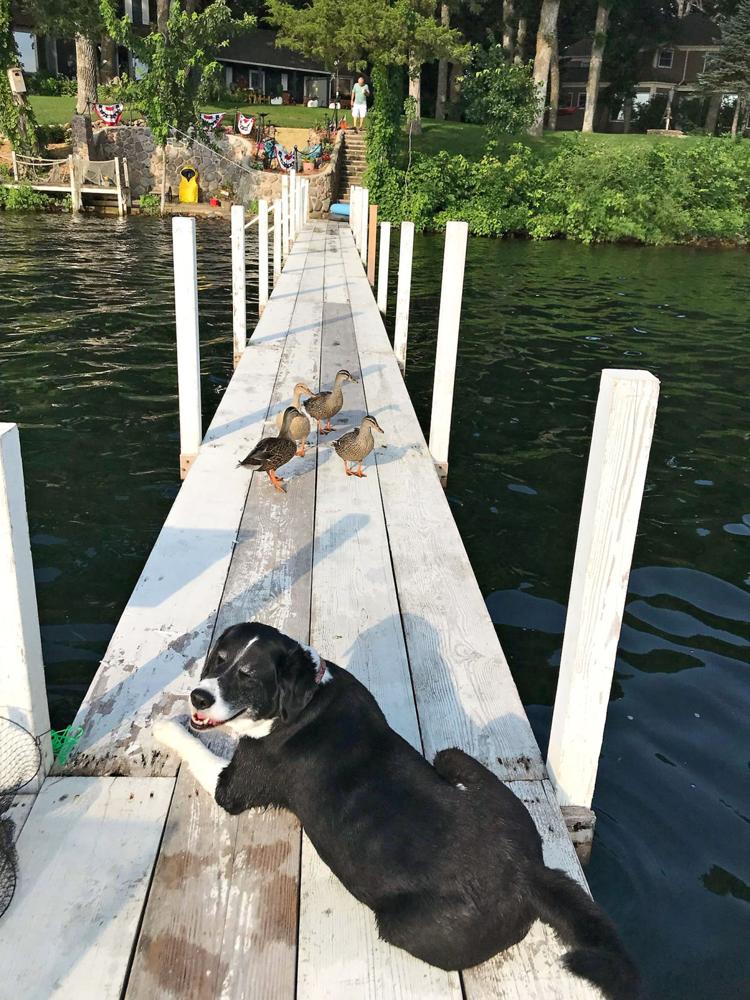 2. Debbie Parks
"The sunsets, for sure, I love the sunsets," Debbie said. "Another one that comes to mind right away and is pretty interesting is that Rudy and I raised some baby ducks at our house and they have been migrating back."
A first-grade project for Debbie's son a few years ago has grown into an annual spring and summer reunion with a handful of mallards.
"That first year when they came back I almost cried. It was the most beautiful thing," Debbie said. "We knew who they were at first because they walked right up to us, but then the telltale sign was this female duck because it has a really light color because of a recessive gene — it's called a blonde mallard. Rudy absolutely loves them. We call him the 'Duck Dad!'"
As far as the sunsets go, Debbie says she's seen them in many places, but there's something special about the ones in the Iowa Great Lakes.
"We've seen a lot of sunsets on vacations but when we come back home and see them, even in winter time, they're spectacular," Debbie said. "It makes you count your blessings daily."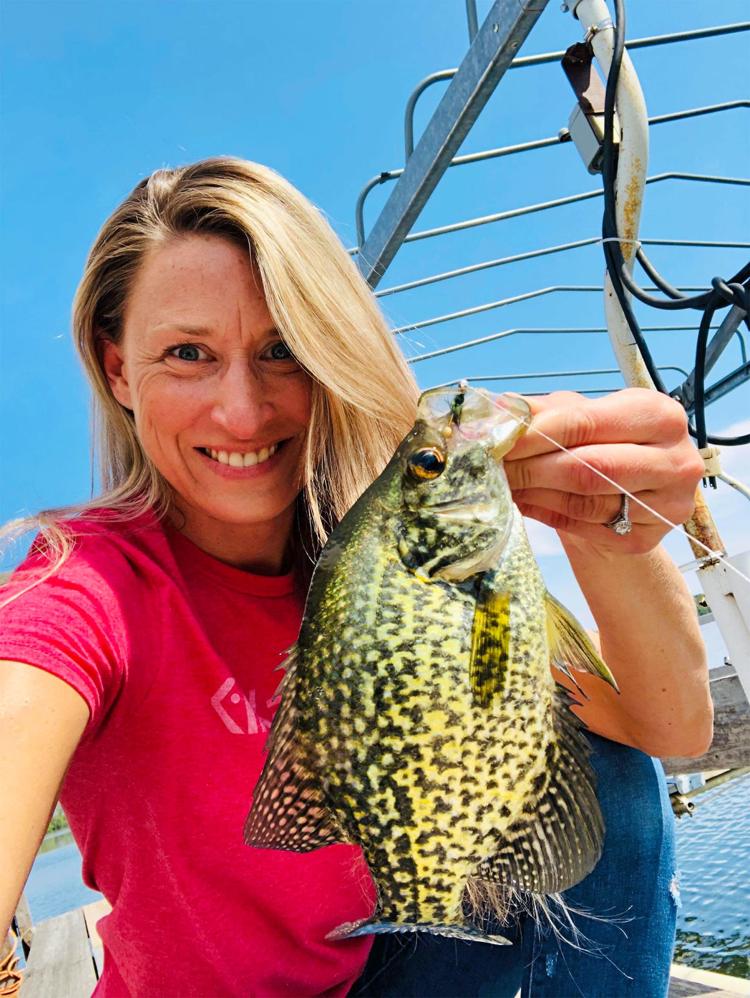 3. Tanya Johnson
"For all of us here at Kabele's our summer revolves around fishing," Tanya said. "We look forward to seeing people that we don't see all winter because they only fish in the summer. This spring so far we've also seen a lot of new faces fishing. That is exciting for us and for tourism here at the Lakes."
Since the bait shop keeps her busy seven days a week, Tanya keeps things fairly simple when she has time to sit back and enjoy the summer.
"I will go fish docks and dock hop if I get a little time to fish bluegills or sometimes Thane and I will go cast for walleyes from shore together," Tanya said. "We both like to take walks and I sometimes enjoy taking a walk to get a malt at the Spillway Drive-In!"
After a busy summer day at the shop Tanya says they tend to keep things pretty relaxed.
"We like our local restaurants and try to get out once a week, otherwise we like to chill and relax," Tanya said. "In the evenings we enjoy fishing, walking, taking care of our yard and garden and spending time with family."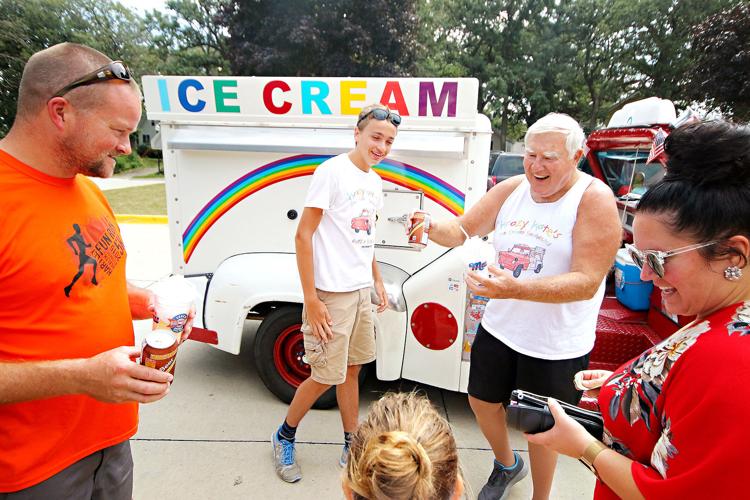 4. Bob Shaw
"To me, summer is the ice cream truck," Bob said. "That's kind of the highlight of my year. I think my wife and I have more fun than the kids do getting ice cream from us. It's such an enjoyable thing."
This summer marks the 36th year the Shaws have delivered frozen treats around the Iowa Great Lakes.
"It's neat watching families interact and have fun," Bob said. "And we get to have fun with all of them. We go out in the evenings and never know where we will end up and never know who we'll meet. We're constantly running into former students and friends from all over."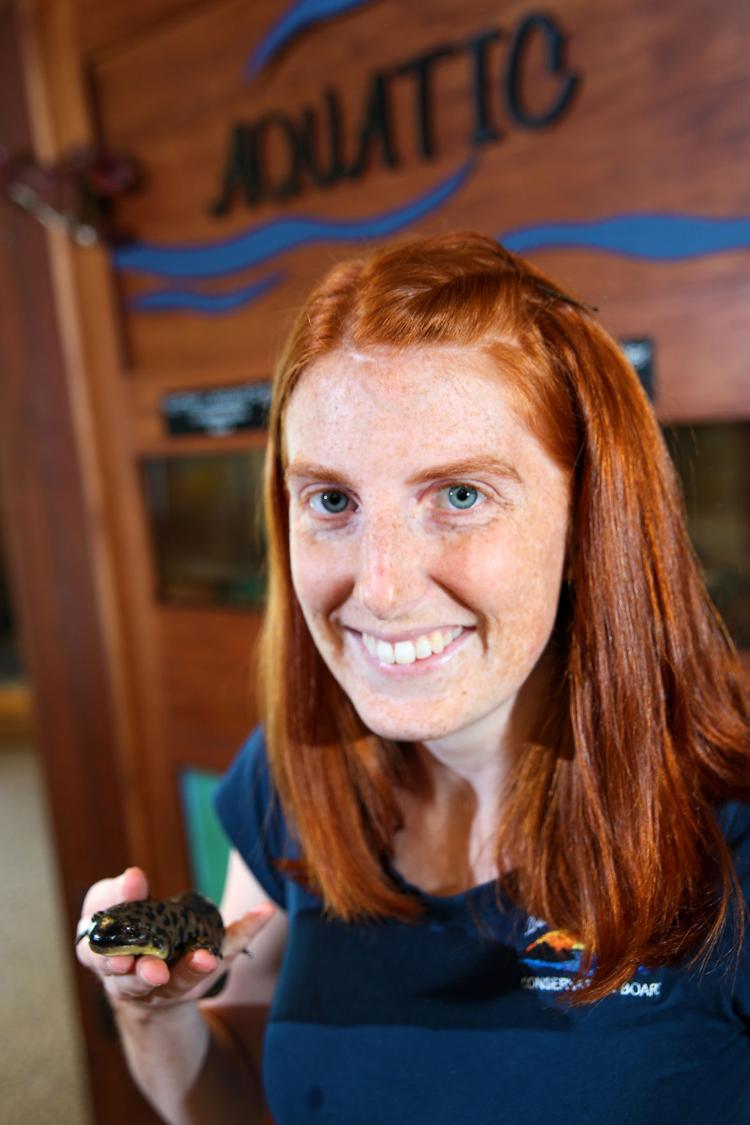 5. Bryanna Kuhlman
"I love to hike during the summer in the Iowa Great Lakes," Bryanna said.
Kettleson Hogsback, Freda Hafner Kettle Hole, Horseshoe Bend and Fort Defiance are just a few of the places she likes to visit.
"I like to hike all year round, but in the summer I really like it because you have that bluebird day with the nice blue skies and if you're hiking in the prairie you have all these different flowers blooming or if you're in the forest it's all covered in different shades of green," Bryanna said. "And when you're hiking you're moving more slowly and quietly so you see more wildlife. You never know what you're going to find!"
Bryanna also enjoys seeing everyone else enjoying the outdoors.
"I think summer in Okoboji really gets people out and about," Bryanna said. "I really enjoy seeing all the boats on the water, the bike trails being used. I love it when people are outside."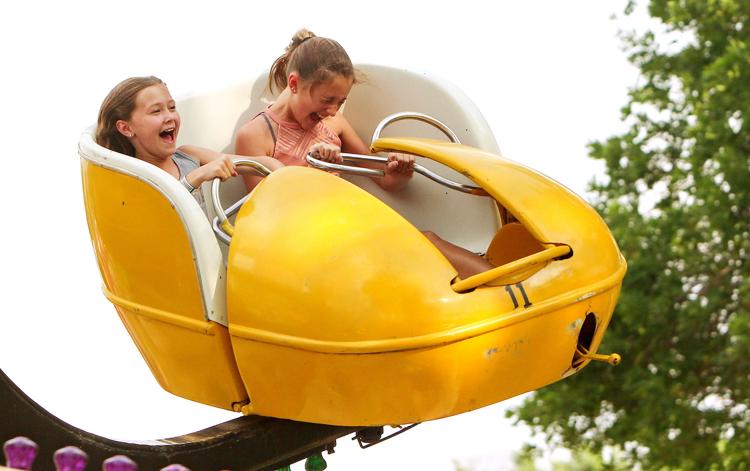 6. Jim Hussong
For the mayor of Arnolds Park it's all about the summer soundtrack of the Iowa Great Lakes and seeing families making new summer memories as they visit on vacation.
"I love it as the tourists and summer residents slowly come back in the spring and then the sounds of summer are all of a sudden here," Jim explained. "The sound of the roller coaster and the screams of joy and the happy faces all around. I love the sunsets and the whistle of the Queen II as it drives by our house at exactly 1:10, 3:10 and 5:10."
There is just something so quintessentially summer about watching the sun set over West Lake Okoboji.
It's no wonder so many enjoy doing exactly that every night they get the chance in the Iowa Great Lakes.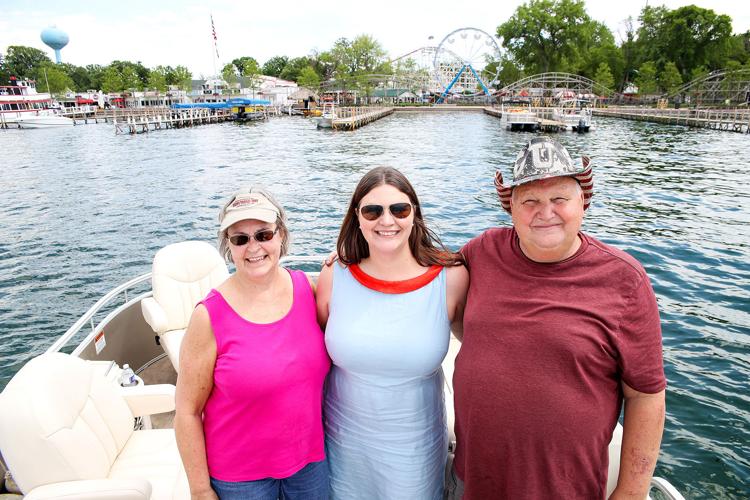 7. Rebecca Peters
Social and outgoing by nature, Rebecca loves just about any summer activity that allows her to chat with family and friends.
"I truly love spending time with friends and family," Rebecca said. "I love boating with friends and family. I love going out for dinner with friends and family. We have such great dining options around here. My girlfriends and I always take one afternoon a summer where we all take a day off with no distractions, just us, and it's so much fun."
She also loves the Ferris wheel, which she makes a point to ride at least once each summer, and watching fireworks over the lake.
"I love watching fireworks so much," Rebecca said. "My birthday is in the summer and I love when it's on a Saturday because then I get fireworks on my birthday and that's the best thing ever."