It started with simple upkeep.
Becky Batcheller was cleaning up the bank around her home at Eagle Point on West Lake Okoboji and decided to trim back some shrubs.
That's when she noticed there was nothing but dirt between them.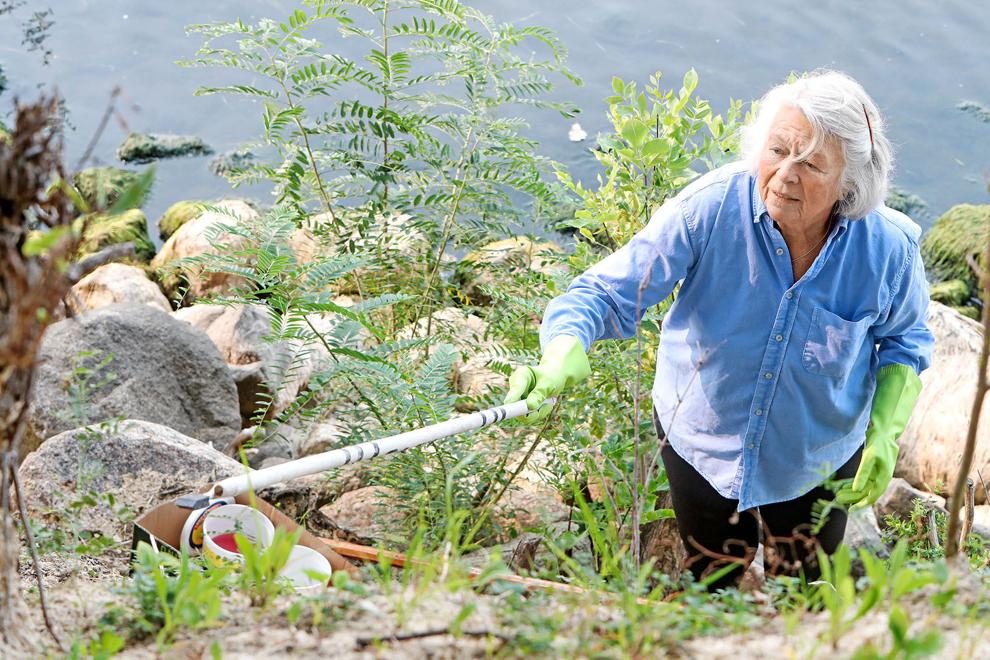 She knew immediately she needed to do something different and soon a full scale shoreline restoration project was in the works.
Among her first calls was the National Resources Conservation Service and state representative John Wills.
"I knew I needed to know more about how to go about this process. He's always known that I'm into these sorts of things and was more than happy to come over and help," Becky said.
In her time as the president of the Lakewood Parks Homeowners Association she had learned about rain gardens from Bev Rutter of The Prairie Flower and had arranged for guest speakers on similar subjects as well as helping initiate native planting projects to guard against erosion in the area.
Becky and her husband Tom bought the Eagle Point home in 1996 and Becky has been in the Lakes area for more than 50 years after visiting as a student from the University of Nebraska.
"I came up here and worked one summer and never left!" Becky said.
Now they split their time between Sioux Falls and their home on the point and over the years have seen changes to the area's shorelines up close.
"I'm a kayaker and we used to have bulrushes that filtered contaminants to the lake and now they're gone. It was probably 15 years ago that we did the rain garden here at the house and it's still there. Now Lakewood Park is doing one over by Spencer Beach and at Crescent Beach they're doing one. It's taken a while for folks to realize how important it is, but they're getting it and it's exciting to see."
Her shoreline project would soon prove to be of a much larger scale.
"I found out the first thing I needed to do was eliminate any other invasive species of plants to allow the native ones to grow," Becky said.
After raking and clearing the banks of debris and undergrowth that would have otherwise decreased its effectiveness, two rounds of herbicide treatment cleared the way for native seed application.
Next up was selecting what to plant and where.
She ended up with 11 types of drought and deer resistant native flowers and four kinds of native prairie grasses mixed together and applied in a hydroseed mixture by Northwest Iowa Sprinkler last summer.
Among the flowers were Lavender Hyssop and White False Indigo and a trio of coneflowers ideally giving the shoreline a variety of colors blooming from May through October.
But what matters most for the prevention of soil erosion is not the delightful flowers up top, but the long and extensive root system the plants put forth underground.
"The root system is the only thing that's really going to control erosion of the bank. Lawn grass roots are only about 2-4 inches whereas with plants like Sideoats it's 2-4 feet," Becky said. "Plants like Stiff Goldenrod can have roots as deep as 17 feet and with a steep bank like this they need as much depth as they can get."
The roots are also fibrous and spread out to form a sort of mat underneath the soil that spreads, creating and sending up new plants over time, which is exactly what Becky hopes will happen.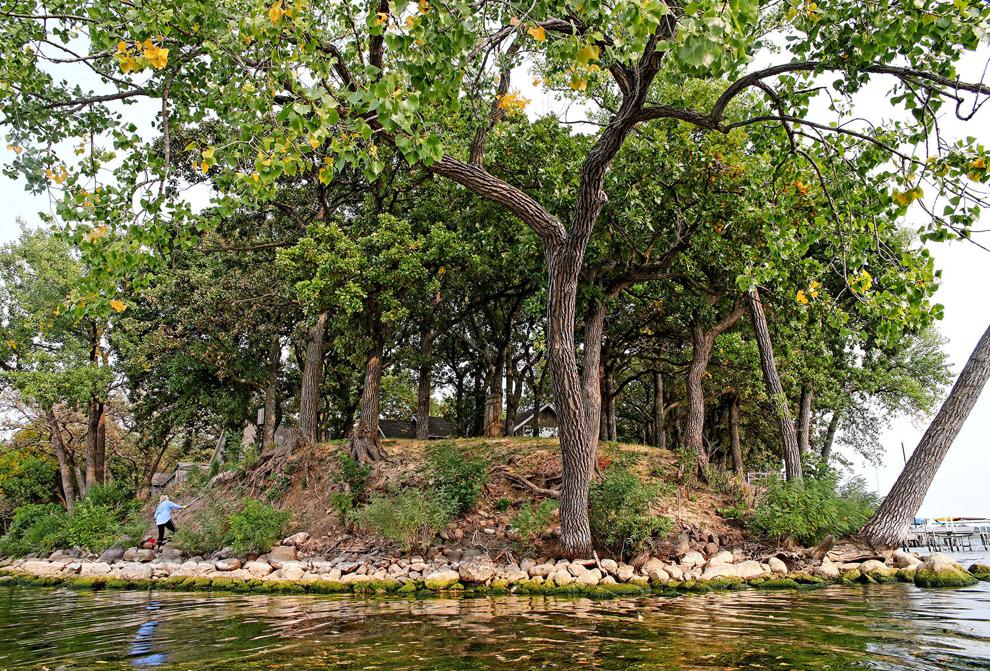 First she needed to get her seeds established.
And the next thing Becky found out was that she would need to water. A lot.
Up to four times a day for at least six weeks. Lack of rainfall and the beginning of drought conditions last summer didn't do any favors.
"It was another learning process," Becky said. "At first I brought in all these sprinklers thinking I'd set up a system but being on the point with wind coming from different directions I realized there was no way that would work."
So she set about watering the hydroseed mats herself starting out four times a day and gradually winnowing that down to twice a day for almost three months.
Each watering session would take about 90 minutes to saturate the bank from end to end.
Her grandkids dubbed the shoreline "Beanie's Bank" after their nickname for their grandma.
"That was really cute actually. My whole life was watering," Becky said. "And you know had we not had the circumstances with COVID I probably wouldn't have wanted to be connected to the property here as much as I was. So I guess if there was a positive in all that it was that I had the time to water!"
Another positive part of her extensive time along the shoreline was a new wild friend she made in the form of a gray cheeked thrush that started to follow her around for a few months even at times sitting on her hand.
"I think I was really just chasing up insects for him to eat, but overall he must've known I was OK. That I was just part of the landscape," Becky said.
As new growth started to sprout she asked Bev Rutter for help with identification and suggestions with how to continue ridding the area of invasives as well as what other native varieties to plant in the future.
Another element to deal with on the point is the fact that one side is much shadier than the other, so some different species will be required in order to get both portions to thrive.
A year later the Lanceleaf Coreopsis is the most evident of the new native plants with their yellow flowers brightening up the top part of the bank.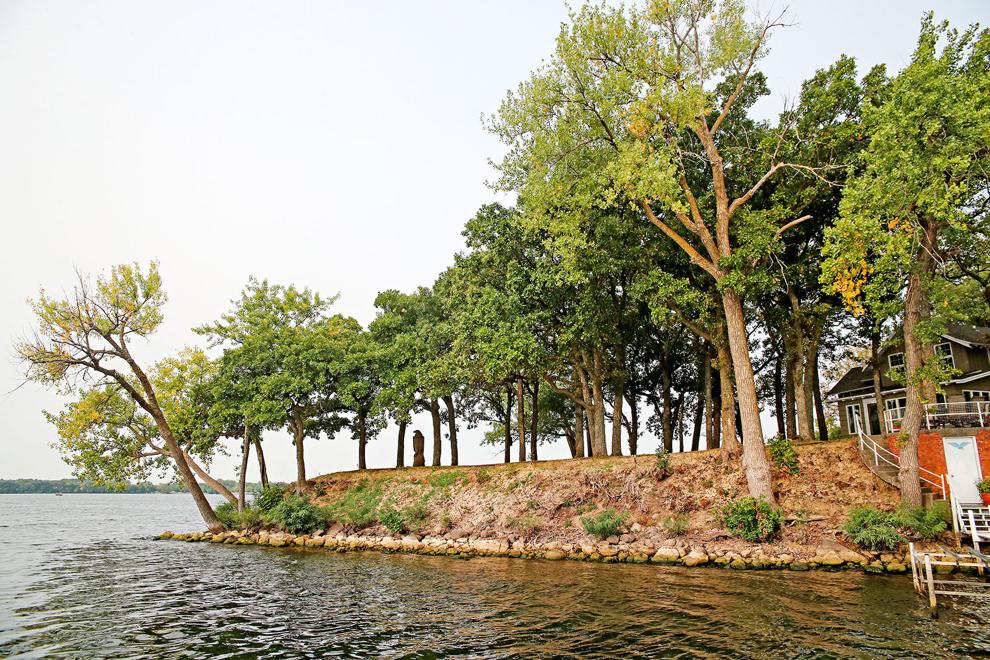 Mixed in with and just below the Coreopsis unfortunately is Crown Vetch, an invasive that can suppress the growth of native plants. Its spread has been greatly reduced over the course of the process so far, but its full removal is at the top of Becky's to-do list going forward.
"You know, I'm very happy with the upper area of the bank and slightly discouraged with the steep slopes where it doesn't look like much has grown," Becky said. "I don't know if I have the right solution yet but we're going to try. We may have to plant plugs, but I think we'll sit back this year, put some more seed in — we can sow flower seeds in the fall and then I will do grasses in the early spring — and see what happens. We hike at the Kettle Hole all the time and those hills are absolutely covered, so I'm optimistic that it will eventually happen though not as quickly as I'd like. I do see some of the grasses starting to peek through the surface and hopefully they will be strong and sturdy and take over. You can only be optimistic."
As her encounter with the gray cheeked thrush proves, the project is also about a lot more than just grasses and flowers.
"The primary mission is erosion protection and water quality. That's our drinking water, our forever water, so it's important to protect that by having a natural water filtration system in place with native plants," Becky said. "And it's also about promoting shoreline habitat. The monarchs love most of these plants so it really helps the butterflies. So when you control erosion you also aid wildlife. It's a circle and every animal is there for a reason. It's all interrelated and sometimes we forget that."
With such an extensive restoration project it pays to play the long game.
At Eagle Point that game is just beginning.