Like a fish out of water, the old wooden boat looked odd as it rolled down Highway 71 on a trailer past the blue water of West Lake Okoboji.
It was just five months ago that it was still resting on the lake bed, partially submerged in the silt at the bottom of Hayward's Bay.
Local fisherman Chad Thompson had discovered the vessel while out in his boat a few years previous and further zeroed in on its location with an underwater camera while ice fishing last winter.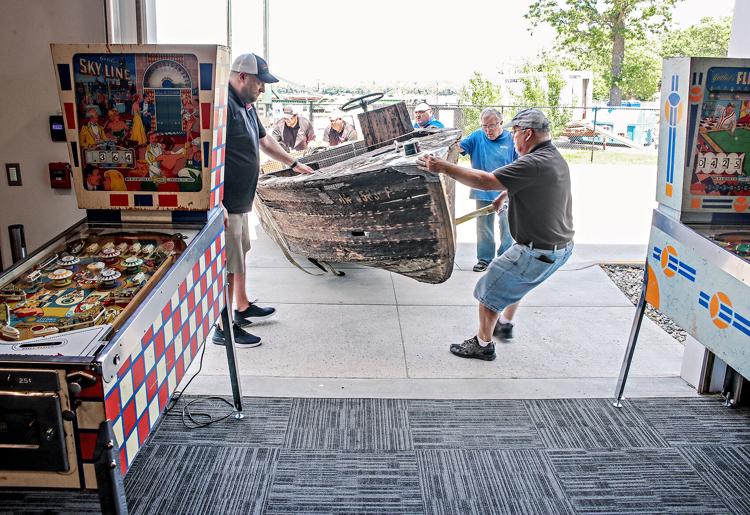 With the help of Okoboji Underwater Recovery Specialists, the boat was raised and Thompson spent the spring and early summer drying it out, cleaning various components and doing some research into its origins.
And so in early June it was heading to its new home at the Iowa Great Lakes Maritime Museum in Arnolds Park.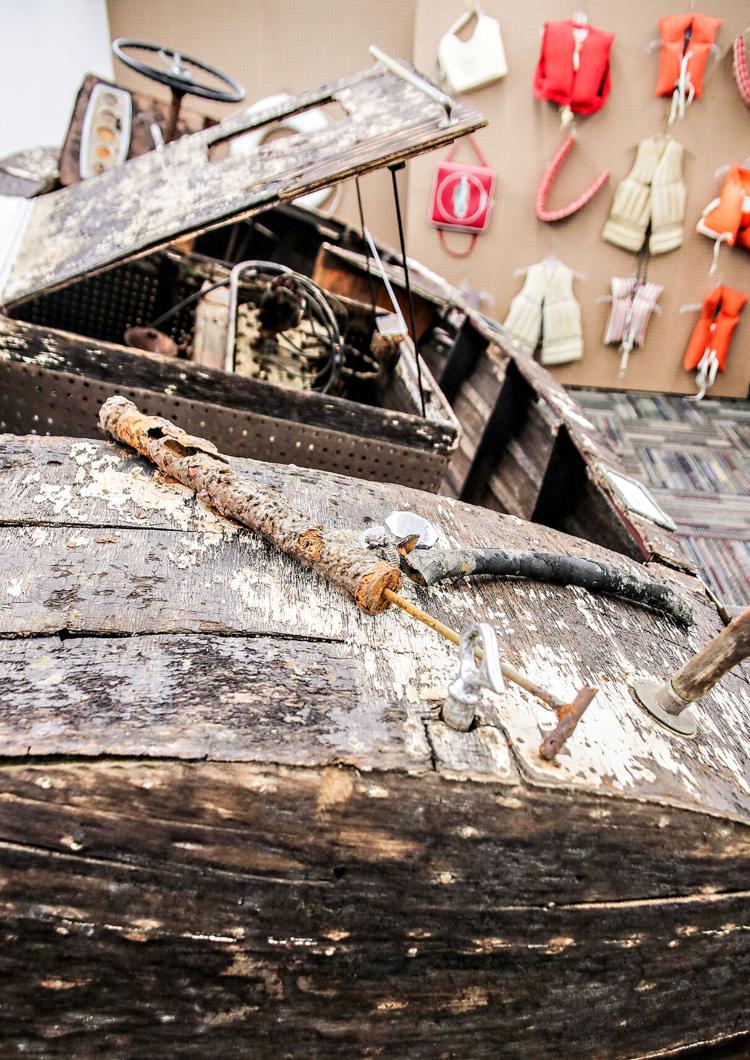 "My part was easy," Thompson said. "I just had to put it on the trailer in my garage and pull it down here."
He also enlisted the help of local divers and boat historians Jim Koenig and Lloyd Cunningham to retrieve the nosepiece. During the dive they also came up with one of the boat's side rails.
"We didn't even know that was down there, which means there's actually three more pieces down there sitting in the muck," Thompson said. "The one they brought up looks new. Everything that was covered in silt and mud looks almost new or in really good shape. It's definitely part of the boat."
Meanwhile Mary Kennedy, the museum's curator, had been hard at work preparing a place to display the boat.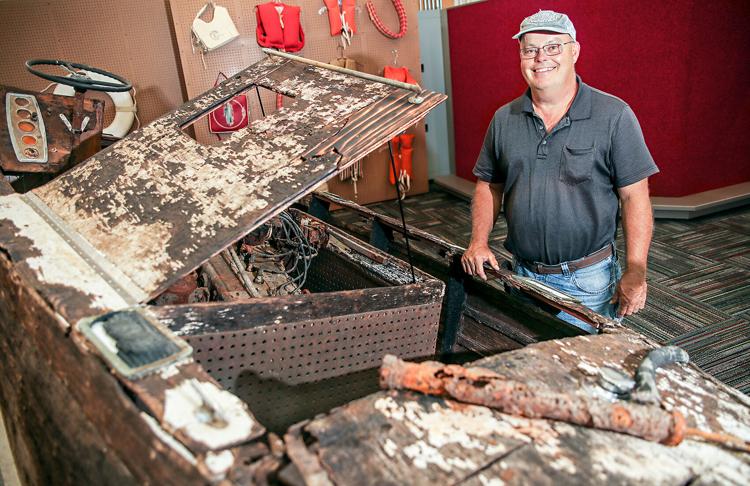 "We looked all around and decided on a room that would be the best place for it," Kennedy said. "However, it was a storage room and it was full. So we spent a lot of days cleaning it out, finding places to put everything — that was a challenge — putting down carpet and finishing some other things."
The biggest trick would prove to be getting it through the storage room door.
Metal trim had to be removed and a wider space cut out from the wood and drywall.
On the day of the move, the heavy equipment was brought in to aid the move.
A forklift and skid loader were utilized to pick the boat off the trail and set it down on a cart, which was then wheeled through the museum.
Another inch or two had to be trimmed from the doorway before the boat was settled into its new home.
Old life jackets now adorn one wall and a television screen documents the retrieval of the vessel from Hayward's Bay.
"I still have people tell me they went down and saw the boat," Thompson said. "It's pretty neat to see it coming along."
As more people visit the museum's latest exhibit, both hope more clues pop up about how it came to rest on the bottom of the lake.
"A lot of people have heard or know about it. We get people coming in specifically to see it and that's pretty cool," Kennedy said. "We're hoping that someone can come up with some sort of idea of what happened to it. We've had some theories, but that's about it."
They believe they do know a few things for sure.
Thompson consulted with Steve Dyrhkopp of Blue Water Restoration and with a little online research and deductive reasoning he is relatively certain that the recovered boat is a 1942 Century Seamaid Model 172 with a 103-horse, 209 cubic inch, 1937 Phantom motor from Gray Marine Motor Company.
"We know the thing is 17 feet long," Thompson said. "And online you can pull up Century boats and see they made four models in 1942 that were 17 feet long."
Through a process of elimination — a couple models either didn't have the right number of instrument gauges, the back of the boat was shaped differently, or they only made a handful of actual boats of a particular style — they settled on the Seamaid 172.
"They made 55 or 57 of them that year," Thompson said.
The Sears model 9638 6-volt battery found in the boat was dated 1969, but that's about as far as the facts go.
So far there are only theories as to the boat's sinking.
One involves it capsizing in a storm.
Another centers around a particularly tall doctor.
"There apparently was a doctor who had back problems and the boat perhaps belonged to him. Since he was so tall they modified the steering wheel so he could stand and steer the boat," Kennedy said. "We contacted someone who could possibly have been his son but it turned out he didn't remember his dad having that boat. So, we haven't been able to prove that one yet. We thought we were hot on the trail, but it could maybe be a different doctor."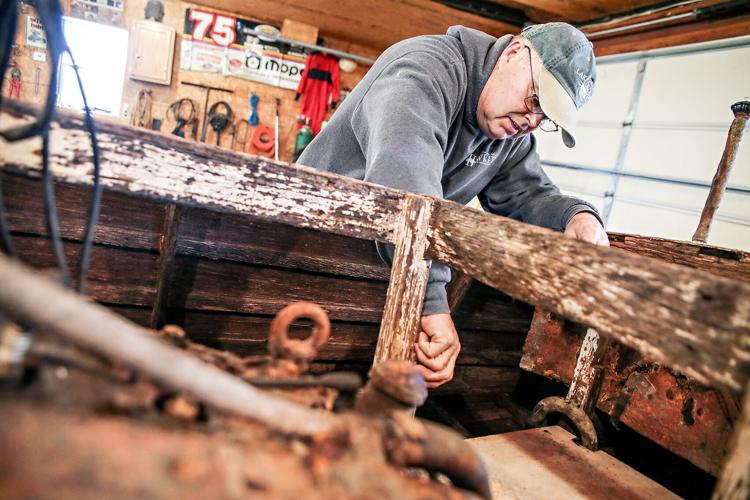 Without a name to go with, checking boat registration records has also been difficult.
They do know it was registered in Iowa, but theoretically it could have been registered in any of the 99 counties across the state.
"Then the problem without a name is you'd have to look through all these stacks of papers and look at every single boat number," Thompson said.
That being said, he has done some checking with Dickinson, Clay and Emmet County so far to no avail.
"If you think about it, 1970 doesn't seem that long ago but it is. That's 50 years and everyone who was at an age where they would have messed with that boat would be 70, 80, or even 90 years old now," Thompson said.
The possibility that the boat sank in a storm certainly sounds feasible.
Except for one tantalizing detail.
A hand pump found sitting on the back of the boat.
"It's like someone was maybe trying to pump out water as it was going down," Kennedy said.
"That's how it was found laying on the bottom of the lake," Thompson added. "So, if you're talking about the boat capsizing for that pump to land right in that spot doesn't seem like it would work, but you know, weird things can happen."
The exhibit is still a work in progress, but is currently open to the public.
Kennedy adds things to the display whenever a new idea strikes.
"It's an ongoing project," Kennedy said. "We just want it all to fit together. Someone told me that a museum of this type — a maritime museum — would be overjoyed to have a sunken boat and now we have two! It's really something special."
Kennedy also believes the boat will be the centerpiece of a specific kind of tour.
"I had a school group once that wanted to do a mystery tour and see things we didn't know everything about and that were kind of fun. Now I definitely have something else to show them!"