There's a pretty famous line from a well-known movie set in Iowa.
Something about building something so someone will show up.
On the opposite side of the state from that celebrated baseball field, a popular couple blocks of the Iowa Great Lakes has seen some businesses building toward something as well.
And plenty of people figure to show up as the offerings and amenities of the Broadway Street entertainment district in Arnolds Park continue to upgrade and expand.
While not technically on Broadway, the Central Emporium has anchored the corridor for decades from just a few steps away.
Parks Marina, Inc. took ownership of the iconic structure in 2016 immediately setting about making improvements.
"One thing that makes Okoboji special is all the things to do when you're here. It's why people buy homes here. It's all part of it. You can go to lakes that are undeveloped but so many people come here because of all the destinations we have for daytime activities and night life," Debbie Parks said.
"When you say the Emporium everyone knows where you're talking about. It's an icon of the Lakes area and if you went boating by Arnolds Park and it wasn't there you sure would miss it."
Keeping it in place was priority number one.
After passing on an opportunity to purchase the building nearly a decade earlier, Butch Parks decided to go for it this last time around.
"It kind of made me feel similar to when the amusement park got sold and developers were interested in building condos," Butch said. "Condos are nice but when you come to Arnolds Park and Okoboji you also need things to do and this is one of the greatest places in Lakes history. That's what inspired us to do it this time."
During the first winter under their ownership the remodeling began.
The Gardens got rid of the old carpet and added brand new flooring and an overall interior update.
Famous Frosties made popular at the Barefoot Bar were added to the drink menu and the bar itself was rearranged to improve traffic flow.
Perhaps the most noticeable changes were made outside. Palm trees were another Barefoot Bar import and a second lower deck was added for a major outdoor seating expansion.
A floating dock system also expanded and improved boat parking capacity.
Of course with a building as old as the Emporium, many improvements aren't immediately noticeable to the average weekend visitor.
"We put on a brand new roof, it's not really exciting to talk about. It's not glamorous but it's important," Debbie said. "There are just things that need to happen. The building needs a fresh coat of paint, drainage issues that you fix, with something this size and age constant upkeep it just part of the deal. I don't know if the Emporium will be here in another 100 years, but it's here now and it's pretty precious."
Butch credits a previous owner for the fact the building is even still standing.
"Dick Brown saved this whole building," Butch said. "He dug back another 90 feet and put steel pillars underneath. He's really the one to thank for saving the structure after so many years."
Indeed, the building was once a major ballroom hosting the likes of Lawrence Welk, Tommy Dorsey and Louis Armstrong and trains dropped off visitors at a railroad station where the parking lot currently rests.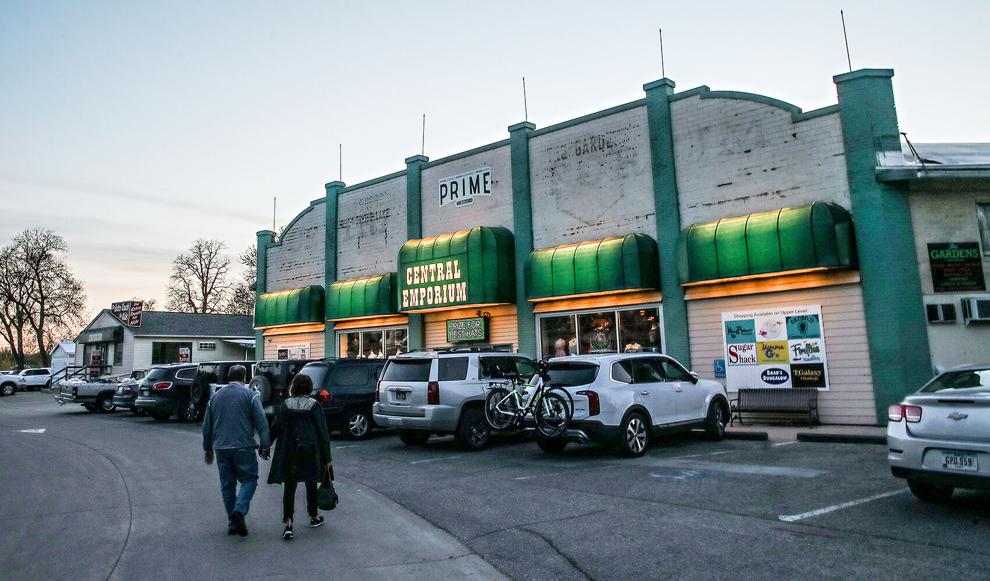 "My parents told me they danced here when they were dating. That's a pretty neat thing to know," Butch said.
Later on the dance floor served as boat storage, before eventually being remodeled into the first iteration of its current state with several shops on both levels.
Nowadays many of those shops are traditional stops for every visitor to the Iowa Great Lakes.
Stopping for a sweet treat at the Sugar Shack is on almost everyone's summer to-do list.
The storefronts are always occupied and Debbie notes that there's not been much turnover of tenants with only an occasional new venture making an appearance.
"We've got Acai Bowls coming in here soon, a lot of people are excited about that," Debbie said. "The one store we took over when we started was Palm at the Park. We remodeled that property and put the windows in the front of the building, which really changed how that looked."
A year after the Parks began making improvements at the Emporium, a pair of major changes happened in the same summer just up the street.
Captain's Getaway underwent significant renovation evolving into what is now known as Captain's Entertainment Complex which includes Captain's
Getaway Bar & Grill, Shorty's Live Music Bar and The Next Level Rooftop Lounge.
At the same time a pair of former college roommates were busy opening Nautical Bar & Grill in the former Ruebin's location next door.
The building received a major makeover from new owners Dustyn Wikert and Schuyler Johnson, who knocked out the streetside facade to install a garage door that could be opened to let in the breeze on those perfect Okoboji summer days.
To celebrate their opening they served their first official beer to former Ruebin's owner Jim Hentges.
A simple gesture and one that just began to show their appreciation for being welcomed into the community.
"The community really embraced us from the beginning and we embrace them right back," Dustyn said. "Jim has been great, he still shoots pool out of here and we stay in contact with him all the time."
After maximizing their initial opportunity in the Iowa Great Lakes restaurant and night life business and getting Nautical up and running they were both ready to tackle another project.
It happened to be right next door in the building that most recently had been the home of TraynRek University Pub.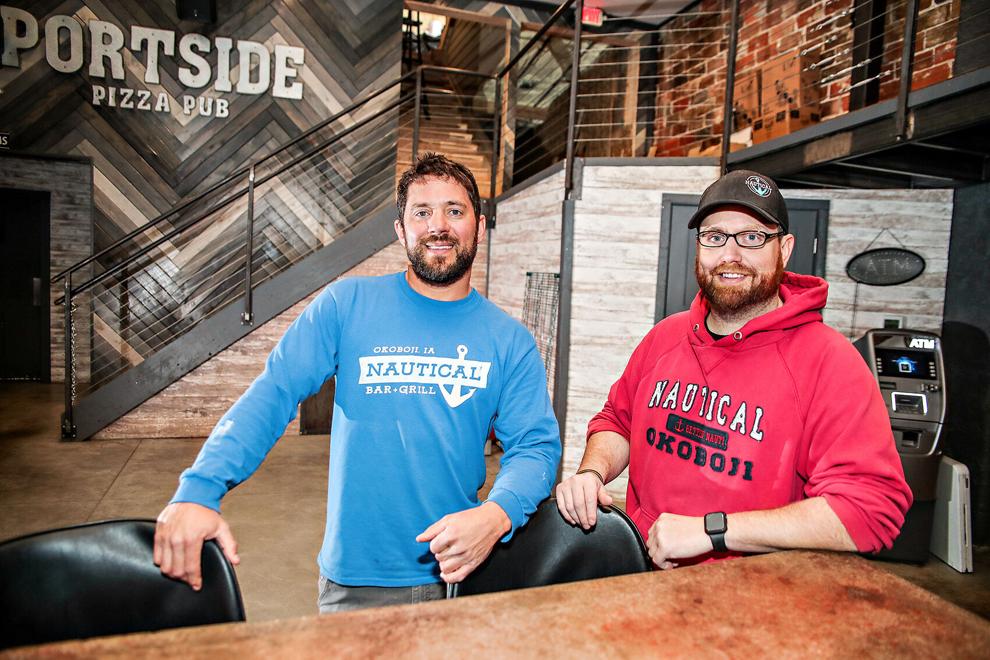 "We knew there was a good opportunity in there and we were able to get in there and get it updated," Schuyler said.
The result is the Portside Pizza Pub, which celebrated its one-year anniversary this May.
While the overall decor and menu are quite different the garage doors give it a connection, aesthetically and literally to its companion bar Nautical.
Doors open up to the street on both the main level as well as an upper mezzanine, while another on the interior allows staff and customers to walk back and forth between the two locations.
Now the attention turns skyward.
Portside will soon have its own rooftop area offering customers a full service bar, live music and sweeping views of West Lake Okoboji.
They credit the owners at Captain's for giving them a vision of what could be and providing a path to follow.
"In terms of the rooftop, the only reason it's going to exist is Captain's," Schuyler said. "We saw how they built theirs and knew what it would take to do it. They paved the way basically."
The Portside rooftop traverses the length of the building and actually has two levels. The highest point will also provide a place for live acoustic music sets from 7-10 p.m. Thursday, Friday and Saturday nights.
Their main goal is to have bar service going by Memorial Day weekend. Plans for a smoked barbecue menu are in the works and likely to be unveiled later in the summer.
Down at the Emporium they have their own version of early evening live music with the popular Funset Sunset series every weeknight from 5-9 p.m. at The Gardens.
Having an earlier option for visitors to enjoy live music was just another way for both locations to maximize the offerings and opportunities for guests of the Iowa Great Lakes.
"We subscribe to the Grandpa George Stewart theory 'the more there is, the more there is,'" Butch said. "The more there is the better off we are and more people will come and dine out and have fun."
That's why they have plenty of plans for the Emporium for the future.
A house next door to the big building that used to host the bands playing at The Gardens has been torn down and lots of ideas are being entertained as to how the space could be best utilized.
A second deck off the second floor restaurant, Prime, is another thought, as is a rooftop deck and bar.
"We'll see, I'm a big dreamer," Butch said.
They both are amazed and ecstatic about what they've seen from their neighbors up the road.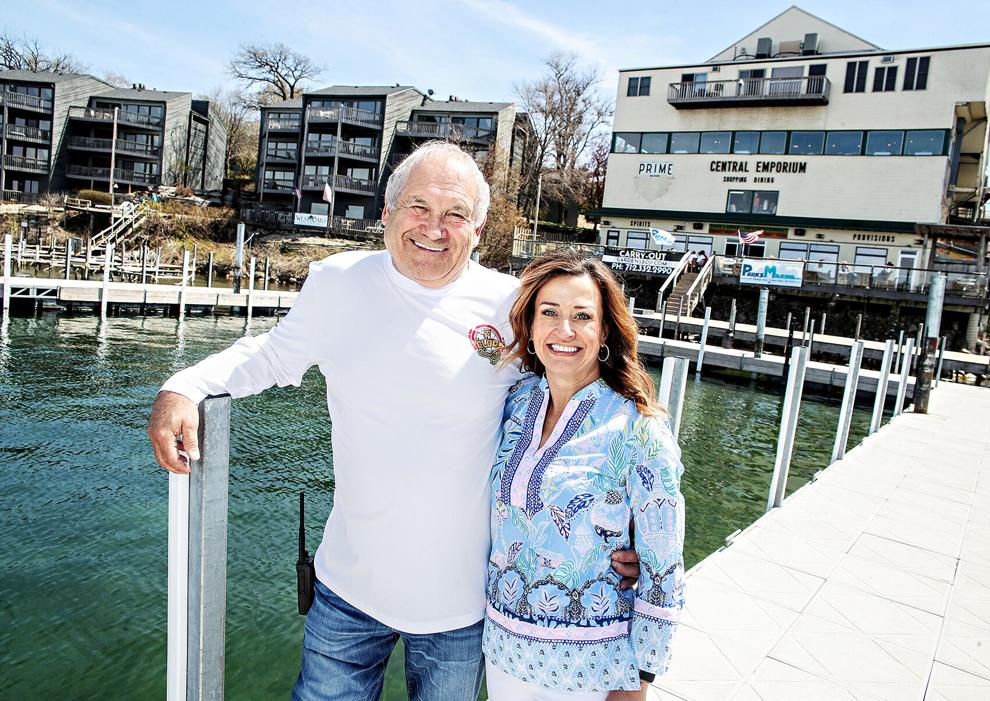 "I love it," Debbie said. "We're all in business together. We're all really friends and we communicate and it's just been awesome. We're happy to be part of the Arnolds Park family. The city's been great to work with. Last year was a hard year for everyone in hospitality and we very much leaned on each other for support."
Dustyn and Schuyler plan to keep investing right back into the places that have grown so popular in their short time on Broadway.
A second level to Nautical is a distinct possibility followed by its own rooftop that would connect to Portside's topside. That's on the table for now, but may not be all that far off once their other projects are up and running smoothly.
"It's there if we want it. We'd have to shut down operations while we put up those posts, but the demand is there if we want to do it," Dustyn said. "We always tell each other this is the last one, but once everything is up and operating all of a sudden it's what do we do next. We'll always look for the freshest ideas to keep people interested."
Plenty of people are plenty interested as the summer season draws near.
And for Dustyn and Schuyler, much like the Parks, the more there is for people to do at the Lakes, the better it is for everyone.
"We feel like as this place keeps growing we can have this area be a one-stop drop off for everything you want. Full bands at Captain's, acoustic on the rooftop, a DJ at Portside for the night. What is the demand for different types of food? Things like that," Dustyn said. "Working together with everyone here I like to say there is a big pie and everyone gets a piece. We help each other and don't try to take anything away. Nautical has a different feel from Captain's and a different feel from The Gardens."
Schuyler noted that, as surprising as it may seem to some, there are still a lot of people who have never been to Okoboji and when they do visit for the first time, it's important to give them the greatest experience possible.
"The more you can give them to experience the more reasons they have to come back again," Schuyler said. "Having all these options is pretty awesome."
Broadway Street is certainly ready to help first-timers and Okoboji lifers enjoy every minute they spend in the Iowa Great Lakes, for the summer just ahead and many more to come.