The history of blacksmith work dates back thousands of years.
Steve Miller can actually trace it back through his own family tree to the noted Norse explorer Leif Erikson.
"When they discovered the site in Newfoundland where he landed, they also discovered the first forge in North America," Miller said. "It was basically a hole in the ground with a wood fire — we're talking a long, long time ago — but blacksmithing has definitely been in the Erikson family tree for many, many generations."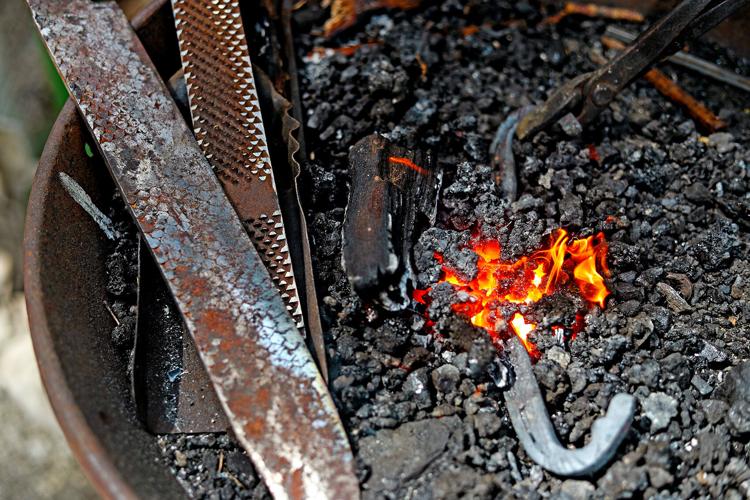 While Swedish lineage runs through at least one side of the family, Miller also counts Scottish ancestry in his background.
Which is why he's recounting this family history in a custom leather kilt while pounding a horseshoe on top of an anvil on a Friday afternoon in Arnolds Park.
"When I go to some of the Scottish history events I'll wear the original 400-year-old designs," Miller said. "I started wearing these 25 years ago with a Scottish group. I love them."
In more recent history, Miller, 59, was born and raised right in the heart of the Iowa Great Lakes where he first began working with metal with his brother and step dad when he was just six years old.
"I just grew up around it," Miller said. "My uncle was a blacksmith in Albert City so I learned a lot from him too."
By the time he hit high school, shop and welding class was a breeze.
And the interest in authentic, historical blacksmith work soon took hold.
Local blacksmiths and bladesmiths provided further inspiration to dive deeper into the field.
After a sojourn to Arizona in the 1980s where he worked in a metal shop and actually at one point made parts for the Apache helicopter, Miller moved back to the Lakes in 1992 and had a successful career in wildlife art and taxidermy.
Throughout this time blacksmith work was never far from his mind.
In fact for the past 25 years he's taught at workshops, set up at rendezvous re-enactments with the Cherokee Ridge Runners and other groups and thoroughly enjoys keeping American history alive and well for future generations.
For the past six years Miller has been working as a full-time blacksmith running Spirit Forge & Fine Arts.
Some of the equipment Miller uses dates back several decades, even centuries, including a 300-year-old hammer, an 1880s blower, his "lightweight" anvil which measures in at 120 pounds, and much, much more.
"This is a lower end Vulcan anvil, but I can pick it up easy enough and throw it in the truck. The oldest one I have at home goes back to 1803," Miller said.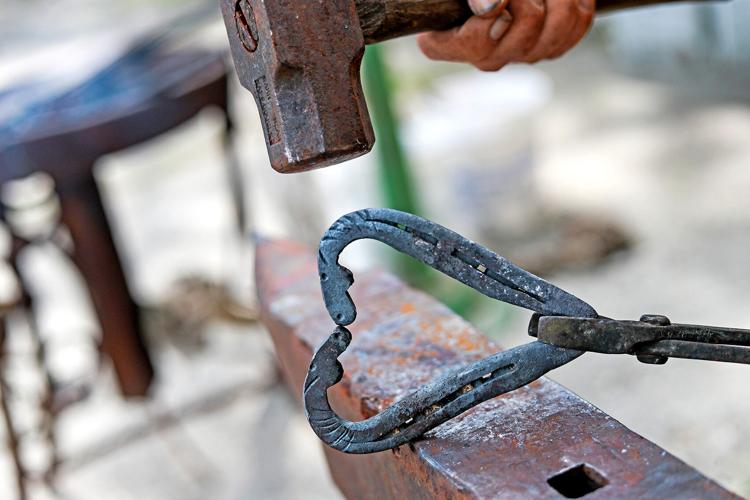 A pedal vise is particularly unique as well.
"This is pretty old and I've actually only seen two of these," Miller said. "Most vises you turn the handle to tighten and in the time it takes to turn it the metal you're working is getting cold and getting cold fast. With the pedal vise, boom, you're there and bending or straightening things out real fast."
An assortment of tongs — box jaw tongs, wolf jaw tongs — are all handmade and specialized to fit the size and shape of the material the blacksmith has in the fire.
Once the superheated metal is on the anvil there are also a number of specialized hammers — ball peen, straight peen, cross peen — for certain tasks.
The task at hand on this particular summer Friday afternoon was forming a decorative piece that Miller called "Kissing Horses" from an old horseshoe.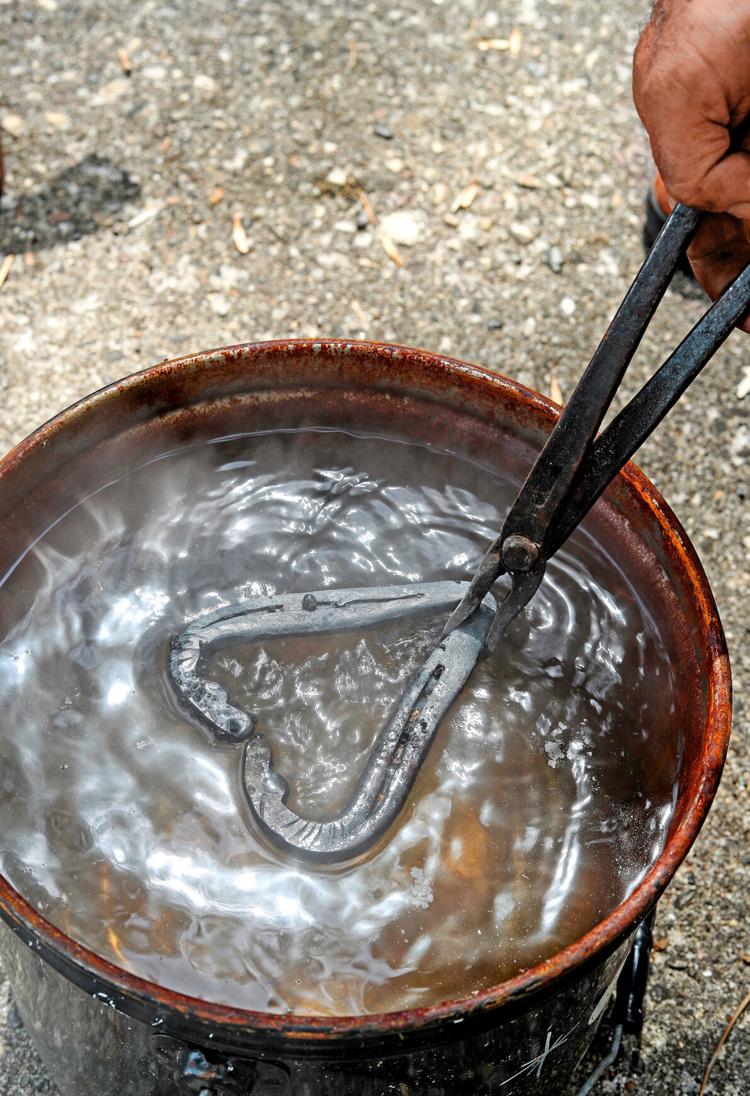 "When a horseshoe is worn out it's usually garbage, so this is just saving some scrap steel," Miller said. "Most of the material I use I've found all over the place. We've got more than enough scrap metal here in the shop. I've been actually using stuff out of here for six years and there's still plenty in there."
Once the iron gets hot enough it goes into a plastic state, Miller says, and it can be moved around and shaped almost like clay.
The heat is generated with bituminous coal that Miller keeps burning with his 1880s-era blower attached to a buffalo forge fire pot.
He can tell by the color of the horseshoe — a nice orange glow — that it's hot enough to hammer, though working outside on a sunny afternoon can make that task a bit trickier.
A punch is used to make the eyes and give an indication of a horse's mane.
Different parts of the anvil from the horn to the heel are used for different tasks as Miller flattens, forms and bends the horseshoe into its final heart shape.
A dip in a water bath and it's soon cool enough to touch.
Miller particularly enjoys the work itself. The process of taking raw material, especially castoff pieces that could be considered junk, and forming something decorative or functional, or both, as a result of hard work with heat and a hammer is certainly rewarding.
"It's starting with nothing and turning it into something," Miller said. "You can make pretty much anything. I do ornamental interior decor items, a lot of outdoor camp cooking irons and custom knives."
He also enjoys teaching people the ways of the forge.
"I really love seeing it when people have an eagerness to learn," Miller said. "It's more fun than anything to see someone make their first piece."
It's also a surefire way to keep the art of blacksmithing alive and well for future generations.