Passion for birding provides artful inspiration
It was the sandhill cranes that sparked Lee Schoenewe's artistic imagination.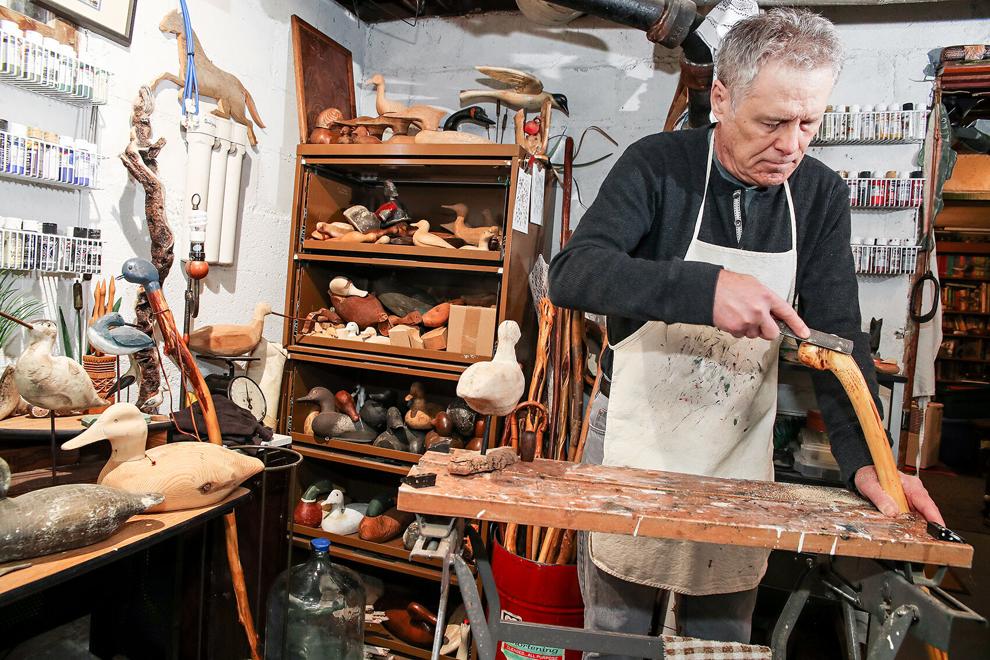 After a birding tour to see the crane migration in Nebraska he picked up a small cane in an antique shop and transformed it to resemble one of the birds they had just seen.
A pair of fellow birders and artists on the trip made a point to encourage Lee in this newfound hobby.
Another artist that has actively encouraged him actually shares his studio space.
That would be his wife, Nancy.
"We all felt he had this talent for folk art," Nancy said. "They really encouraged Lee, we all did, and when you get that from a person who's good in their field it really goes a long way."
It's Nancy though who's the true artist of the pair, according to her husband, and the one who truly got the ball rolling for their two major passions.
"Nancy is a lifelong artist," Lee said. "I came to art and creativity late in life as a result of being married to her and my folk art is directly related to my birding vocation, which again Nancy got me started at when we were in Estherville after we got married. It became a lifelong pursuit — all my art has to do with birds."
While Lee's venture into art is directly tied to birding, Nancy's background is the reverse or at least a mix of both.
"I always liked drawing," Nancy said. "In some of my mom's stuff I once found a pencil drawing I made for my kindergarten teacher on the first day of school. I just liked art and was always creative that way and interested in things like that."
Enjoying the outdoors also came naturally to Nancy.
Her grandparents had a farm in South Dakota with plenty of room to roam around wide open pastures and even a lake.
"It was a kids paradise. I always liked walking and being outdoors. When we got into birding it was through the Audubon group at the Lakes at the time and I talked Lee into coming and we were hooked," Nancy said.
Lee and Nancy met during college at the University of South Dakota in Vermillion though neither one was there to pursue an art or a wildlife-related field of study.
Lee studied economics while Nancy pursued an English degree.
While both kept busy birding whenever possible, art took a back seat and they settled into their life in Spencer.
While teaching composition at Iowa Lakes Community College, Nancy would seize opportunities to insert artistic opportunities for her students into assignments on research papers.
"I would have them make a poster or art project and give a presentation on it — it was using both sides of the brain to visualize what they were writing about. They were fantastic and then I would get better papers out of it and they would understand the subject matter better," Nancy said.
In the meantime she would take classes of her own at the Pearson Lakes Art Center or Arts on Grand whenever possible.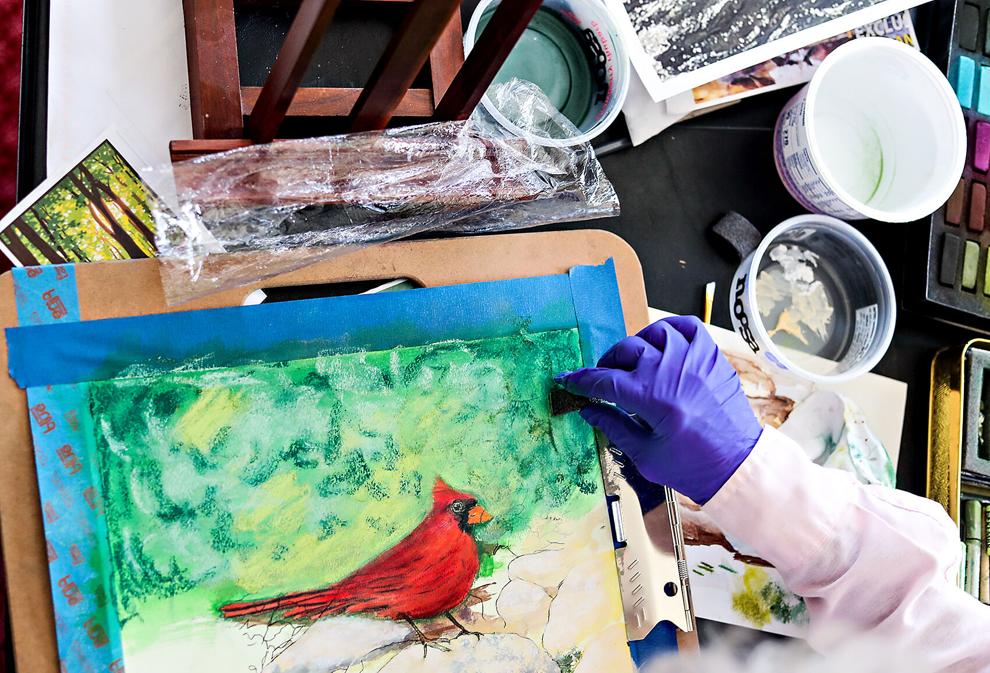 She also continued to enjoy birding excursions with Lee who was using his economics degree during a 41-year career at Northwest Bank.
Both have since retired, which has freed up much more time to pursue their twin passions.
Nature, and specifically the birds they both love, continue to influence their art projects.
"I'll find a stick with an unusual shape and figure out a way to carve the top into a bird head, or find a good stick then use a piece of cedar shaped into a bird head and fix it on top of it," Lee said. "With cane handles I'm always looking for something I can envision being a swan head or something like that."
A couple of his canes and walking sticks have traveled the globe. A black-footed albatross resides with a friend in Washington State because he was the only one Lee knew who would have a regular chance to see such a bird in person. One representing a red-throated loon went back to Botswana with a member of the Botswana Bird Club that the Schoenewes had met during a presentation at the Lost Island Nature Center about African birds. Lee's searches for materials also led him to the world of wooden decoys.
"Hunters would use these duck decoys and eventually they would get beaten up, shot up, or lose pieces and the hunters would routinely fix them up — put on a new head, repaint them — and that struck me as the origin of folk art," Lee said. "Most of the old collectible high-dollar decoys are actually for art. People aren't buying them to use out duck hunting but they buy them because whoever made them had a great sense of the shape and style of that particular bird. That's what got me into it."
Lee learned a quick lesson with the first decoy he tried to make.
Starting with a hunk of basswood, he worked for two days to shape it just right.
"I tried but just thought this is not something I enjoy, so I pretty much work with shapes that I find. I call them redone decoys," Lee said.
Maybe they're missing pieces, or are just old, beat up or unfinished. Maybe it's just a piece of wood that vaguely resembles the shape of a bird.
Lee has a stockpile of wooden bird shapes collected from flea markets, antique shops and sales over the years.
"I make them into the essence of what I know that bird to be, whether it's a bufflehead or hooded merganser. Sometimes someone else has made one but not painted it and I take them from there," Lee said. "I actually like using different colored stains. It's a little harder to get details but it's durable and looks older. When I do paint I use acrylics because they're very forgiving. When I'm done I put a couple coats of sealer over it to lock it in."
Lee is also especially drawn to shorebird decoys.
The federal government has since outlawed hunting most shorebirds so finding ones that were actually used in the late 1800s can be difficult and some are quite valuable now.
When Lee puts his own together he likes to figure out how to make a stand of some sort from a block of wood and turn the decoy into more of a sculpture.
"I try to make shorebirds based on those old decoys or my knowledge of shorebirds. I'll start with a piece of wood and put a head on it and maybe turn it into a stilt sandpiper," Lee said.
While Lee is sanding and staining in his basement workshop, Nancy is often working upstairs with her pastels and acrylics.
She's currently working on a pastel project featuring a cardinal.
Using a heavy sandpaper that works particularly well taking on the powder of the pastels, Nancy usually starts with a light acrylic layer underneath to allow for depth and details.
"It's primarily a pastel painting but working together with acrylics is fun and works for me," Nancy said, "It's fun to try different things and that's part of learning. There is actually a lot of problem-solving in art. How am I going to make that bird look more real? How am I going to shade that rock? My joke is that art is good for the aging brain. It does give your brain a workout and is really good at any stage of life."
Nancy completed three paintings over the course of the past year including her latest featuring the Spring Run Wildlife Management Area in Spirit Lake.
Of course it was while they were out bird watching that the inspiration struck.
"I had taken some photos — in fact, we were leading a bird hike that day — the clouds were reflected in Spring Run. It was just great. And there's a yellow-headed blackbird in the reeds along the shoreline. It's pretty subtle and that was a fun one to do," Nancy said.
Hailing from the self-proclaimed pheasant capital of the world in South Dakota, Nancy has found herself painting several of those colorful birds over the years.
One painting she's particularly proud of featured a feathery friend not seen in this part of country.
Vermilion flycatchers are mostly found in the American Southwest and Mexico.
Nancy had seen one while traveling and her resulting painting earned a Best In Show ribbon at the Clay County Fair.
"I learned a lot doing that. The more we practice something the more we learn and the better we get," Nancy said. "In retirement I think I've improved a lot. That Spring Run painting I talked about, gosh, I think that's the best painting I've done so far. That's what you hope for, to keep improving, and that sense of accomplishment that comes with anything that you persevere and work to achieve."
Now they look forward to the spring migration and what inspiration their feathered friends will bring once again.