PAULLINA—Zion-St. John Lutheran School will be astir for one of its busiest nights of the year later this month.
The Science Fair, Art Show and Soup Cookoff at the PK-8 school in Paullina will all take place simultaneously in the gym starting at 5:30 p.m. Thursday, March 16.
Principal Jared Kirkeby is in his first year at Zion-St. John and said he is looking forward to his initiation in the decadeslong tradition.
"It's a good way to have some community time and, obviously, the fundraising is nice," Kirkeby said.
The Science Fair includes projects from grades 5-8, which students have been preparing for weeks. One experiment tests how to separate electrolytes from water. Another is testing how gummy bears react to different liquids.
Kirkeby, who also teaches science for the oldest students, said the fair is a premier way to showcase what kids are learning.
"Just having these kids really invest in what they're doing and take pride in their own work, it's just nice. It's all their ideas. It's all their work. I can guide them, but they've taken a lot of pride in making sure they're doing a great job because they know it's going to get showcased," he said.
The Art Show comes courtesy of the younger grades. Similar to the big kids, these projects have been worked on ahead of time.
"Different classes are doing different things, anywhere from drawings to crafts to just something that they've done during this school year that they want to have prepared for that night," Kirkeby said.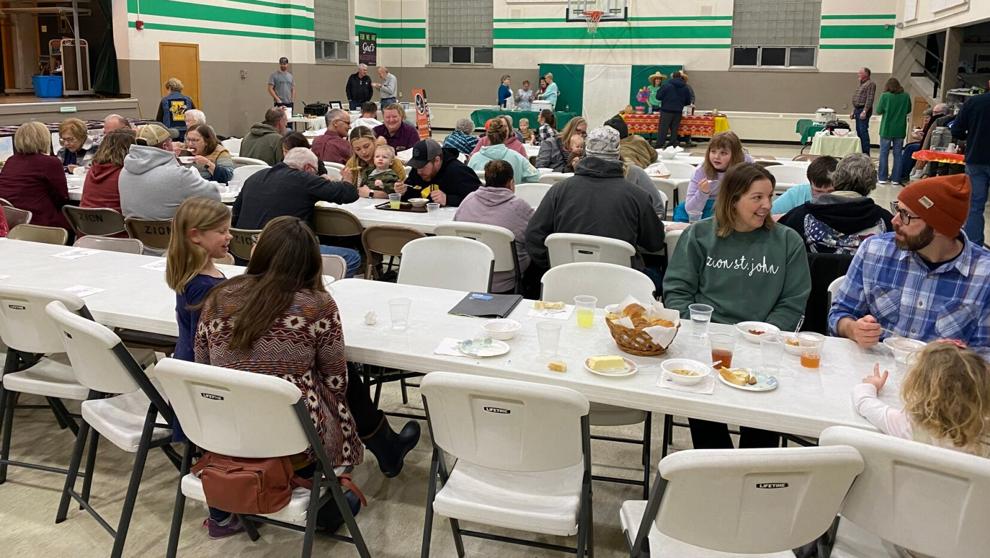 Then there's the Soup Cookoff — the bread-winning aspect of the night since the pupil projects are free to view. The meal carries a $5 fee to sample the offerings.
"It's a good way to get people some good food but also have a fun competition that leads to a good fundraiser for us,"
Various organizations, including the Zion-St. John board, enter the culinary contest. But there aren't ordained judges; it's a people's court.
The champion is whoever gets the most donated dollars in their bucket. Enjoy Option C? Toss in $5. Like Option E even more? Give it $10.
There's no limit on minimum or maximum on giving to a favorite soup, as Kirkeby explained.
"If you could have a terrible soup but you could win by bribing people to put money in your box," he laughed.
Last year, there were a half-dozen contestants, but the principal said that number should be up in 2023 albeit entries are not finalized yet.
The overstuffed Thursday night serves as the main event of the school's recognition of National Lutheran Schools Week. The time will additionally feature Zion-St. John's book fair, a family chapel and other activities.
"We just do more involvement with every student," Kirkeby said.
Originally from Brandon, SD, Kirkeby started his education career in the school districts of Cherokee and later Alta-Aurelia. When he got the principal job in June, it had been a few years since he led a classroom.
He stayed connected to a school, coaching baseball at his alma mater Northwestern College in Orange City, which is how he got interested in the Zion-St. John job. Kirkeby's predecessor, Jeff Schouten, left Paullina for a professorship at Northwestern and made the connection with him.
Kirkeby said the science-art-soup night will be an opportunity to continue to grow into his role at the 80-student school.
"They're excited to have their projects seen by not just their parents but maybe their friends' parents and their friends," he said.