SHELDON—News never sleeps, especially during a global pandemic, and someone has to print it.
In N'West Iowa and dozens of communities in Nebraska, Wyoming and other parts of west-central United States, that someone is White Wolf Web & Digital Printers.
Since mid-March, the Sheldon-based high-volume printing plant has seen an increase of more than 25 percent in jobs and copies, mainly in the form of community newspapers.
"We've seen the number of papers we're printing go up, but we've also seen page counts go down in those newspapers because advertising has gone down due to COVID closures in most communities," said Jeff Wagner, president of White Wolf Web.
White Wolf Web is a sister company to Sheldon-based Iowa Information Publishers and Printers, which produces many area newspapers, including The N'West Iowa REVIEW, The Sheldon Mail-Sun, Sioux Center News, Hawarden Independent/Ireton Examiner and The South O'Brien Sun.
As part of the media industry, White Wolf Web was considered an essential business, according to the U.S. Department of Homeland Security, so it never took a break.
Wagner said the increase in business was partly due to White Wolf Web's ongoing growth but also is a reflection of how COVID-19 impacted small printing companies that had been struggling for years.
"We've seen growth at White Wolf because a number of the smaller printers were concerned about what they would do if they were hit by the virus," Wagner said. "What would they do with their operations, who would print their paper?"
When struggling small printing operations took the coronavirus pandemic as their cue to close, White Wolf Web stepped in to pick up the slack and keep community newspapers in print.
More than 100,000 copies of community newspapers, magazines and shoppers are printed and shipped daily from White Wolf Web. It is one of the top three printers in the region.
Wagner said investment in technology has helped streamline efficiency so the plant could easily take on more jobs when COVID-19 triggered other presses to close.
It starts with the press, a mammoth machine capable of churning out 35,000 copies per hour. Printing a week's worth of a small community newspaper is the work of a few minutes.
The press runs over 18 hours per day, chewing through more than 130 miles of paper even on a light day. Since the pandemic, there have been fewer and fewer light days.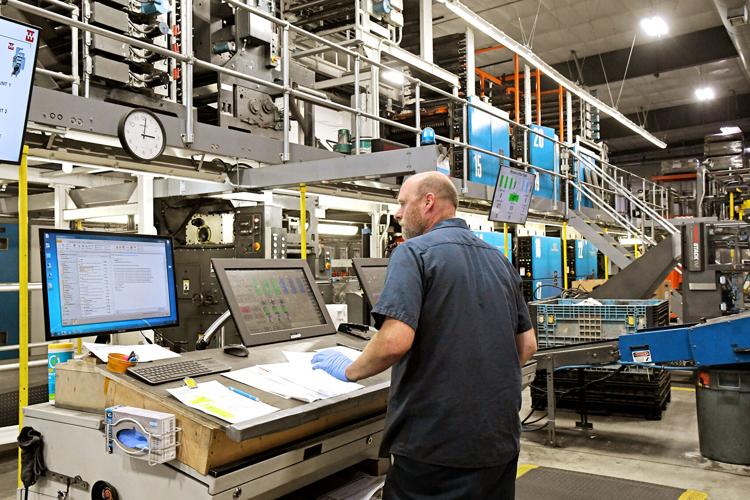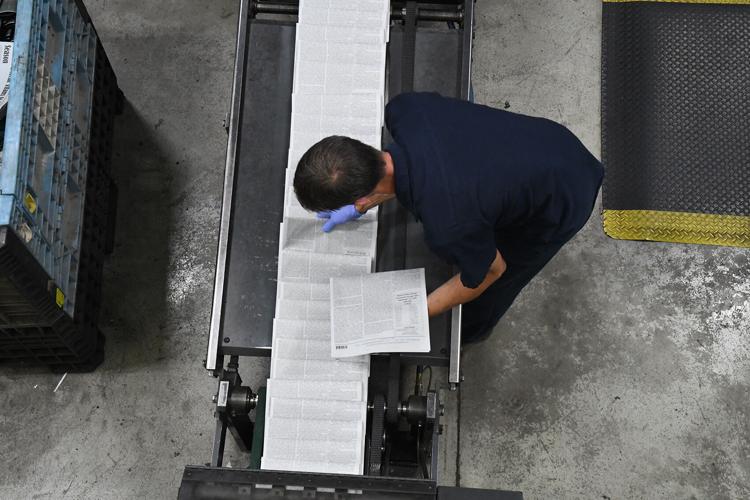 That high demand has meant stepping up other parts of operations, especially on the insert lines, which add flyers and special sections to products before they are bundled and shipped.
Pre-pandemic, White Wolf Web ran one or two of its three inserting machines at all times. Now there is enough work to keep two or even all three going at a steady pace for most of the day.
The plant does not keep the power on or provide food for the table like other essential businesses, but Wagner said the press and media as a whole play a vital behind-the-scenes role during the pandemic.
"Newspapers are still the most important source of information in a community and where people get most of the local news," Wagner said. "Keeping the press going helps newspapers and helped other businesses get their information out."
Newspapers printed at White Wolf Web contain coverage of public meetings, local news and sporting events for communities across Iowa and other Midwest states. They also carry advertisements for local businesses recovering from lockdown.
Wagner said keeping local papers in print is especially important during a time of uncertainty and even isolation for some.
"Creating a nurturing or supporting community through times of the coronavirus is very important because suddenly we're sitting in a home all day long," Wagner said. "We were not interacting with our neighbors, we're not interacting with our local businesses, and newspapers help fight that."
Behind the scenes, the press at White Wolf Web continues doing its job to make sure those newspapers get printed.