SHELDON—East Lawn Cemetery sports a newly painted archway, thanks to efforts by Sheldon history buffs.
Tom Whorley, Allen Jones and Chuck Johnson recently volunteered to repaint a dilapidated wrought iron archway that stands along East Ninth Street at the East Lawn Cemetery.
"We had all driven by it and noticed its deteriorating condition for the last couple of years and we were concerned that maybe it might be torn down," Whorley said.
Before they stepped in, the arch was in a sorry state. Its green paint was peeling and the white paint on letters reading "East Lawn Cemetery" had almost entirely flaked away.
"Since the city's done nothing with it, we decided 'Why don't we do something about it?" Jones said.
The archway was originally erected in 1893 by the Ladies Cemetery Association, a group of 100 Sheldon women concerned about the then-dilapidated state of the cemetery. Together with the city, they raised $500 to install paved gravel paths and metal railings.
According to Whorley, who is a member of the Sheldon Prairie Museum Board of Directors and well-read on Sheldon history, this arch was one of several. He said the others have disappeared over the years, along with the original metal railing.
Johnson, who is a member of the Sheldon Historical Society Board of Director, agreed that the arch represented an important piece of local history.
"History means a lot to me," Johnson said. "I've been here a long time. It's a historical artifact."
In early August, Whorley and Jones spoke to the Sheldon Cemetery Board, asking for funding to help repaint and repair the archway.
The board agreed to pay the just over $1,000 necessary to sandblast the arch in preparation for repainting. The cost came out of the city's cemetery fund, which is normally used to repair gravestones.
Whorley, Jones and Johnson then volunteered their time to prime and paint the arch and restore it to its original condition. Bomgaars and Vogel Paint & Glass Co. in Sheldon provided discounts on primer, paint and brushes.
The arch was sandblasted on Saturday, Aug. 22. The three spent parts of the following Tuesday and Wednesday priming and then repainting the archway.
It took about 35 hours of combined effort to prime and repaint the arch, which features elaborate scrolling that was a challenge to paint. Whorley said the end result is well worth the time and labor.
"It's beautiful. And the workmanship in the 1800s to build that is incredible," he said. "It was so well done by whoever did it."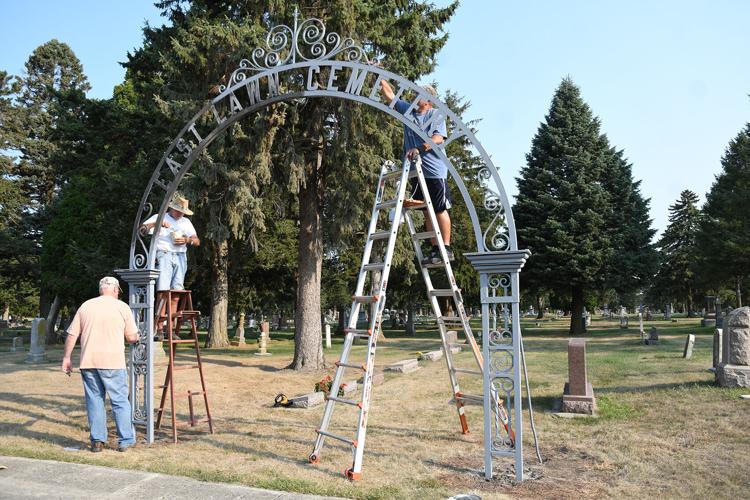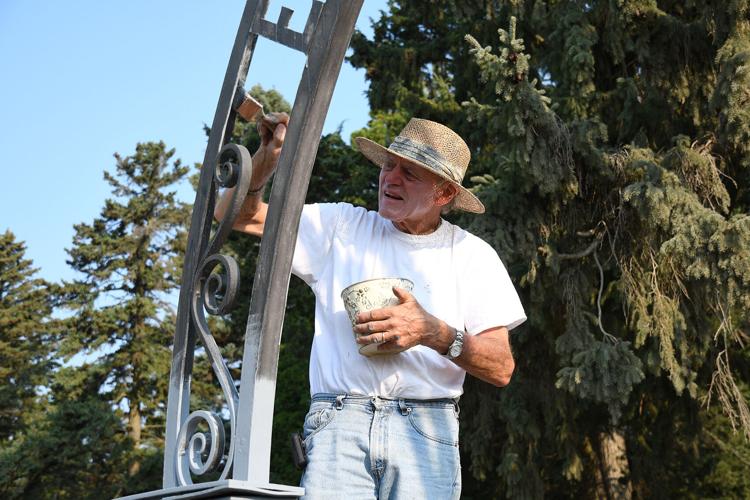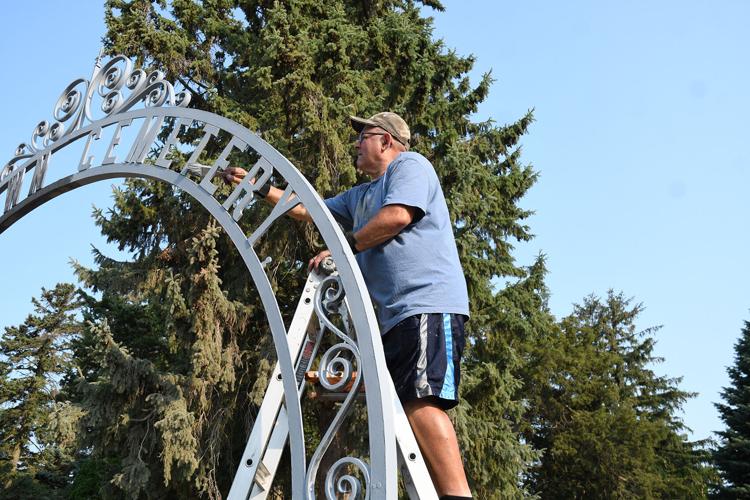 Whorley said a shared interested in history inspired the three of them to organize and restore the arch.
"We all like history and care about our town and just wanted to keep that because we thought it was important to the history of the cemetery," Whorley said. "It was in very bad shape."
Those worries are no more. A quick pass on East Ninth Street will reveal a brightly painted green and white archway that looks as good, and maybe better, than it did in 1893.