REGIONAL—For Brian Tutje, wearing a face mask in his hair salon and having customers do the same is a small price to pay if it means staying open during the coronavirus pandemic.
The owner and operator of Just Cuts for Men in downtown Sheldon began requiring masks be worn in his business Wednesday in accordance tighter public-health measures Gov. Kim Reynolds announced Tuesday.
The guidelines, which went into effect Wednesday and will continue through Nov. 30, call for social distancing and mask usage in large gatherings in social, community, recreational and leisure settings.
They also require masks be worn and 6 feet of social distancing be kept at establishments such as salons, barbershops, massage therapy establishments, tattoo establishments and tanning facilities.
Tutje said most everyone who comes in for a haircut has a mask with them already and he has some on hand for those without one. So far, the mask policy has been going well at the shop.
"I'm trying to try to remain positive about it," Tutje said. "It's better to be open than to be closed and not have any business."
The governor's announcement also calls for groups at large gatherings be limited to eight people unless they are all part of the same household. If more than 25 people are present in an indoor setting, everyone ages 2 and older must wear masks except when eating or drinking; in an outdoor setting, the same is true if there are more than 100 people.
It also requires masks for spectators ages 2 and older at indoor sporting events if there are more than 25 audience members. Additionally, it limits two spectators allowed at the event per youth athlete.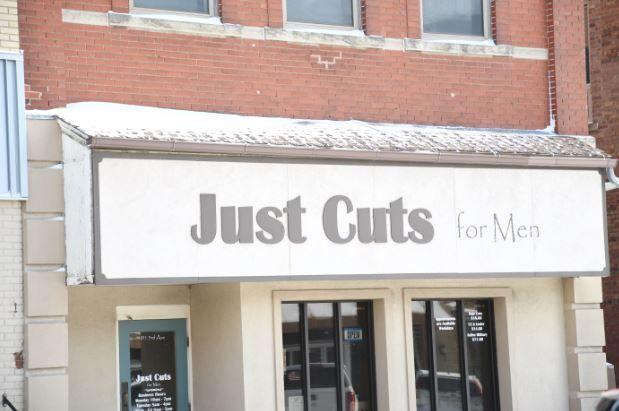 Businesses such as restaurants, bars, wedding reception venues, wineries, breweries, distilleries, country clubs and other social or fraternal clubs also must have social distancing and limit groups to eight people unless they are in the same household.
Lastly, Reynolds' announcement asks all employers to evaluate whether any of their employees can feasibly work remotely and take steps to enable them to do so.
'Significant struggles'
Wesley Ruden, general manager of Prairie Winds Event Center in Orange City, said the public-health measures announced Tuesday already have had an effect on events held at the facility.
"We have a wedding coming up at the end of the month here that is going to be affected by it," Ruden said. "They were expecting a much larger group of over 150 people and they had contacted me already about moving their numbers down to about 80 or so and only inviting immediate family."
Groups that have events planned at Prairie Winds in December also are seeing if they still will put them on, Ruden said. Before Reynolds' announcement, masks at the venue were optional but social distancing measures and increased hygiene practices were in place.
"People have still adhered to those measures. Masking is the biggest one; it's been a hit-or-a-miss kind of a thing, depending on the crowd," Ruden said.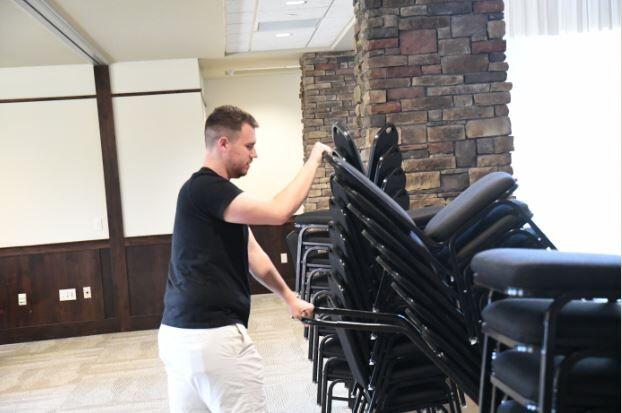 The governor's announcement comes as COVID-19 continues to spread in N'West Iowa and leaders in the region urge additional precaution on the part of residents.
O'Brien County Emergency Management Agency coordinator Jared Johnson recently noted how case numbers and hospitalizations keep growing in the county.
"We are seeing significant struggles with our local health-care facilities," Johnson told the board of supervisors Tuesday. "There are multiple long-term care outbreaks. The hospitals have also kind of just discussed what they're seeing. They're seeing an increase in very sick individuals and it's putting a lot of stress on their health-care workers. And they're hoping that people in the public will step up."
'Please be careful'
As of Friday, O'Brien County's 14-day positivity rate was 25.1 percent and there were about 505 active cases, according to the Iowa Department of Public Health. The county has had 1,057 cases total.
Johnson said his department sent out information to city leaders across the county urging them to promote mask usage in their communities. He also hoped mask wearing in schools would continue and highly encouraged people to wear masks in shared office spaces.
The O'Brien County Public Health Office released a statement Thursday morning recommending people age 2 and older wear masks while at religious and spiritual gatherings except when eating or drinking.
"What we're trying to do is just put out a plea to people: Please be careful," Johnson said. "We want people to know there's a lot of people that are sick. The way COVID spreads and the stuff that happens, maybe at church, at school, at businesses, at gatherings, it can impact a lot of different places or it can impact a person that works at a local facility and then gets into a facility."
He said requests for personal protective equipment also are continuing. Due to winter weather conditions that will make travel more difficult, the state of Iowa will set up seven regional "nodes" to house its PPE supplies which then will be disbursed to communities that request shipments. The closest node to N'West Iowa will be in Cherokee County.
The deaths of five residents at Sanford Health Sheldon Senior Care Center were recently attributed to a coronavirus outbreak at the facility. Two other outbreaks have been reported in the county: Prairie View Campus in Sanborn and Vista Prairie at Fieldcrest in Sheldon.
SHELDON—Two Sheldon long-term care facilities are dealing with coronavirus outbreaks, one of which has claimed the lives of five residents.
As of Friday, O'Brien County had recorded 24 deaths associated with COVID-19.
In N'West Iowa, Sioux County has recorded the most COVID-19 cases since the pandemic started. As of Friday, 3,126 cases were reported in the county, 870 of which were active. The county's positivity rate was 31.3 percent.
In Lyon and Osceola counties, the 14-day positivity rates were 33.6 percent and 26.6 percent respectively as of Thursday. Lyon County's total case count was 751, with about 254 active cases. Osceola County meanwhile has seen 413 total cases during the pandemic, with about 162 active cases.
Lyon County tallied eight deaths from COVID-19 as of Thursday. Osceola County has not reported any deaths from the virus while Sioux County has had 22.
Implore each resident
Sioux County's four hospitals — Hegg Health Center in Rock Valley, Hawarden Regional Healthcare, Orange City Area Health System and Sioux Center Health — along with the county's public-health agency, Community Health Partners, released a joint statement Wednesday urging residents to follow the gathering restrictions and wear masks.
"We as a hospital and health system community implore each resident and visitor in Sioux County to follow the governor's proclamation requiring masking for indoor gatherings of 25 or more people," the statement said. "Specifically, we urge every church to strongly consider voluntarily submitting to this protocol as well."
The statement said 15 county residents were hospitalized with COVID-19 and that 95 positive cases were identified Monday-Tuesday.
Marty Guthmiller, chief executive of the Orange City hospital, echoed concerns Johnson mentioned re­­garding COVID-19 patients being hospitalized and potentially overwhelming health-care facilities.
"With the numbers as high as they are, even a small percentage of people getting sick and requiring hospitalization can overwhelm the system," Guthmiller said. "When it overwhelms the system, the therapeutics don't do any good if there's no one to administer or there's no room to administer them in. We're not at that situation anywhere in Iowa yet, but if these rates keep going up the way they are you could get there."
Besides asking members of the public to follow public-health guidelines, Guthmiller encouraged them to stay on top of regular preventive care, maintain a nutritional diet and stay active.
Health Services of Lyon County also noted Reynolds' public-health guidelines in a Tuesday Facebook post.
"We want businesses to stay open, kids to stay in school, decrease burden on medical systems and staff, protect the vulnerable and drastically reduce community spread," the post said.