SHELDON—Amy Hagemann had a pretty valid reason to move her downtown Sheldon clothing store: Her dad owned the building.
Hagemann is the owner of Validation full-figure fashion, which will celebrate its third year in business in October.
She relocated the business from its original perch at 913 Third Ave. to 201 Ninth St. in May.
Her new location previously was Gordon's Red Wing Shoes, which was owned and operated by Gordon Kramer for 35 years before he closed his doors in March and sold his inventory to Carl's Footwear of Sheldon.
Hagemann's new space is slightly smaller; however, the 35-year-old has organized her displays to give the boutique an open feeling.
She also added some paint to liven up the place, which used to boast a workingman chic aesthetic.
"He did originally have it listed and he knew I was looking for something different," Hagemann said.
"All around, this is just a way better fit: More efficient building, the rent will stay consistently the same price — it won't randomly spike — all around just better."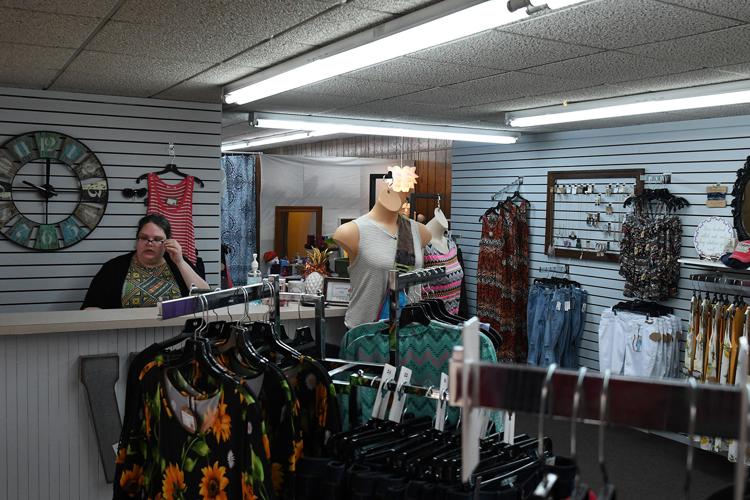 Growing up with a dad who ran his own business, being an entrepreneur has always appealed to Hagemann.
In her youth, Hagemann fantasized about running her own business and her dad's shop always was the place that dream store would be located.
"It's all I knew," she said. "I remember coming here as a kid and taking naps and hanging out with mom and if we were home sick for the day, we had to come down here. It's just a big part of my childhood and growing up.
"So envisioning opening a business, I had a notebook full of different things I wanted to do here and ways of rearranging and stuff like that, but, at the time, my dad was still running his shop so it wasn't feasible and I went into a different building. Now that I am in here, it feels awesome. It feels good. Natural; so at home."
While Sheldon has a healthy selection of women's clothing stores, Validation is the only boutique to specialize in outfitting curvier customers. Her own struggles with finding nice-looking clothing that also fits well inspired Hagemann to open the store.
Validation officially opened in its new space on May 29 and — like other clothing retailers across Iowa — the store had to close its doors for most of the spring due to the coronavirus pandemic.
Hagemann still is taking some precautions like wearing a mask when interacting with customers and opening for limited hours.
The shopkeeper also used the downtime to start offering some of her wares online to give customers another avenue to purchase.
"I had one sale of that and it went awesome," Hagemann said. "I had such a great response I think that will also help me too; it's definitely not going to hurt me.
"So I'm trying to stay really positive about the situation and, hopefully, that could be what saves me. I want to be around, I'm in it for the long haul. I didn't pour everything into it to have to quit right away."