SHELDON—Iowa: First in the nation, last in results?
Campaigns, caucusgoers and political junkies across the world eagerly awaited results late on Monday, Feb. 3, to see which Democratic candidates for U.S. president would emerge triumphantly from the state party's caucuses.
However, those figures were unavailable as of press deadline midday Tuesday, Feb. 4. The Iowa Democratic Party released a statement Tuesday morning addressing the situation.
Party chair Troy Price said the new app being used by precinct captains to submit results was not compromised, but there were other issues.
"As precinct caucus results started coming in, the IDP ran them through an accuracy and quality check," he said. "It became clear that there were inconsistencies with the reports. The underlying cause of these inconsistencies was not immediately clear, and required investigation, which took time.
"As this investigation unfolded, IDP staff activated preplanned backup measures and entered data manually. This took longer than expected."
Price went on to say that they were able to verify that the underlying data collected was sound.
"While the app was recording data accurately, it was reporting out only partial data," he said. "We have determined that this was due to a coding issue in the reporting system. This issue was identified and fixed. The application's reporting issue did not impact the ability of precinct chairs to report data accurately."
Later on, Price said precinct-level results still are being reported.
"While our plan is to release results as soon as possible today, our ultimate goal is to ensure that the integrity and accuracy of the process continues to be upheld."
Other media outlets reported precincts having problems with calling in results as well as with the app, something Sheldon resident Caleb Schreurs said was not an issue for him.
The 20-year-old chaired Precinct 5 (Sheldon Ward 2), which met in the Sheldon Community Services Center, and explained how the app worked.
"I had zero problem, they were very, very secure with it," Schreurs said. "I had my personal login password that I had to use and then it sent a double-factor authentication to me . . . It sent me a text, I put in the pin — that came through fine — and then once I put that pin in, inside of my secure packet I had a pin for my precinct, which I typed in, and then it brought up all of my information and does the math for me as I put in the numbers.
"It was the same math that was done on the paperwork sheet and it was just fine, no problem for me."
The delayed results amplified the voices of politicians, pundits and others who have argued that Iowa's caucus model is outdated and that Iowa and New Hampshire, two primarily white states, do not accurately represent America's demographics, but have an outsized voice in the electoral process.
The claims have been dismissed by Iowans on both sides of the aisle, who circled the wagons around the caucus system.
Iowa Republican Party chairman Jeff Kauffman, via Twitter on Monday night, said he stands with the Iowa Democratic Party and wants accurate results rather then rushed results. He followed up by saying "accuracy doesn't run on deadlines."
Iowa Gov. Kim Reynolds and U.S. Sens. Joni Ernst (R-Iowa) and Chuck Grassley (R-Iowa) issued a joint release Tuesday expressing their support for the caucus process.
The Hawkeye State had a leading role in helping pick potential presidents, most recently Barack Obama in 2008 and 2012, since the 1970s.
"Iowa's bipartisan first-in-the-nation status helped lead to the nomination of President Obama and has the full backing of President (Donald) Trump," the statement read. "The process is not suffering because of a short delay in knowing the final results.
"Iowans and all Americans should know we have complete confidence that every last vote will be counted and every last voice will be heard."
Meanwhile, at Sheldon High School, where the Republican caucuses were held Monday, there were no surprises.
Trump trounced his two challengers, Joe Walsh, a talk radio host and former U.S. representative from Illinois, and former Massachusetts Gov. Bill Weld.
Trump received 64 total votes and captured all four Sheldon area precincts, according to the Republican Party of Iowa. Walsh received two votes in Precinct 4 (Sheldon Ward 1) and Weld received a single vote in the same precinct.
Statewide, Trump received 31,791 votes, capturing 97 percent of all votes cast.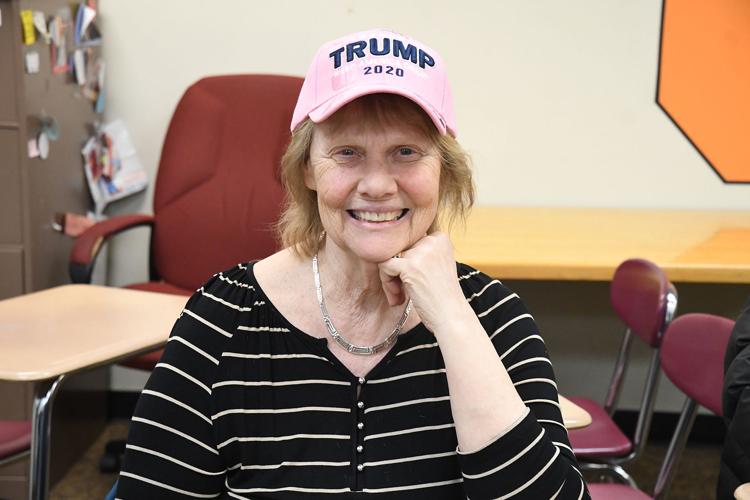 Staunch Trump supporter Laura Schat of Sheldon wore a pink hat that read "TRUMP Keep America Great 2020" to caucus for the incumbent.
As she explained why she continues to support the president, others in her room chimed in with their agreement.
"I really like him because he has actually done what he has promised to do, what he campaigned to do," Schat said.
"He's very much more honest than the Democrats that are running, I think he has very valid plan of how to represent people and I believe he puts the American people first."