SHELDON—1. Voice of the people
Residents of Sheldon certainly made their voices known in 2019.
Attendance at Sheldon City Council meetings skyrocketed in comparison to years' past — councilman Brad Hindt called the April 3 council meeting one of the top-two most well-attended meetings he's seen in more than a decade of service — and some attendees weren't there just for show.
Dozens of citizens spoke up during public forums this year on issues ranging from the city budget to franchise agreements/fees, unions, downtown housing, sewage backups, fireworks and more.
Voters also led two referendums in 2019 to overturn decisions made by the council.
The first referendum was sparked by the resignation of longtime mayoral officeholder Tricia Meendering to become general manager of the city-owned Crossroads Pavilion.
After debating whether or not to host a special election, the council decided to appoint one of the four applicants — at-large councilman Greg Geels, Bob Engel, Fred Grein and Wayne Barahona — to the office fill the remainder of Meendering's mayoral term.
Following Geels' appointment as mayor on April 3 and swearing-in on April 15, residents triggered a special election for mayor as well as for Geels' former at-large council seat that took place on May 21.
In that race, Geels faced off against Grein while Barahona, Wayne Burnette, Rick Nordahl and Kerwin Sterler all ran to fill Geels' former at-large seat. Geels captured 608 votes to Grein's 278 and Barahona came out on top with 458 votes, capturing 50 percent of the vote. Sterler was the runner-up with 212 votes, followed by Nordahl with 192 votes and Burnette with 43 votes.
A lot of those same faces participated in the Nov. 5 general election. In that race, Barahona defeated Grein to retain his at-large council seat while fellow incumbent Pete Hamill edged out Sterler. Councilman Brad Hindt ran unopposed to secure his fourth term.
The second referendum of the year was to overturn a Sept. 5 decision by the city council to enter into franchise agreement ordinances with MidAmerican Energy Co. for electric and natural gas services with Sheldon.
The franchise ordinances were contentious because the original agreements also called for the implementation of franchise fees on Sheldon utility customers as well.
The proposed fees — 5 percent for residential customers and 2 percent for nonresidential customers — drew an outcry from some Sheldon residents, led by Marv Van Riesen, who also led the petition for the special municipal election.
The franchise agreement for natural gas was defeated 493-425 and the agreement for electric services was defeated 491-419 during the Nov. 5 general election.
Also during the year, the council dealt with a number of contentious exchanges with the public during meetings, some of which became personal.
Those interactions have prompted the council to start discussing changes to public forum at meetings and publishing clear guidelines for attendees to adhere to going forward.
2. New faces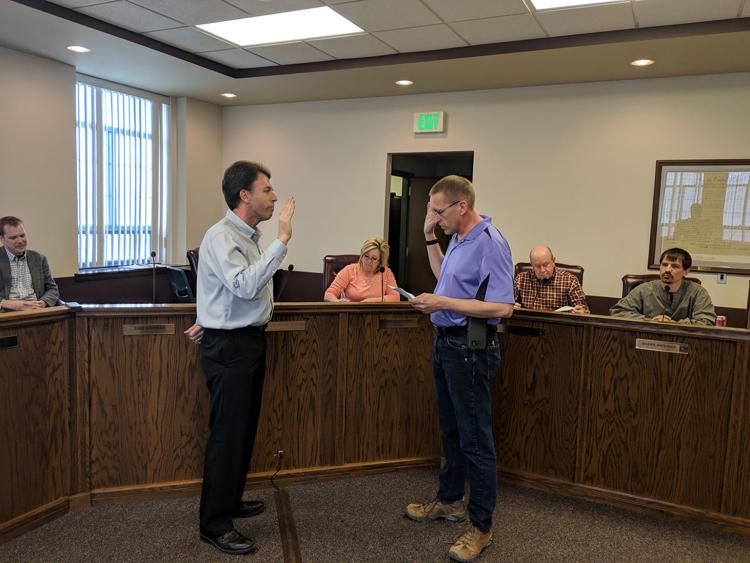 For the second year in a row, Sheldon saw some new faces in prominent positions in the community.
Geels is entering his first full year as mayor and Barahona enters his first full-term as a councilman.
Geels was elevated to the mayoral position after Meendering, who holds the record for longest-serving mayor, left the office to replace Brittany Behrendsen as the Pavilion GM.
Police chief Lyle Bolkema retired after nearly 17 years as the town's top cop and 30 years on the force and longtime officer David Dykstra is filling the role on an interim basis as a search for a new chief is underway.
Shantel Oostra is the new chamber director of the Sheldon Chamber and Development Corporation after Shanelle Matus resigned from her second stint as chamber director on Nov. 1. Brittany Maassen also joined the SCDC staff to replace Megan Wagner as administrative assistant of the three-person office.
While not directly related to the city government, another prominent new face in Sheldon is that of Chelsea Hakeneis.
The 25-year-old took over Dairy Dandy Drive-In from Bob "Burger Bob" and Hazel Sundstrom, who operated the local landmark for nearly 40 years.
3. MidAmerican Energy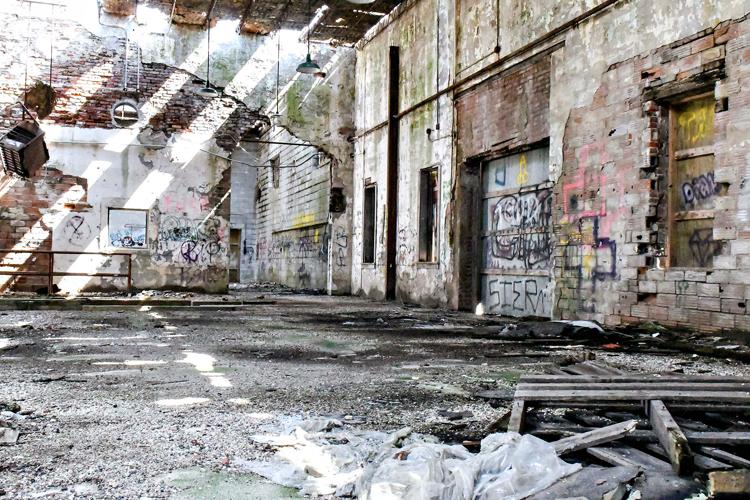 While MidAmerican has long been a behind-the-scenes factor in Sheldon, several items thrust the utility provider to the forefront in Sheldon over the last year.
First was the revelation that MidAmerican was interested in acquiring the dilapidated Thermo Cel building in Sheldon, which a previous council called the most dangerous structure in the community.
The Thermo Cel building, located at 300 Iselin Ave. across the tracks south of the Sheldon Post Office, is adjacent to property MidAmerican owns.
In February, the utility publicly confirmed it was interested in the property after city officials noted they had been in talks with an unnamed undisclosed company about acquiring the property.
That revelation came out during a fiscal year 2019-20 budget workshop on Jan. 30, which an MidAmerican representative was at to discuss the potential for a franchise agreement in the community, which the city later entered into but was overturned by voters.
Even after the franchise rejection, MidAmerican made good on its promise with Thermo Cel on Nov. 18 when the O'Brien Board of Supervisors approved a $3,603.23 tax sale certificate for the utility to take possession of the building, which it plans to demolish.
MidAmerican also plunked down $670,000 to acquire the facility adjacent to Sheldon's Hy-Vee that it previously had leased for more than three decades and built one of the first of what will be 15 electric vehicle fast-charging stations in Iowa next to Fareway in town.
4. Expansions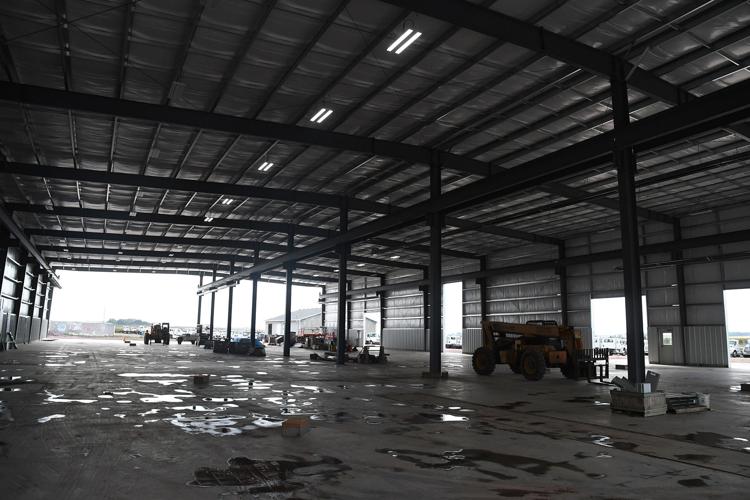 Maintainer Corporation of Iowa announced yet another new expansion in 2019.
The Sheldon-based manufacturer of custom service body trucks, lube truck bodies, rescue vehicles and cranes broke ground in April on a new production facility at the former RV Central along Second Avenue/Business 60, a site Maintainer acquired in 2018.
The $2.4 million facility is nearly finished and marks Maintainer's third expansion in Sheldon since 2015.
Other projects include a 7,800-
square-foot addition in 2017 to its main facility and a 20,750-square-foot add-on to the building in 2015.
Deluxe Feeds in Sheldon, a division of the Muscatine-based Kent Nutrition Group, broke ground on a $37 million expansion to its facility in September 2017, the largest single investment in Sheldon's history.
The project is thought to have been completed this year; however, multiple requests by The Mail-Sun for a status update on the expansion have gone unanswered by Kent's corporate spokespeople.
5. Explosions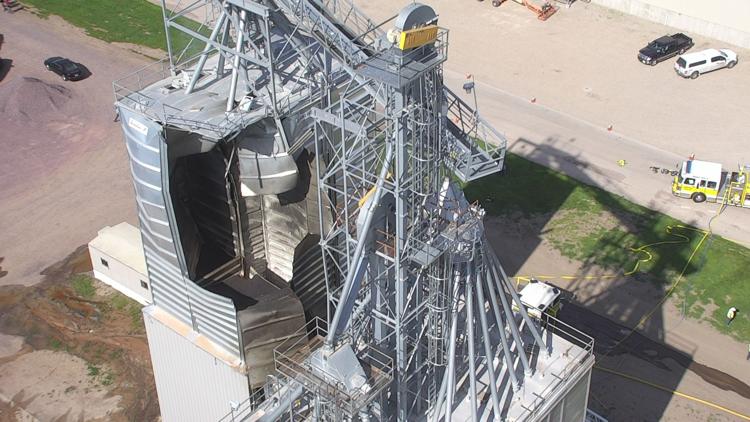 Sheldon had not one but two industrial explosions in 2019.
The first occurred at about 9 a.m. Friday, June 14, and the blast damaged a catwalk and parts of a grain elevator at Ag Partner's complex along Second Avenue in Sheldon.
As a precaution, Ag Partners, as well as some neighboring businesses and residences, were evacuated and Second Avenue was closed off.
First responders from the Sheldon and Sanborn fire departments, Sheldon Emergency Management Agency and Sheldon Police Department were all on scene.
The Drone Response Team from the Sioux County Sheriff's Office also was called in to look for hot spots via thermal imaging and to assess damage near the site of the explosion.
Second Avenue was reopened at 12:30 p.m. and Ag Partners employees were able to return to work at about 3 p.m.
The second explosion took place about 3:45 p.m. Tuesday, July 23, at Deluxe Feeds and could be felt blocks away.
A hole could be seen on the side of one of the buildings upon arrival. There also was electrical damage in an adjacent building and some roof damage.
Miraculously, there were no injuries reported in either explosion.
6. Cory Wright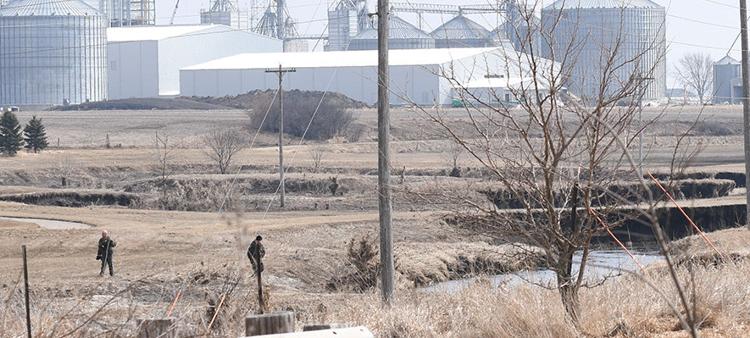 The community was shaken up on Tuesday, March 26, when a corpse was found on the shore near the Floyd River by Northwest Iowa Community College in Sheldon.
Initially unidentified, the person was later identified as 27-year-old Cory Allen Wright via his fingerprints at the Iowa Division of Criminal Investigation Criminalistics Laboratory in Ankeny, where his body was shipped shortly after its discovery.
No additional information has been publicly released since Wright was identified and his family held a graveside service on April 20 at Greenwood Cemetery near Matlock for him.
7. Downtown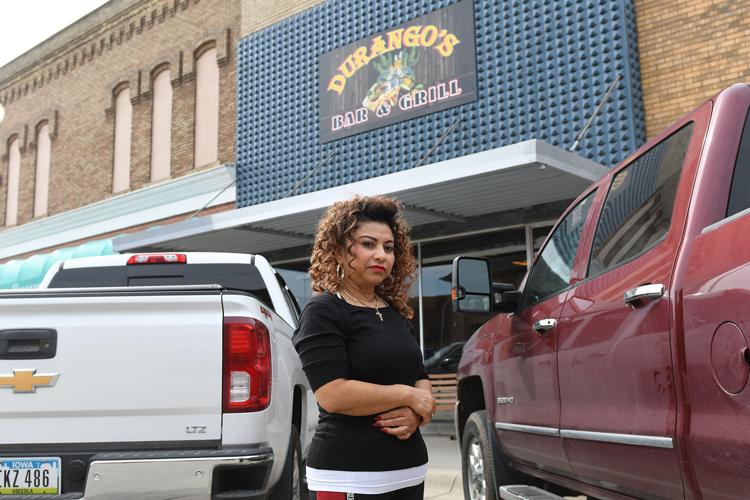 Sheldon's central business district saw the ebbs and flows that come along with the ever-changing retail landscape.
A Country Florist Boutique and Marigolds closed and Revolution Consignment and Sheldon Main St. 3 also were at risk of shuttering.
Despite how ominous things seemed, the situation worked out for the most part.
The former Marigolds' storefront now hosts Fusion Workspace, Revolution was replaced by Uptown Threads — a Consignment Boutique, Durango's opened in the former downtown Dollar General location, the Krull family of Orange City took over operation of Main St. 3 and JESS Food Service Equipment opened in the former Dave's Appliance store.
Additionally, longtime downtown stalwarts such as Carl's Footwear and Mr. B's and Lady B's renovated their stores while the owners of Cook's Cafe/Langer's Bar & Grill added a third business to their building, The Lounge.
While downtown still has a few vacancies — A Country Florist, a portion of the H.C. Lane Building, the former Chinese Chef location and the former Eagles Club — it remained resilient in 2019.
8. NCC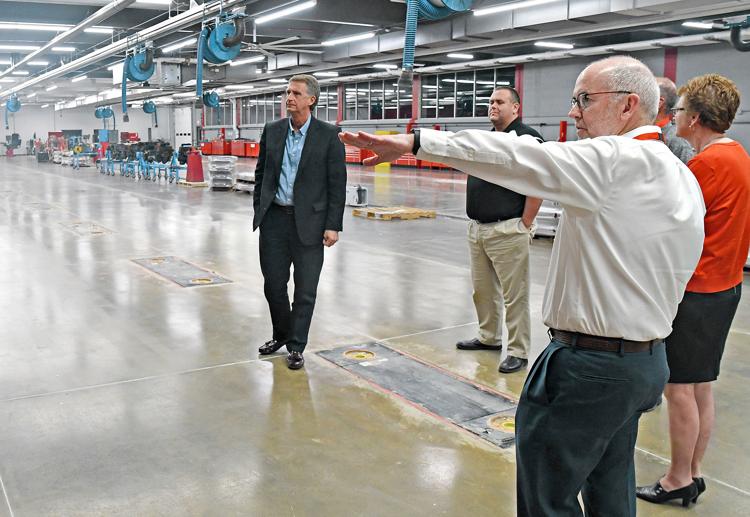 Two buildings on Northwest Iowa Community College's campus in Sheldon have undergone extensive renovations during the past year.
Building D is undergoing an approximately $8.1 million construction project that is scheduled to be finished by the end of May.
The project, which began June 3, calls for the automotive and light-duty diesel technology program portion to be fully renovated, with demolition and new construction occurring for the diesel technology program part.
NCC also celebrated the grand opening of its new Advanced Manufacturing Center on Nov. 13. The approximately 15,000-square-foot space is located inside Building C.
The Advanced Manufacturing Center features labs and a classroom for computer-aided design, a manufacturing lab, a welding lab and the Idea Lab.
The Idea Lab is a new educational space that is a STEM-based interactive area for all programs at NCC to use. STEM stands for science, technology, engineering and math.
9. EMS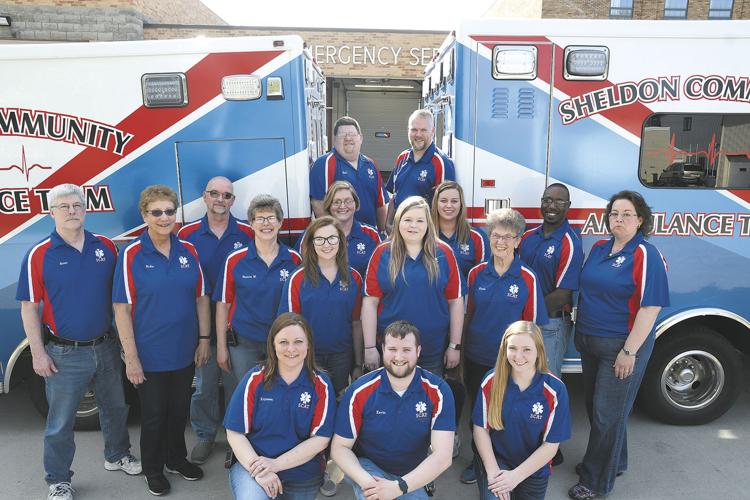 At the end of last year, there were a ton of questions about emergency medical services coverage in Archer after the Archer Ambulance disbanded.
After months of discussions, the city councils of Archer, Primghar, Sanborn and Sheldon unanimously approved an updated intergovernmental agreement and territory map for EMS coverage in the city limits of Archer that went into effect March 1 and ends on June 30, 2022.
Additionally, the Sheldon Community Ambulance Team continues to grow and on Nov. 20 the Sheldon City Council approved adding a third rig to the SCAT fleet.
The vehicle will come from Arrow Manufacturing of Rock Rapids and the cost of it and a new medical cot will be $198,782.
10. RiseFest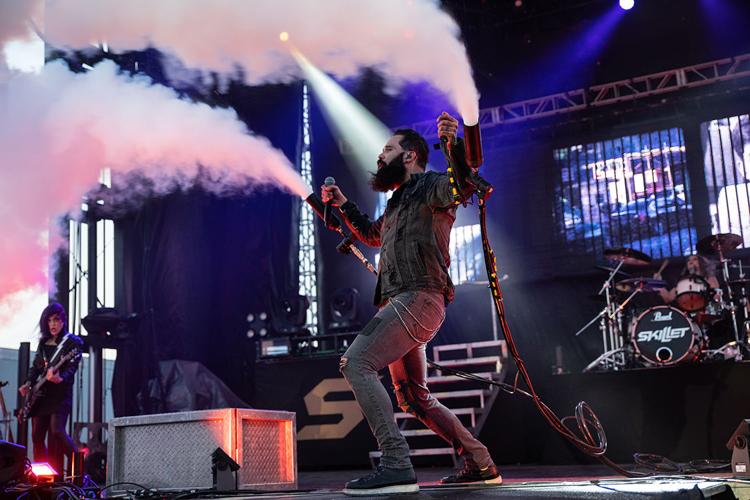 The annual two-day Christian music festival in Sheldon sponsored by Rise Ministries continues to be a major draw in the community, pulling in a crowd of about 16,000 during the 2019 festivities, only a slight dip from 2018's record crowd of 16,500.
RiseFest also found a permanent home in 2019 after leading a nomadic lifestyle for most of its existence, which traces back to 2005 in Orange City.
In March, Larry Rosenboom, founder of Rosenboom Machine & Tool, a manufacturer of custom hydraulic cylinders based in Sheldon, and his family donated a 33.5-acre plot of land on Sheldon's east side to be festival's permanent home.
According to O'Brien County property records, the Rosenbooms acquired the land for $607,186.