SHELDON—Here are the Top 10 stories that made headlines in The Sheldon Mail-Sun in 2020:
1. Coronavirus
No matter how big or small a community is, the coronavirus pandemic upended everything in 2020.
Sheldon recorded its first case April 1 when Iowa State Bank's Sheldon branch announced an employee tested positive and the branch closed for a day of deep cleaning.
Throughout the early stages of the pandemic, Iowa Gov. Kim Reynolds' news conferences became mandatory viewing for Iowans as she announced new or modified proclamations on a consistent basis that affected everything from schools to businesses to health and beauty services.
The Sheldon School District unexpectedly dismissed students for the remainder of the academic year after Reynolds recommended schools close for four weeks on March 15. That four-week period wound up being the rest of the 2019-20 academic year and students would not be in buildings again until Aug. 24.
The pandemic also led to the cancellation of some of Sheldon's biggest events such as the Easter Egg Hunt, RiseFest, Celebrations Days, the Village Northwest Unlimited's July 3 Independence Day Celebration and more.
However, it also led to some small positives such as businesses and homes decorating windows with colorful displays as part of socially distant scavenger hunts, inspirational sidewalk chalk art and drive-by celebration parades. Volunteers also made and gave away cloth face masks, people went grocery shopping for the sick and infirm, and local food pantries saw donation upticks.
Since that first positive case, O'Brien County has had 1,574 positives as of Monday, multiple long-term care outbreaks and 50 deaths tied to the virus, including Jim Fisher of Sheldon, who was the first person to die of it in N'West Iowa.
2. Cleaning up Sheldon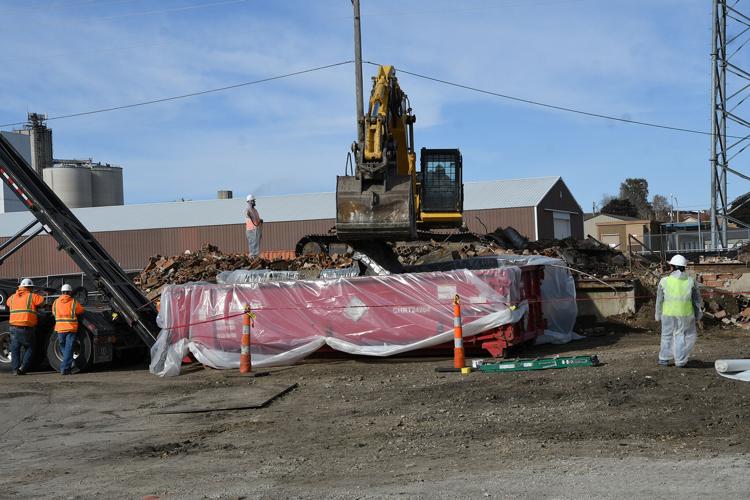 Sheldon's elected officials talked about wanting to clean up some problematic areas in the community for years and two years ago they found the right man for the job when they hired Sam Kooiker as city manager.
Since then, the Boyden native who spent a good chunk of his youth hanging out in Sheldon has taken the challenge head-on and has worked to help remove blights and blemishes in town.
Perhaps the biggest success was MidAmerican Energy Co. demolishing the Thermo Cel building south of the railroad tracks by the post office. Thermo Cel was once labeled and most dangerous building in Sheldon and the old structure did not go quietly.
About 200,000 gallons of water had to be pumped from its basement and bees had to be removed from the demolition site but on Oct. 12 the 70-year-old structure that had been abandoned since 1987 finally went down.
In addition to Thermo Cel, the former DJ Redemption Services building was knocked down and the former Birdman house at 1023 Garfield Ave. was demolished and replaced by the property's new owners, Kerwin and Kathy Sterler.
The Sterlers also still are waiting to finish another real estate deal with the city that would give them ownership of the former Sunset Motel property. Their plans are to demolish the motel wings and bring in six new trailers and to get a house on the property up to code and rent it.
The city also has had success with getting owner Tom Mouw to start cleaning up his trailer park at 425 W. Seventh St. — he was given an extension to finish the job by March 1 — and a judge ruled in its favor against Kevin Crafton, who owns a burned trailer at 1320 S. Third Ave. Crafton and the city butted heads over his property for most of the year but on Dec. 16 he admitted he made a mistake in not trying to work with the city more and vowed not interfere once a contractor starts clearing the property.
3. Chickens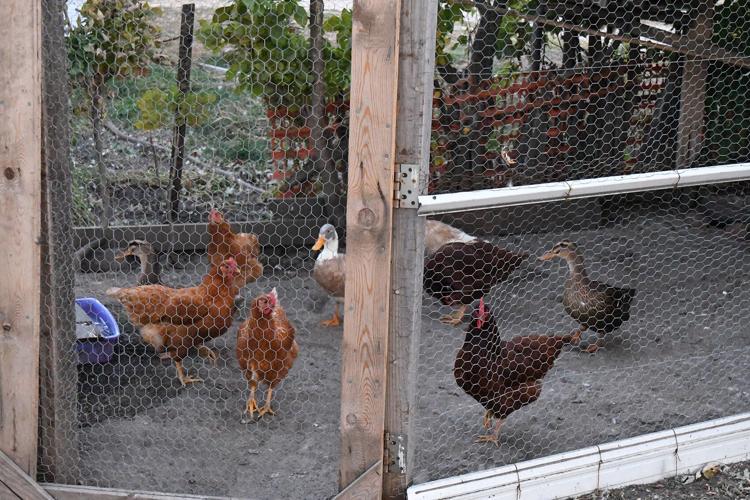 It started innocently enough with 15-year-old Connor McDonald asking the Sheldon City Council could he keep 20 small fowl — chickens and ducks — in his family's backyard in May.
While simple on the surface, the issue was became more complex than that.
At that time, it was legal for residents to keep livestock on their property in an area not zoned for agricultural purposes; however, the request had to be approved by the city council first.
The council approved McDonald's request 4-1 with Brad Hindt, the most tenured member of the council casting the lone objection. Before the vote, Hindt warned his colleagues this could lead to a snowball effect.
"We're going to end up with a whole mess of people wanting chickens and then it's going to go to miniature pigs and whatnot all down the road — goats," Hindt said. "It's just going to be a nightmare."
Less than two months after McDonald's visit the council received its second request for chickens — this time from 8-year-old Bailey Van Engen — and it was approved 4-1 with Hindt again dissenting.
When Van Engen's request was approved, councilman Wayne Barahona quipped they may have opened, "Pandora's coop."
By the third request — from 14-year-old Angie Juarez — on Oct. 7 the council was ready to get out of the chicken business and got the ball rolling on handing poultry duties to the Sheldon Board of Adjustment.
Juarez also was allowed to keep her chickens while the city worked on a new ordinance, but voluntarily gave up her ducks.
Kooiker and city attorney Micah Schreurs presented some options of the new livestock ordinance to the Sheldon Planning & Zoning Commission on Oct. 28 and that body rejected the proposals 6-2 with most suggesting they do not want any chickens in Sheldon.
Sheldon resident Christine Reiter made a plea to keep chickens in town during the Nov. 4 city council meeting and revealed that her family had them for more than a dozen years without complaint.
The chicken issue remains unresolved in Sheldon. The city council removed its ability to grant livestock special exemptions and Kooiker and Schreurs are working on other potential ordinances to present to the planning and zoning commission.
4. Sheldon Fire Co.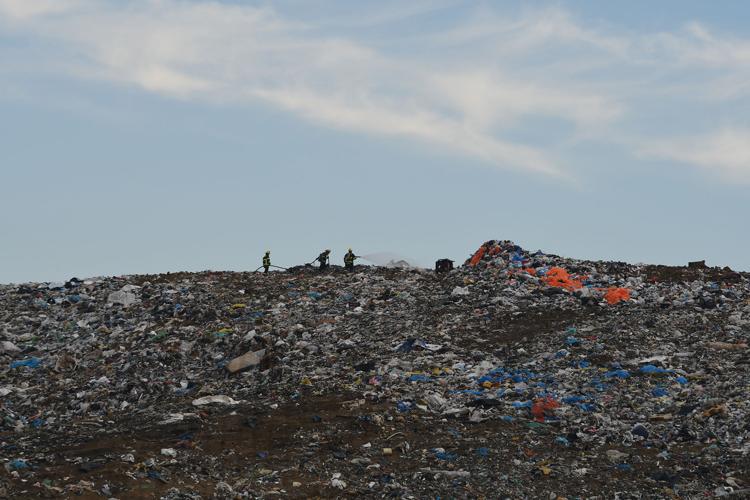 The Sheldon Fire Co. broke its record for calls with nearly two months left in 2020.
It's been that kind of year for the men and women who volunteer to battle blazes in the community and often lend a hand or truck to Sheldon's neighbors too.
Firefighters have tackled everything from barn, business, home and vehicle blazes to extinguishing two garbage fires at the Northwest Iowa Area Solid Waste Agency & Recycling Center south of Sheldon, a fitting metaphor for 2020.
Additionally, the Sheldon Fire Co. also found time to perform regular community services activities such as teaching youth about fire safety during National Fire Safety Week, participating in parades, allowing two junior members to arrive to prom in a fire truck and more.
The Sheldon Fire Co. dates back to 1884 and while the department has never lost a member on a fire call, it did help send off two members this year: Mark Matthes and Ben DeWit, who served for 43 years and six years, respectively.
5. New chief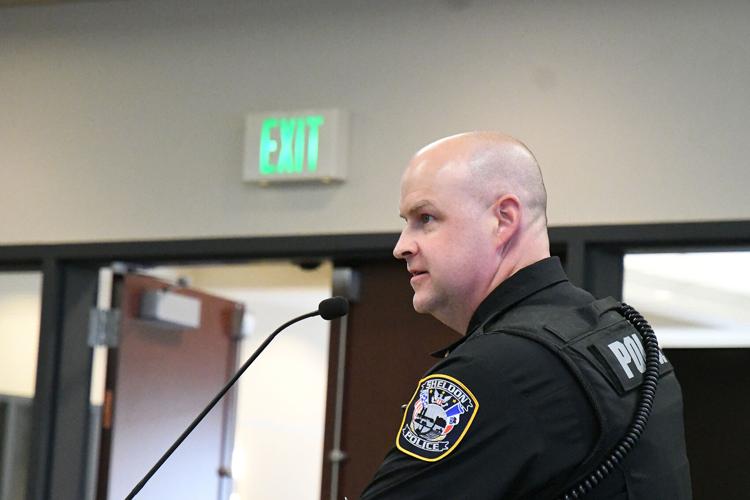 Scott Burtch had big shoes to fill as Sheldon's top cop but the newcomer seems to be getting his feet under him in leading the city's boys in blue.
He replaced Lyle Bolkema as Sheldon's police chief in February.
Burtch was a deputy in the Glenwood-based Mills County Sheriff's Office before coming to Sheldon.
In September, Burtch approached the Sheldon City Council with some of his observations.
Burtch saw the need for more officers and wanted to expand the force to at least eight to account for the number of calls they go on — about half the calls in O'Brien County — and noted Sheldon had been at seven officers since 2003.
The new chief also wants a dog to help with the city's methamphetamine problem. The department is fundraising to establish its canine unit and Burtch said it also would help in search and rescue situations as well as be a deterrent to foot pursuits or end them more quickly.
Burtch was not the only new face on the department this year. Tim Loeschen, previously a reservist, was elevated to full-time status to replace Jett Korver who took a position as an O'Brien County deputy.
Brian Wielenga retired in August after 32 years and Dan Crawley will replace him.
Administrative assistant Elaine Boogerd also retired in December after 35 years in the position.
6. Body found in park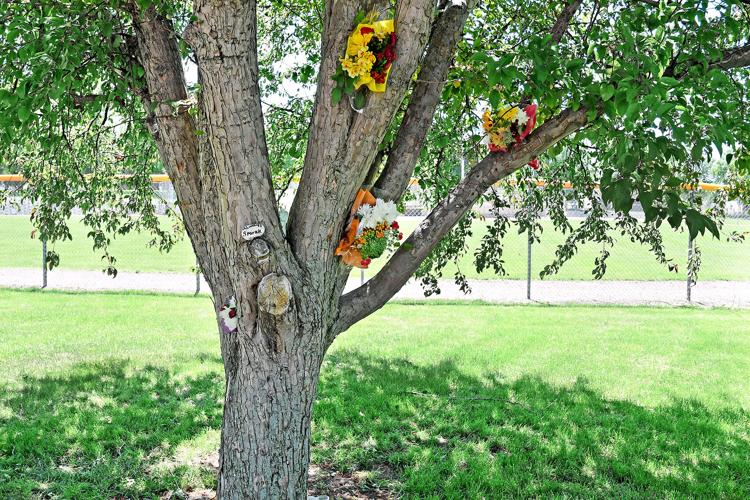 The remains of Oscar Alexander Herrera Guandique were found in a tree near the Sheldon Skate Park on May 30.
The 24-year-old's death was later ruled as a suicide after an autopsy at Iowa Division of Criminal Investigation Criminalistics Laboratory in Ankeny.
He was reported missing in the middle of May.
7. Crossroads Travel Plaza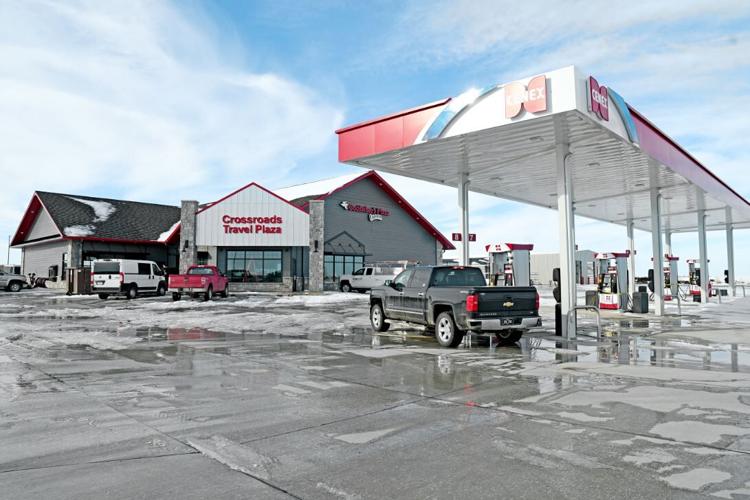 Publicly announced in July 2018, the Crossroads Travel Plaza opened in the northeast corner of the intersection of the Highway 60 expressway and Highway 18 on the east edge of Sheldon.
The $2 million truck stop did not come alone. The facility opened with a Godfather's Express, reviving the franchise that left Sheldon in 2017 and will bring a future Jimmy John's location with it in the spring.
The opening of the plaza, owned and operated by Co-op Gas & Oil Co. of Sioux Center, also meant a decision is forthcoming regarding its operation along Second Avenue.
8. Crossroads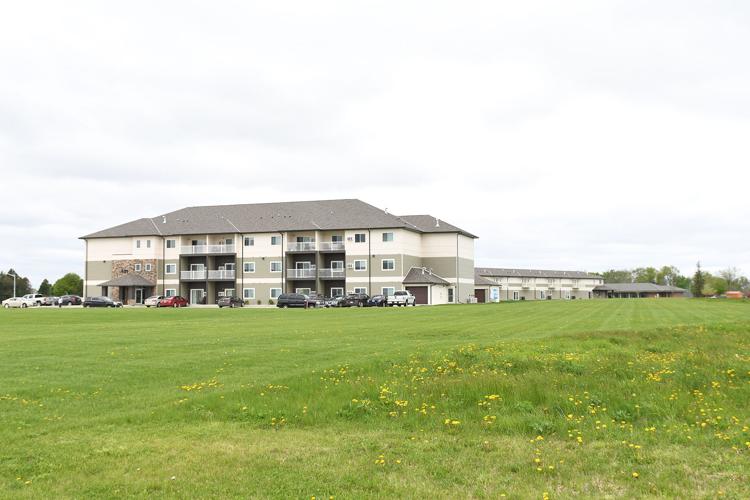 The Crossroads area of Sheldon — anchored by Crossroads Pavilion event center — continued to experience tremendous progress in 2020.
The developers of Prairie Trail Village, located across the street from the Pavilion, announced in May they would seek credits to possibly expand the residential complex, which opened in 2018.
The development consists of a three-story 30-unit apartment building comprised of one-, two- and three-bedroom units and nine two-story townhomes with three or four bedrooms and on-site garages.
The second phase of Prairie Trail Village also would consist of 39 units — 30 apartments and nine townhomes — and have an estimated completion date of October 2021, according to the application from the developer.
This project is estimated to cost $4.65 million.
In October, Cobblestone Inns & Suites announced it intends to build a $3.5 million hotel in the Sheldon Crossing Development located between the Holiday Inn Express & Suites and the Pavilion.
The 40-room hotel would be two stories and include a fitness center and a bar and serve a hot breakfast. It would create 14 full- and part-time jobs.
Lastly, on Dec. 2 the Sheldon City Council gave the proposed Crossroad Parks a major boost when it approved allocating $300,000 in Sheldon Recreation Trails Board funds toward the project.
Of the $300,000, nearly $30,000 will go to Beck Engineering of Spirit Lake to provide engineering service for a 1-mile trail that would go around the pond at the center of the undeveloped 40-acre site adjacent to the Pavilion.
To help offset the cost, the trails committee also will pursue grants to finance the project. Pending grant funding, Beck Engineering estimates the trail could go out for bid in the first quarter of 2021 and be constructed sometime that year.
9. Sheldon Christian School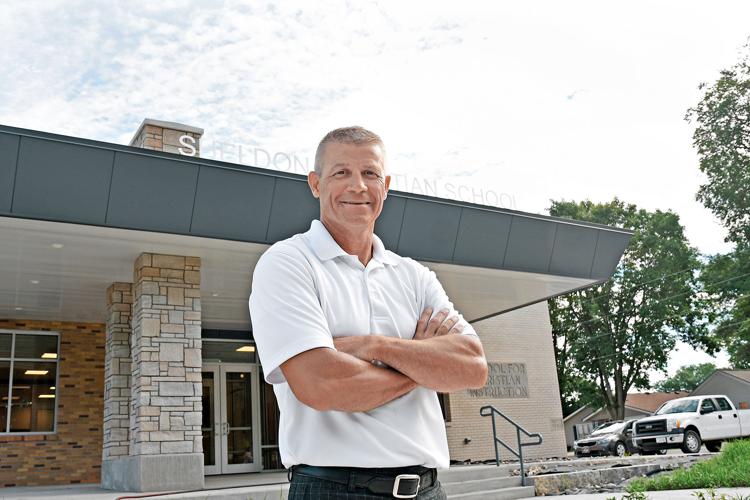 Sheldon Christian School completed a $2.2 million renovation/expansion just in time for the 2020-21 academic year.
The project includes 6,296 feet of new construction being added to the south side of the school to provide new preschool and kindergarten rooms with separate restrooms, a new library, a new administration office and a multipurpose room
Some of the additional work includes room renovations, the gymnasium roof being replaced, new restrooms an updated fire alarm and a new sprinkler system, and replacement of the 39-year-old heating, ventilation and air conditioning system.
The renovated classrooms have new carpet, lights, Smart Boards and other improvements.
Sheldon Christian School also welcomed new principal Marlin Schoonhoven.
Schoonhoven inherited the principal job from longtime position holder Pete Van Velzen after spending 27 years at Ireton Christian School including serving as that school's administrator.
10. Christmas spirit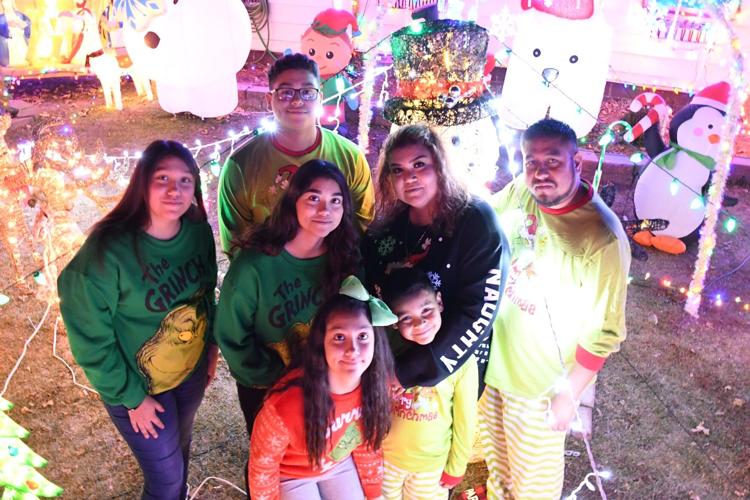 Shantel Ooostra, Sheldon Chamber and Development Corporation chamber director, was sold on the job after being told she would be the community's biggest party planner.
Unfortunately, the coronavirus robbed her of a lot of those opportunities; however, she vowed to go big on Christmas and she did with the Hometown Holiday Parade of Light, Sheldon's first lighted Christmas parade.
After initially being centered downtown, the parade was spread throughout the community to allow for social distancing and to comply with state mandates and the event was considered a hit.
Oostra was not the only one who made Christmas 2020 special in Sheldon. The Prairie Arts Council hosted "A Merry Little Christmas Party" in conjunction with the SCDC on Dec. 5, and Crossroads Pavilion hosted a Holly Jolly Hoopla on Dec. 11.
Additionally, two Sheldon families on West Seventh Street — the Granillos and the Jimenezes — put up light displays that would put Clark Griswold to shame to help spread while also honoring their own traditions.