SHELDON—Members of the Sheldon School District Board of Education got tested on their knowledge of Sheldon trivia Monday night at the board's organizational meeting in the high school library.
Third-graders from East Elementary presented their recent social studies projects on Sheldon's history to the school board members and administrators. Groups of students were set up in stations throughout the high school library, and board members went around to visit each station.
Before they started the activity, East Elementary teacher Kathy Arnold explained how her third-grade class, along with those of Ann Jansen and LuAnn Snyder, went on a field trip to downtown Sheldon last month to learn about historical landmarks.
They also visited places such as the Sheldon Community Services Center, the Sheldon Public Library and Northwest Bank.
"There are a lot of cool things downtown that you probably don't even know about," Arnold said to the board members.
At one station, third-graders Carson Lloyd, Aubrey Freymann and Delaney Brennan recapped the places they visited during the field trip in a short presentation.
"We have some questions to ask you to see if you know Sheldon as well as we do," the students said in unison at the end of their presentation.
They then quizzed board members and school administrators on various facts about the city.
Lloyd asked what the town's oldest building is and managed to stump everyone.
The answer was the building on Third Avenue where watch repair shop Time After Time is located. Lloyd said the building originally was a bank.
He also asked when Sheldon first became a town and where the foundation site is. High school principal Sherrie Zeutenhorst guessed 1873, which Lloyd said was close.
The answer, he said, is 1872. The site is on the corner of what is Northwestern Bank.
At another station, third-graders Lillian De Zeeuw, Mason Guevara and Brooke Jonas showed their Sheldon bingo projects, which were bingo sheets that had hand-drawn pictures portraying different historical facts about the town.
"When we started out our unit, they were handed just a blank sheet," Snyder said. "As we learned facts about Sheldon, then we would record something every day, like a keyword. When we were finished, we actually played bingo."
One picture on the bingo boards that school board member Jessica Brink asked about was one depicting grasshoppers.
The students explained that referred to an incident early in Sheldon's history when a swarm of grasshoppers ravaged settlers' crop fields over a period of seven years. Eventually, the settlers had to burn the fields to get rid of the insects.
After the third-graders wrapped up their presentations, the board reconvened to discuss its consent agenda items, hear reports from administrators and hear new business updates from superintendent Cory Myer.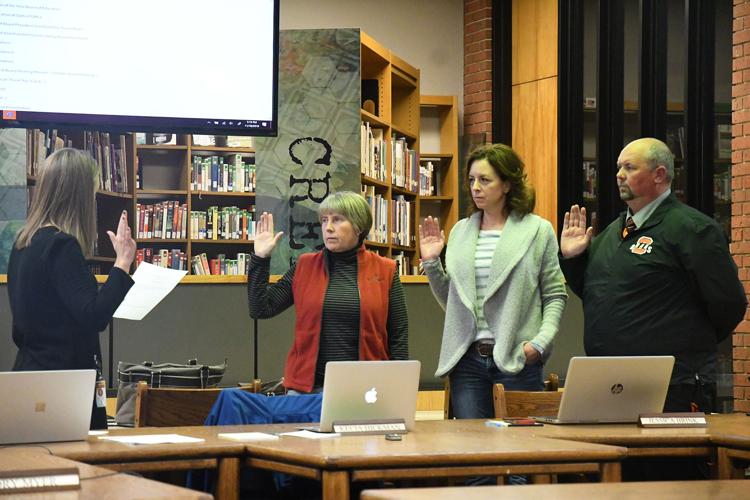 In Myer's report, he brought up future staffing needs for East Elementary and the Sheldon Middle School due to a large fourth-grade class that would be moving to the middle school next year for fifth grade.
"We think we're going to need to add another staff member to accommodate that, which is really going to be a pretty significant change for Cindy at the middle school," Myer said, referring to middle school principal Cindy Barwick.
East Elementary principal Jason Groendyke said there are 96 students in fourth grade this year.
He said when that class of students was in the second grade, the school had not filled a new position to accommodate the large number of students but instead had fourth-grade teacher Bailey Hennings fill the position.
Since he said there are 82 first-graders this academic year, Groendyke said the district should hire another second-grade teacher for next year instead of having another teacher shortage.
Myer said the district would look to fill those two positions, and he would continue to provide more information about staffing in future meetings.
"We feel comfortable that we can add that, and we'll be fine from a budget standpoint," he said.