REGIONAL—The video is only 33 seconds long, but the black-and-white footage shows a crime being committed on the front lawn of the Vust family's home on Sheldon's east side.
A little after 10 p.m. on Thursday, Sept. 10, a sedan slowly creeps up to the Vusts' house and stops in the street in front of their yard.
The vehicle's passenger door opens and a young woman steps out of the car and snatches a President Donald Trump campaign sign from the ground. The thief and car vanish after running a stop sign.
Kari Vust shared the footage on her personal Facebook account and demanded the return of her sign. She later noted the thief was caught and they have since put up a sign that reads, 'Smile, you are on camera."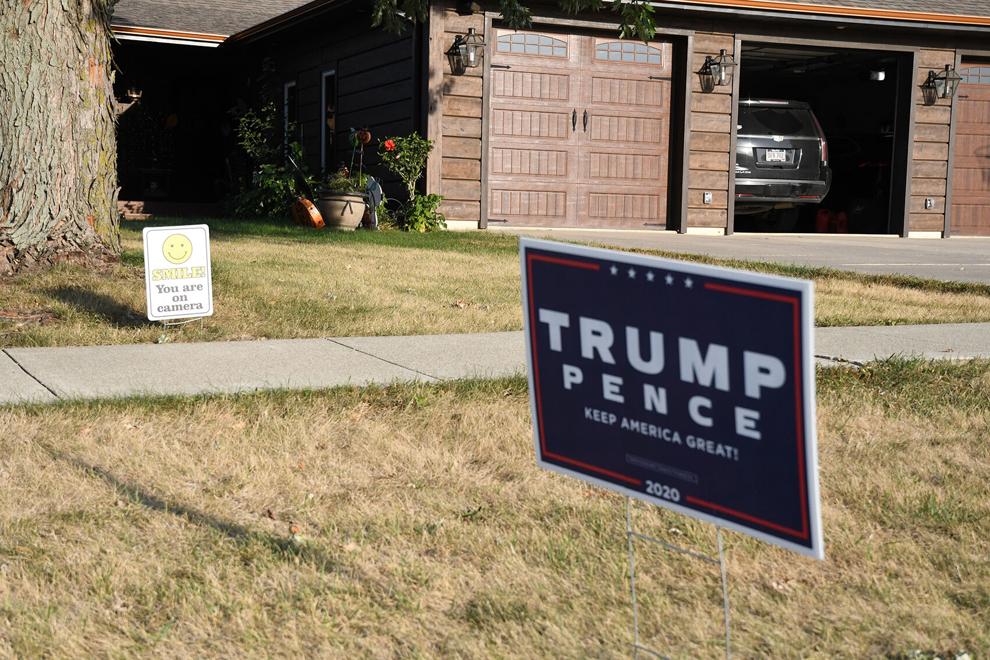 She is not the only person in N'West Iowa who has had their yard stolen this election cycle — some on multiple occasions — and the thieves are crossing party lines as Democrats and Republicans are reporting thefts.
"It doesn't matter where you stand, you should respect your neighbor's property," said Nathan Jackson of Orange City.
'Biggest one I can find'
Jackson noticed one neighbor had some yards signs to show their support of federal Democratic candidates, including former Vice President Joe Biden, and congressional hopefuls Theresa Greenfield and J.D. Scholten.
Biden is challenging Trump for the presidency, Greenfield faces incumbent U.S. Sen. Joni Ernst (R-Iowa) and Scholten squares off with state Sen. Randy Feenstra of Hull to represent Iowa's 4th Congressional District.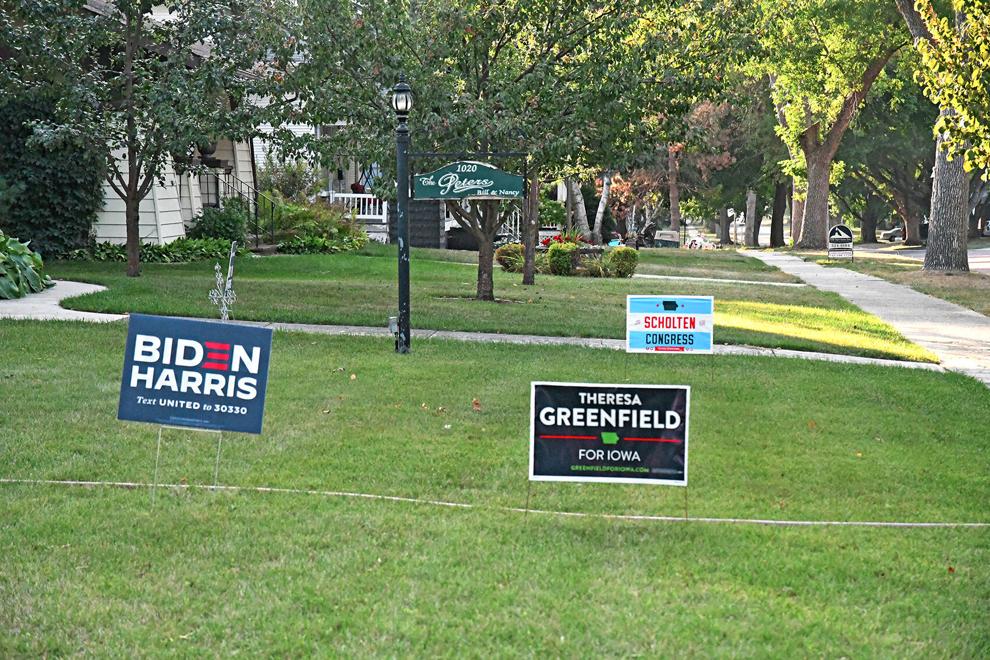 Feeling a little competitive, Jackson thought it would be fun to get signs for the Republican candidates he supports and mirror them on his side of the property line with his neighbor's Democratic signs.
Jackson, who lives along Albany Avenue Southeast across from the street Orange City Fire Station, acquired signs for Trump and Feenstra.
His display did not last long. Jackson went to Sioux Center to get Culver's around 5 p.m. on Sept. 16 before attending a discipleship meeting at his church. When he got home a little before 9 p.m. his Trump sign was gone.
"I thought, 'Where'd it go?' I thought that the people that are renting from me accidentally ran it over and brought it in," Jackson said.
After searching his home and still being unable to find the sign, Jackson realized it had been taken.
"I had it staked down pretty good to where it wouldn't blow away," he said. "The only thing I could think of is somebody must've came by when no one was looking and stole it."
Jackson has no clue who stole his sign, but he remains undeterred about keeping them in his yard.
"I'm probably going to get a couple, put one up, if that mysteriously disappears put the other one up," he said. "If that one mysteriously disappears then I'm going to try to get the biggest one I can find and put it on my lawn."
Jackson's other alternative is to get a security system.
"Which is something I don't want to have to do because this is like Midwest Iowa — northwest Iowa — social capital or trusting your neighbors is relativity high," he said. "You don't want to have put yourself in the scenario where I don't really trust the people I have to live with and put up a security system.
"This isn't like my home state of California where 'porch pirates' are a real thing and you have to have like a Ring security to make sure that no one tries to steal packages or tries to break in."
'Broad daylight'
Breann Getting of Sheldon and her family returned home from church on Sunday, Sept. 13, to find their Trump sign missing.
"My 13-year-old son is the one who arranged for the sign to be put in our yard, so when I saw it was gone I wasn't too happy; however, hearing all of the other signs that had been stolen I wasn't surprised that it was gone," Getting said.
"We live on Washington Avenue, so it's well-traveled. I was just surprised it happened in broad daylight."
Gered De Hoogh, who lives along 16th Street in Sheldon, had his Trump signs stolen twice and said some neighbors also were victims of sign theft.
"My first signs were up for about three weeks before being stolen," De Hoogh said. "I put up more right away and they were taken after a few days. In revenge, I put up a 4-by-8 sign and two flags. Since then I did get my original signs back because the police confiscated them. I put more yard signs up as well. I also have a camera up now."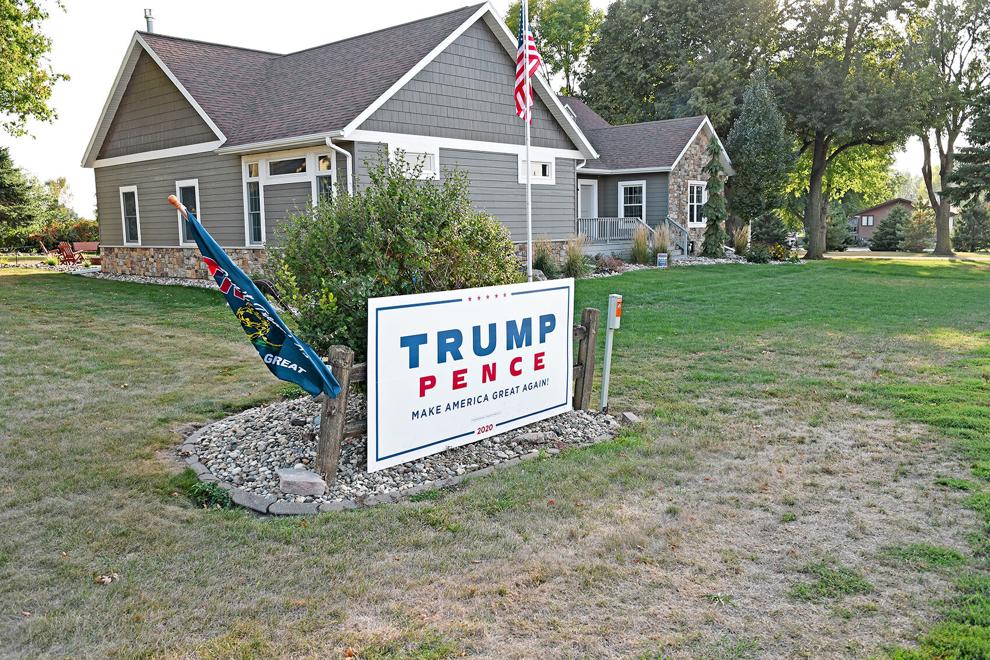 Jason and Jennie Fugitt of George have had five Biden stolen from their yard.
"We have gotten to a point where we have to bring our Biden sign and flag into the house right before dark or if we are out of town," Jason Fugitt said.
One Biden supporter in Osceola County became so frustrated that he took out a newspaper ad offering a reward after having multiple signs stolen. His last sign that was stolen was defaced with red paint and was secured with a 12-foot log chain that was anchored to the ground with 12-inch spikes.
'Take it seriously'
While no law enforcement agencies have verified this, some sign theft victims in Rock Valley and Sheldon have heard rumors of people stealing signs and burning them.
Another rumor is that stealing a political sign is a federal crime; it's not.
Theft charges are based on the monetary amount placed on the items and most political signs are valued at less than $200. This is considered petty theft in the Iowa Code, meaning those crimes warrant, at most, a fifth-degree theft charge, which is a simple misdemeanor.
Officially, the Osceola County Sheriff's Office in Sibley has only had six complaints about sign theft.
According to chief deputy Kevin Wollmuth, four Biden signs, one Scholten sign and one "human rights" sign have been reported stolen.
Wollmuth noted sign thefts always ramp-up when it comes to the presidential races.
He also said that if people are trying to steal a person's yard sign to sway their opinion in a race, it's probably having the opposite effect and it's an invasion of privacy.
"The sad part about is that the people that have had their sign stolen — and rightfully so — they take it very seriously and they should take it seriously," Wollmuth said.
Nate Huizenga, chief deputy of the Sioux County Sheriff's Office in Orange City, said his department has only had one reported sign theft in the last few weeks.
However, Huizenga noted municipal law enforcement agencies in Sioux County may have received more complaints.
Sheldon police chief Scott Burtch said they have had a few reports but not everyone is filing formal complaints including one of his officers who had a sign stolen from his front yard.
Burtch suspects teenagers are behind most of the thefts in his community.
'Kind of petty'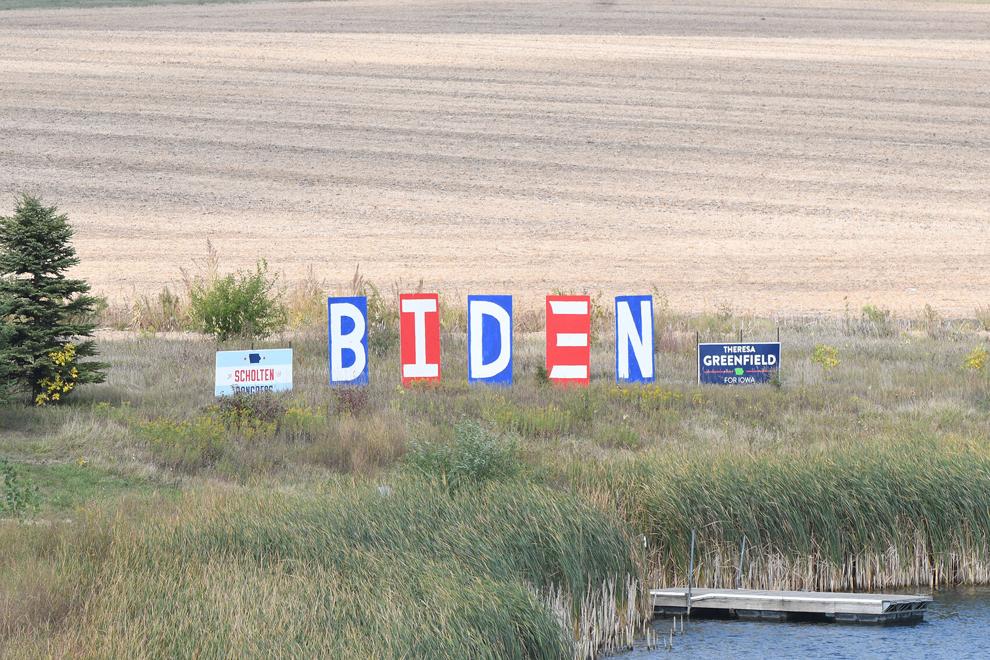 The Democratic and Republican Party chairs in O'Brien County are disappointed by the sign thefts.
"I've been hearing there's a lot of that going, especially over in Sheldon," said O'Brien County GOP chair Kelly O'Brien.
"I've had a lot of people calling me to see if they can get another and it's not just the yard signs — it's the barn signs too."
His counterpart, O'Brien County Dem chair Karen Sterk, has gotten a lot of calls to replace Biden signs, primarily in Sheldon and Primghar.
However, she was even more disheartened after hearing about the missing Trump signs.
"I told people there's only one thing that would make me more sad than when Biden ones getting stolen; it's Trump signs being stolen because then that means it's kind of my people doing it so that would really irritate me," she said.
"If it's anyone I know, I would come down on them; we don't do that. We don't do that in America."
Jackson, whose political views are different from Sterk's, would agree with that sentiment.
"It just seems kind of petty, right?" he said. "We live in a constitutional republic and there's going to be people that disagree politically. Vandalizing or stealing people's yard signs, which would be their property at that point, it doesn't seem right to me.
"I can disagree with somebody that has a J.D. Scholten or Theresa Greenfield sign, but I don't feel motivated to take their sign."