GRANVILLE—Michele and Tom Tapper have been in the food business for decades. As longtime owners of the Gobblestop Turkey Shop — a mobile restaurant with a fleet of six food trailers — the Tappers traveled to festivals and events across the region, frying turkey legs and peddling fries and sandwiches to hungry crowds.
Now, they are bringing their love for home-style meals to Granville, where they opened Tap's Cafe on March 16.
If the daily lunch and breakfast rush is any indication, the community was ready for an eating establishment.
"We opened March 16, and in the first six days, we served about 700 meals," said 62-year-old Tom. "That's all word-of-mouth — we haven't even advertised.
"We're waiting for the newness to wear off," said Michele, 45. "But it's been since the middle of March, and it hasn't slowed down one bit."
Tap's Cafe occupies the building that was formerly home to The Outfield, a restaurant that closed eight years ago. The Tappers are leasing the space from a neighboring business, Bunkers Feed & Supply.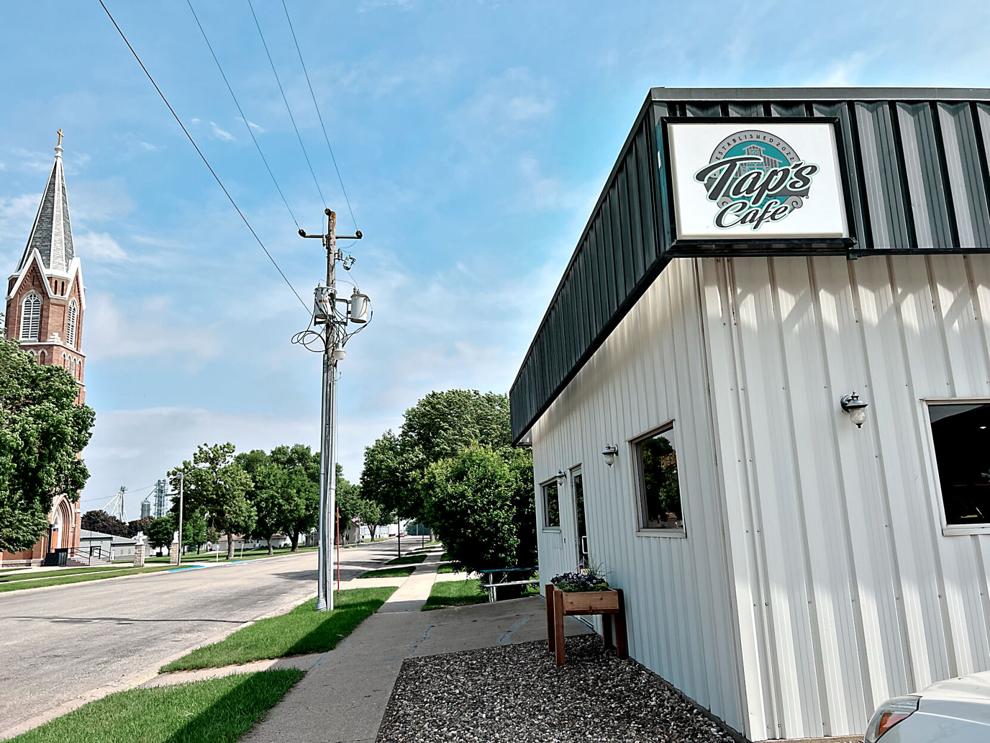 "Our vision was that we could run this by ourselves, but we've been so busy at noon, we have to have another person on staff," Michele said. They hired a part-time server to help during the rush.
"It's a good problem to have," Michele said.
The menu at Tap's Cafe includes daily specials like hot beef sandwiches, pork cutlets, waffles on Sundays and a community favorite, liver and onions. A calendar of daily specials is posted on the Tap's Cafe Facebook page monthly.
The cafe also offers a second special each day that is chef's choice, along with a regular lunch and breakfast menu.
"My big push is, if a working man comes in, you can get in and out in a half-hour if you stick to the specials," Tom said.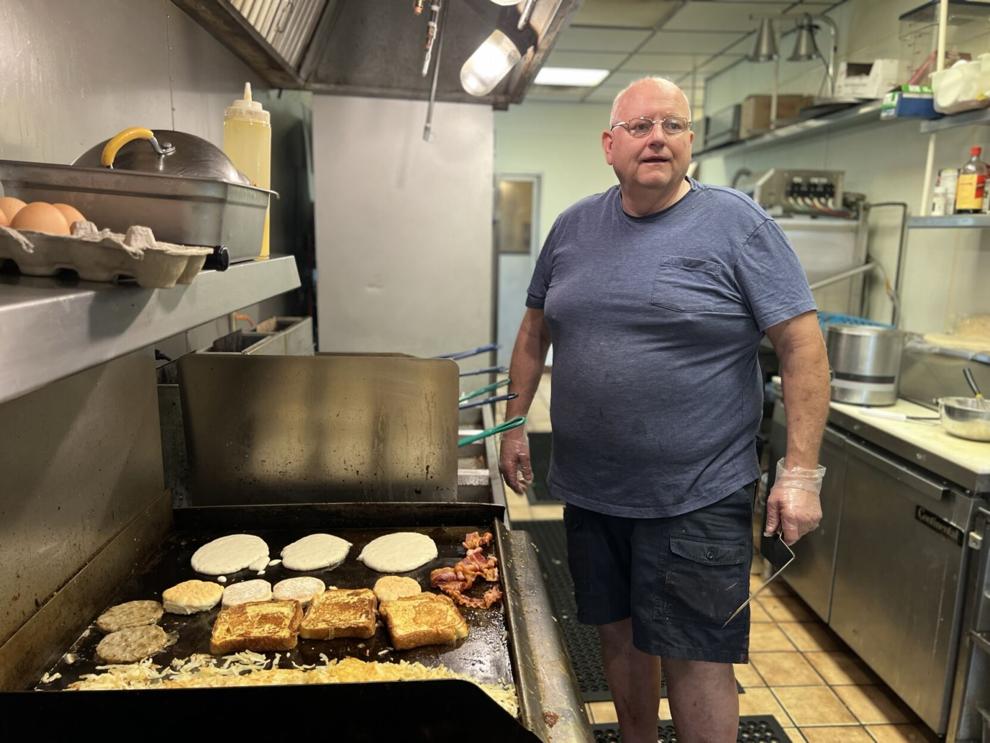 Diners with more time, or those ordering their food to go, can choose from a variety of sandwiches, shrimp or chicken strip baskets, steak tips, salads and appetizers, among other offerings. At breakfast, the choices include a variety of breakfast platters, omelets and dishes "from the griddle."
The cafe is open 6:30 a.m.-3 p.m. on weekdays, and it serves breakfasts 8 a.m.-12:30 p.m. Sundays.
"We get a good Sunday crowd." Tom said.
Hungry customers stop in from all over, seeking a breakfast joint open on a Sunday.
A need
The Tappers said they knew many in the community were longing for a local food establishment, and they opened the cafe to meet that need.
"There's no other place here in town," Tom said. "The bar closed, and the gas station, too. Even to get a bottle of water, you had to go out of town."
The cafe draws patrons from Paullina, Sheldon, Boyden and Hospers, along with people from farther away who are "just traveling through."
"People just want something different," Michele said.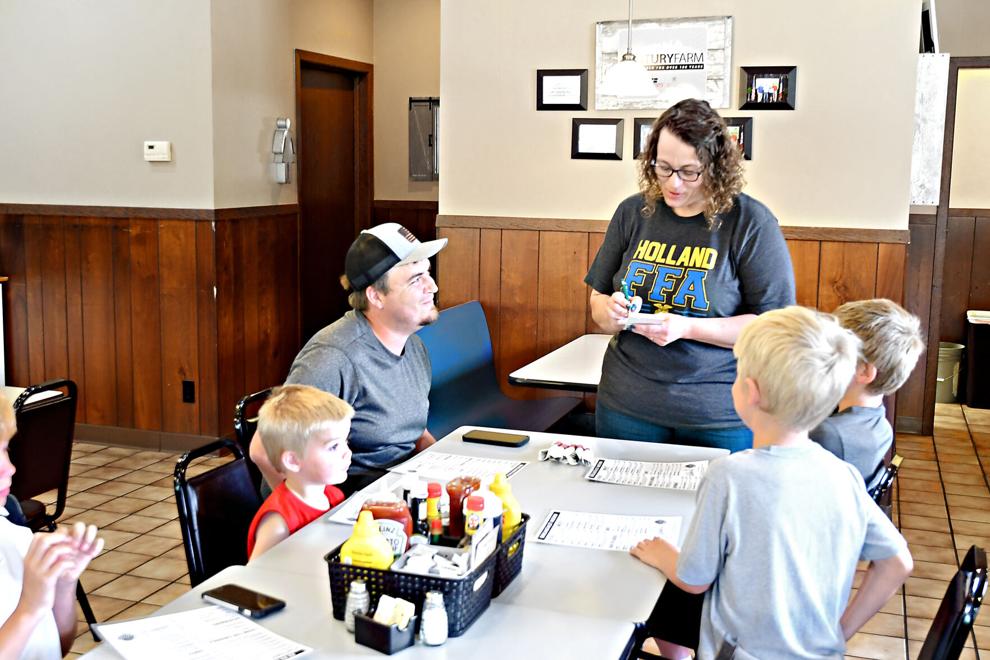 Tap's Cafe serves soft drinks as well as beer in bottles and wine, and there is a dessert menu with a variety of ice cream options that has proved popular in the summer months, especially among kids.
Located across the street from St. Joseph Catholic Church, the cafe already has hosted several meals for groups gathering after Saturday funeral services. The cafe is not open on Saturdays, but the Tappers will open at no charge for groups of 25 or more.
Food veterans
The original Tapper's Cafe opened in Merrill in 1985 and was owned and operated by Tom's parents. Tom learned the ropes of the food business working at his parents' cafe, then Tom and Michele honed their skills during their years running a food truck business.
The Tappers will continue to operate three food trailers alongside Tap's Cafe, but they plan to downsize. Felipe Baez of Sheldon will take over the Gobblestop food trucks, rebranded Gobblestop Steaks & Chops, and the Tappers will continue to have a smaller, more focused food trailer business. One of their three trailers will be strictly for fresh-squeezed lemonade while the other two will sell cotton candy and popcorn under the moniker M&T Concessions.
"My knees are starting to go," Tom said. "I'm ready to slow down."
The food truck business is not for the faint of heart, according to the Tappers — especially when there's frying involved. It means spending long hours in a cramped space with no air conditioning, standing over a hot fryer full of bubbling oil.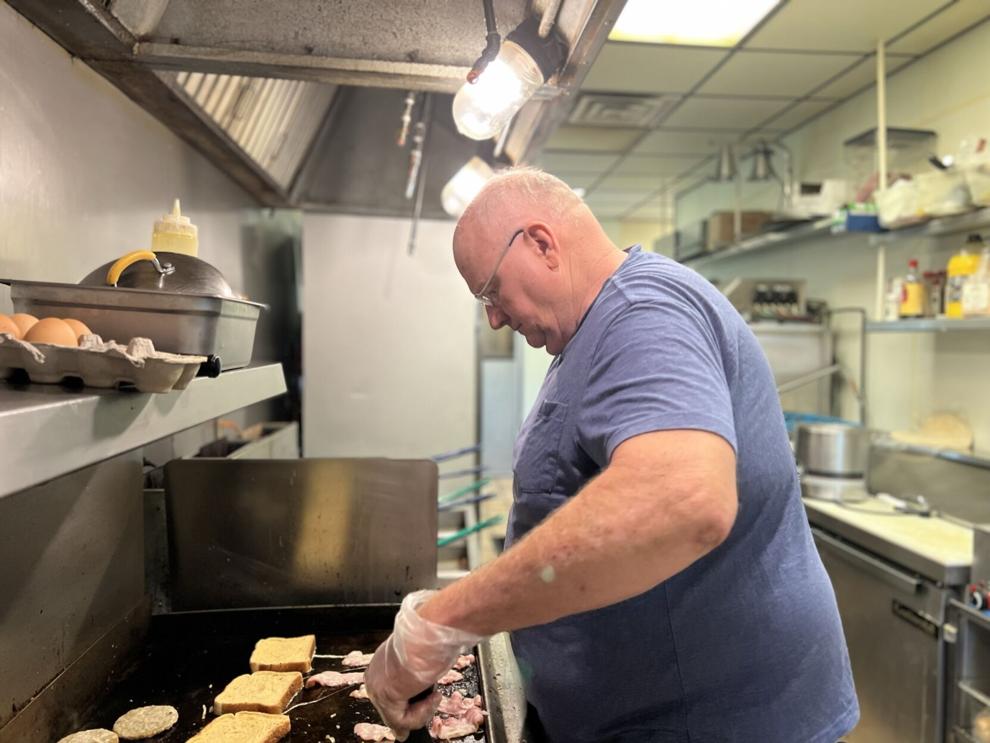 "Imagine being outside in that trailer today, when there are 100-degree temps and no air conditioning," he said, referring to the heat wave that drove temperatures above 100 across the region this week.
As grueling as the experience could be, though, Tom said their time as food vendors also was exciting. Among the celebrities they met on the road over the years he listed B.B. King, Kevin Costner and Warren Buffett.
The couple's experiences in the food business also prepared them to go into their new venture with their eyes wide open.
"There's a lot of work involved," Tom said. "Eighty percent of restaurants and food trucks close within their first two years."
From his years in the food business, Tom said the couple has learned that running a successful business involves know-how, but it also requires taking risks.
When Gobblestop was a food vendor at a large music festival in Sioux Falls, SD, several years ago, Tom remembers the sky was threatening rain and other vendors started closing up.
"The sky was jet black above us, but I noticed one thin white line, just above the horizon," Tom said. "I turned to my people and said, 'Fry everything we've got.'"
Sure enough, the clouds parted, and the hungry crowds lined up at the Gobblestop food truck, the only vendor with food ready to go.
"We sold 400 turkey legs in 45 minutes," he said. "You've got to be willing to take risks."
Regulars
Since its opening, the Tappers said the cafe has been busy, with a steady stream of customers. There are farmers who meet for early morning coffee, a women's prayer group that gathers regularly at one large table near the center and families that come in for lunch or ice cream. A significant portion of their business so far has been large takeout orders headed to farms and dairies in the area.
"We have a lot of regulars — even young kids," Tom said.
"Some of them eat the same thing every day," Michele said. "They just sit down, and I bring them their food."
On Monday, May 13, four young boys from rural Granville walked in with their dad to celebrate the 12th birthday of the eldest, Tripp.
Marques Lingen, the boys' father, said the family did not travel to town for breakfast often, but they made an exception for a birthday celebration. Marques is married to Michele's cousin, so "he's family," Michele said.
"It's a special thing today — for his birthday," Marques said.
Tripp ordered French toast and one of his younger brothers, 8-year-old Baylor, ordered pancakes, eggs and bacon. They waited at their table while Tom flipped bacon and hash browns on the griddle, toasting thick slices of buttered bread until it was light brown on each side.
"There are three things you've got to remember in food," Tom said. "Look, taste and smell. If you've got two out of the three of those, you're doing pretty well."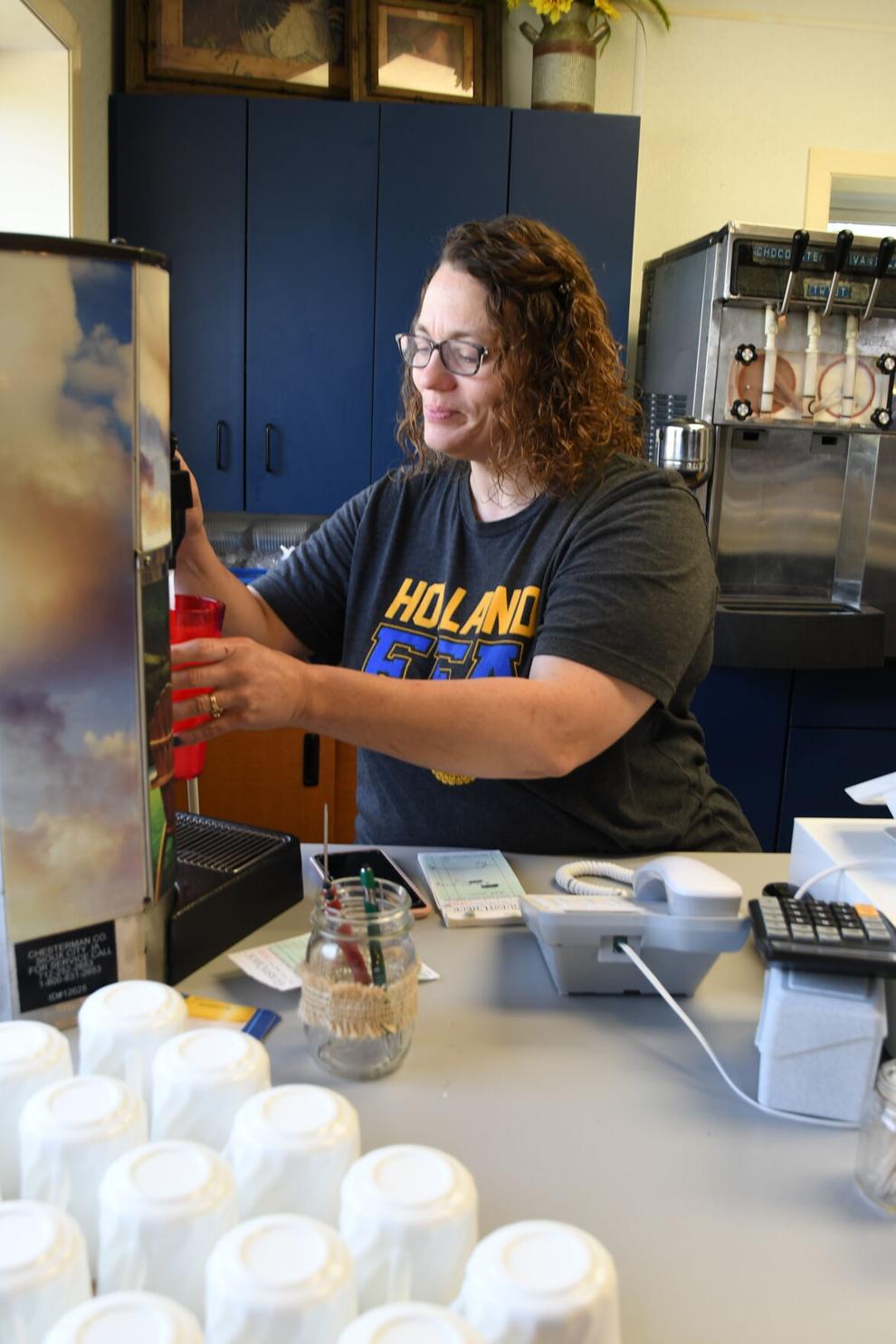 Each morning before the cafe opens, Michele makes a limited quantity of cinnamon rolls and sticky pecan buns, which are in high demand. Recently, a patron came in and purchased all of them, leading to a string of disappointed customers throughout the rest of the day.
"I can only make so many at a time," Michele said.
Patrons of the establishment enjoy their meals in a cozy space. It looks a lot like any small-town diner, but there are unique touches that reflect the Tappers' experience as farmers.
On one wall, there is a large painted portrait of a cow that reminds Michele of the family's once-beloved cow, "Susy." On another, there is a mounted display of her father's collection of tractor replicas. Out front, a wooden flower box overflows with pansies, a contribution constructed by the couple's son.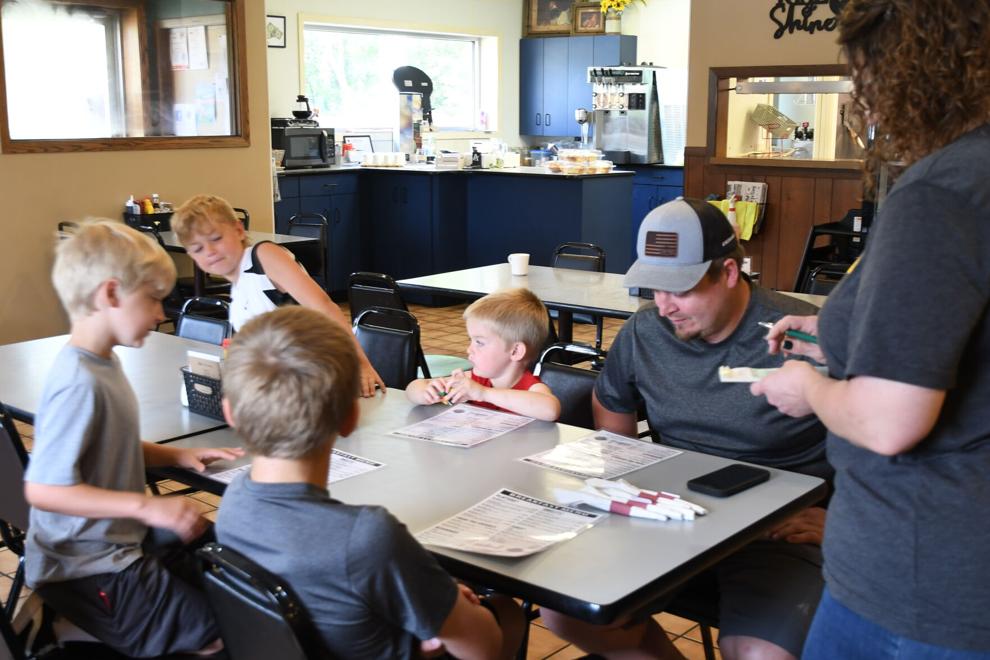 The most personal touch, Michele said, are the framed photos of customers from the area posing with family members on their Century Farms — land passed down through generations for a century or more. She said "anyone, from any county" can bring in a photo, and she'll frame it.
"We get such good community support," Michele said. "You get to know everybody. You get to know their names. We want people to feel at home here."
AT A GLANCE:
Business: Tap's Cafe
Owners: Michele and Tom Tapper
Address: 523 Elm St., Granville
Hours: 6:30 a.m.-3 p.m. Monday-Friday; 8 a.m.-12:30 p.m. Sunday.
Phone: 712-727-3300
Online: Facebook