SUTHERLAND—Unsafe drivers speeding through town is a common challenge for many rural communities, but Sutherland might be closing in on a solution.
Jack Wallinga brought the perennial problem to the Sutherland City Council meeting on Nov. 1. His solution: radar speed signs.
The equipment would attach to the speed-limit signs in town and display the real-time velocity of passing vehicles. The model Wallinga showed the rest of the council even has a color-coded system: green for legal, orange for a warning and red for dangerously fast.
"I travel to 13 counties in northwest Iowa for work, and I'm seeing more and more of these popping up," he said.
Sutherland rented a temporary speed sign from O'Brien County earlier in the year for north-south Vine Avenue/Hiview Street, also known as county road M12, which leads in and out the east side of town, and Wallinga said speeding was significantly slowed.
He listed several permanent examples he has seen in the area, including Sac City. The council member said he got a hold of that town's police chief to discuss the safety feature.
"He said they are the best things since sliced bread. He said 'I can't believe how it slows the traffic down.' And we noticed that when we had the county's sitting out here on M12," Wallinga said. "It's just an awareness thing that you see."
Ireton and Everly also utilize similar speed signs.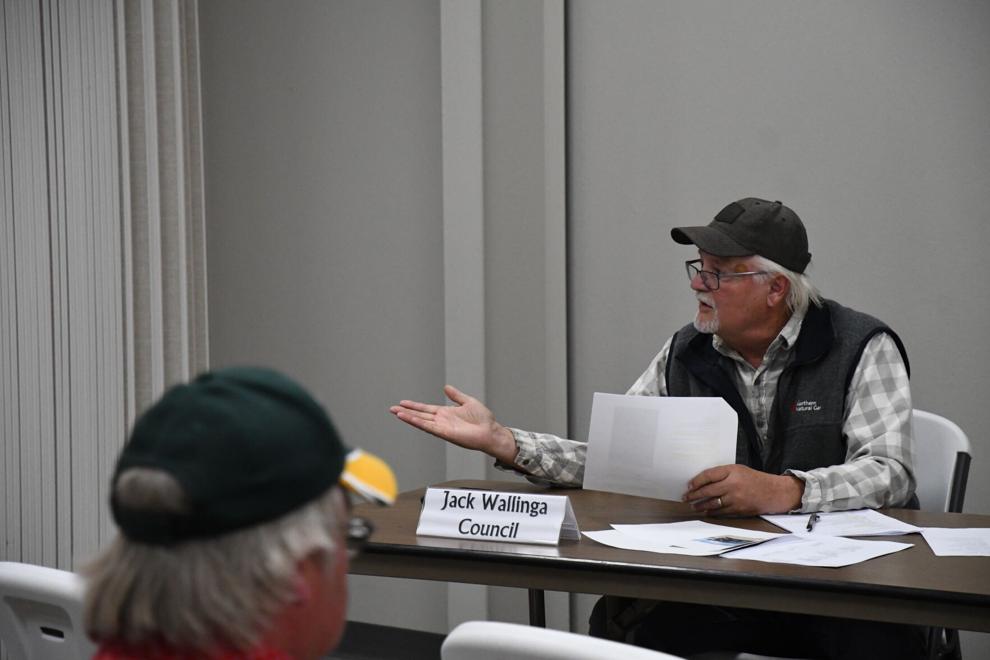 It was the penultimate meeting for Wallinga, a longtime council member who is retiring at the end of his term in January after not running for re-election this year.
He has been on the topic for years. According to minutes from the time, Wallinga mentioned the possibility of speed signs at the council meeting on July 6, 2010.
Council member Chase Cox also is on board. As a father of young children, he said he worries about motorists not paying attention as they cruise through the town of 630.
"There's kids running around on bicycles. These guys are not slowing down, and everybody is sick of it," Cox said.
Wallinga said he had a particular model in mind from radar manufacturer Elan City. That model comes with digital data tracking. Average speed, time-of-day trends and number of green, orange and red drivers can be sent to city officials such as Sutherland's newly hired police officer Derek Nixon via a mobile app.
The radar signs would not track license plates, so it would not lead to after-the-fact ticketing, but Wallinga said the data could give Nixon clues as to wear to sit in his patrol vehicle. The thinking is that Sutherland's purported reputation as a speed-through town will fade once drivers notice the extra attention.
"It would be interesting with the data because then Derek would be able to know from 2-3 a.m., you know, that's the area on a certain road," mayor Kay Gifford said.
Wallinga added that he got a quote from Elan City. Two of the signs he wants would cost $5,000.
After more than a decade of the council occasionally talking about speed signs for, the wait for getting them might be nearly over. The council agreed to tag the four-figure purchase for annual budgeting time, which starts in December and generally runs all winter.
Law enforcement expert Brian Flikeid chimed in to say that the Iowa Department of Public Safety has some grants available that might cover the cost.
The radars are detachable and could rotate around town, which was something that council member Bruce Engelke noted.
"If we had two of them and moved them around, I think it'd be a big plus," Engelke said.
The council pondered whether people get used to the new signage and revert to their existing exuberance on the road.
Wallinga said it still is worth trying as he heads out of office.
"I just wanted to bring it up again and take it into consideration," he said.