SUTHERLAND—Eight-year-old Karson Dau of rural Sutherland has some pull.
He placed third at the National Pedal Pull competition on Sept. 21.
Karson had qualified for the national contest in Mitchell, SD, after placing second at the Iowa State Pedal Pull in Marshalltown on Sept. 7 — the same day he turned 8 years old.
"It's a rule that you have to pull the age you are that day," said his mother, JaMae.
"Sept. 7 is his birthday, so he pulled out at the state pedal on his birthday with the 8-year-olds."
Earlier in the summer, Karson had won first place at the pedal pull in Paullina that was held during the town's annual Gemboree festival at the end of June. During that contest, Karson and another competitor completed a full pull, meaning they pedaled 40 feet.
To break the tie, the boys pedaled again with more weight added to their tractors until Karson eventually pulled farther and won,
Karson began participating in pedal pulls in 2017. His first competition was during a town celebration in Lake Park he had attended with his grandparents. Karson decided to take part in the pedal pull that was held there and ended up placing first and qualifying for state.
Although he did not place at state that year, he stuck with the activity.
"I like competing against other people," Karson said.
In 2018, he took first place at the O'Brien County Fair pedal pull, which again qualified him for the state contest. Karson placed third at state to qualify for the national competition, but he did not place.
At nationals, as at state and regional pedal pulls, contestants are placed in divisions based on their age and gender.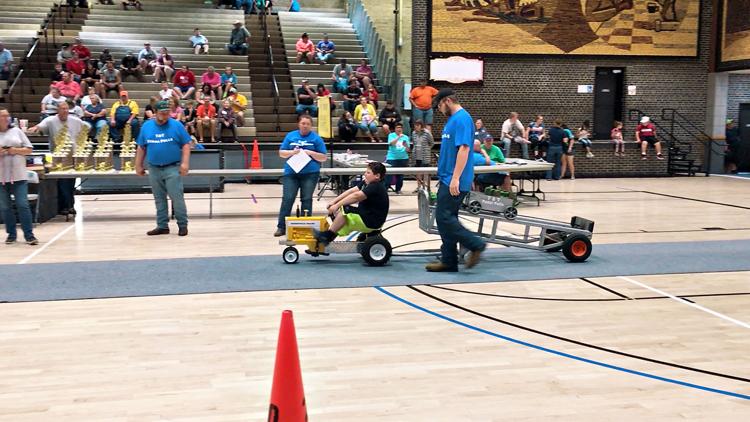 Karson competed against 32 other 8-year-old boys from around the Midwest this year at nationals, which took place at the Corn Palace.
Of all the other boys in his division, one other boy from Iowa stood out to Karson: Andrew Hol of Drakesville, located in southeast Iowa.
Hol had outpedaled Karson at the state competition this year, taking first place to Karson's second place. Hol also had taken first place at state in 2018 and 2017.
Although Hol won the top spot of the 8-year-old boys' division at nationals this year, Karson plans to keep on pedaling in future contests for another chance to face off against his Iowa rival.
"I will keep on going until I can't I can't do it," Karson said.
The competition is open to people ages 4-12, which means Karson still has four more years to work at becoming a pedal pull national champion.
This story was originally published in the Nov. 16 edition of The South O'Brien Sun.