Sheldon has a problem with cats, and it isn't just the poorly-received movie on the silver screen.
The Sheldon Veterinary Medical Center, which is the pound for the city, is starting a trap-neuter-release program for stray cats found in town.
Ashli Landhuis, the receptionist at the veterinary clinic, came up with the idea last fall.
"We had a huge influx of stray cats," Landhuis said. "We were up to 22 or 23 at one point in time in our care here. We're not made to house 23 cats. We had cats everywhere. Every available kennel was full of kittens and cats."
A litter of newborn kittens was found in a combine at O'Brien County Implement in September. The mother, a feral cat, and the litter were taken to the Sheldon Veterinary Medical Center.
"This all kind of started with this huge influx of kittens we've been seeing and there's a stray cat problem in the city of Sheldon," Landhuis said. "I've seen them climbing out of sewers before. They gravitate in those woods over there or the dumpster behind Pizza Ranch. We're kind of focusing on that whole area for right now. Eventually, we hope to incorporate the whole city of Sheldon."
The plan is to live trap the cats, then take them back to the Sheldon Veterinary Medical Center to get spayed or neutered along with vaccinating them for rabies before releasing them.
"Doing that hopefully stabilizes the stray cat population so no more cats are produced," Landhuis said.
She said giving the cats rabies vaccinations is for public health reasons.
"If somebody were to get too close to one of those guys, they would bite if you tried to pick them up," Landhuis said. "It's a fight-or-flight response and if you have them in your hands, it's going to be a fight response. We don't want anybody to worry about the risk of rabies."
While the cats are under anesthesia, they will be ear tipped, meaning about one third of the tip of their left ear is removed.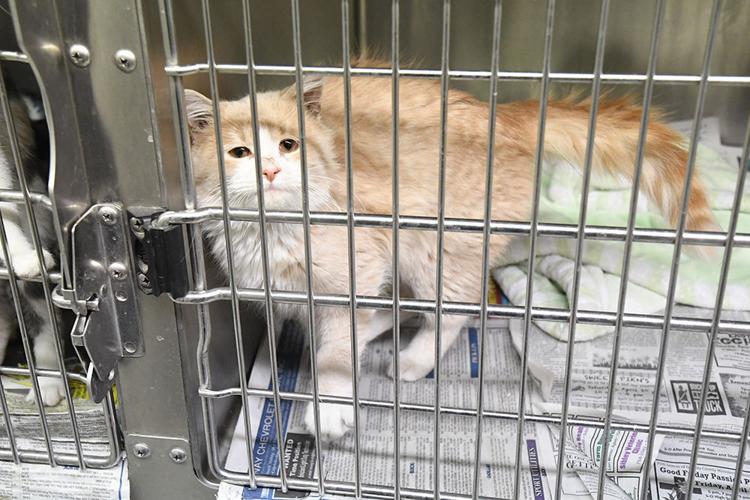 "That way, when we go out there if we get one in our trap that's already ear tipped, we can just let it go and reset our trap because we know that one has already been through our program," Landhuis said.
She said they are going to start with the area along Highway 18 from the Highway 60 expressway to Country Club Road then expand throughout the rest of Sheldon and eventually eradicate the problem.
Landhuis said it used to be that the only option for stray cats was to fix the cat and then try to find a farm for it.
"Well, if you take the cat out of the habitat it's been living in, it just opens up space for a new cat to move in with those resources," Landhuis said. "It's really best when we do it if we put them back, that way that cat is still taking up those resources and there's not room for either another mom to have babies or another cat to move in from a neighboring area."
According to alleycat.org, that also is the reason trap and release is preferred over euthanizing the cats.
Landhuis said that some of the cats have problems because of severe inbreeding. The feral mother cat taken in September had six kittens. Only two still are alive.
"They kind of just slowly faded away," Landhuis said. "They would lose weight and just pass away, so it's hard on our staff too mentally. To come in the morning and find the kittens passed away overnight, emotionally for us that kind of sucks because we get attached to them all. They all have names and they all get played with. They're probably some of the best socialized cats you'll find."
Spaying or neutering feral cats then eliminates inbreeding as a problem. It also makes the cats healthier.
"They're not having all those mating behaviors like the fighting," Landhuis said. "The noise they make when they're fighting is disruptive to people too."
She would like to start the program soon, but is looking for donations to help finance the effort.
"The city only pays for a week of boarding," Landhuis said. "After that, all the expenses are on us, the food, the litter, the help, the time it takes to take care of 20-some cats. My high school girls that work at night were staying here for two or three hours at a time because there were so many cages to clean and so many cats here, that it took them that long to do chores."
She would like the cat-loving public to help.
"Whether they be someone who feeds the cat, somebody who really advocates for trap-neuter-release, if they know what the trap-neuter-release program is, kind of help us out a little bit," Landhuis said. "We would really like to get started doing all these different locations with colonies and community cats but we kind of need a little bit of a boost."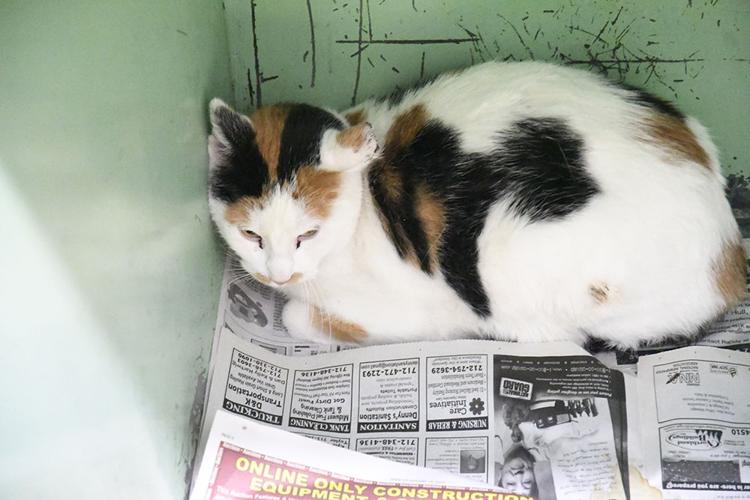 She said the mother cat found in September will be released soon.
"We did spay the mom cat from that litter of kittens we had and she will be going back out there shortly," Landhuis said. "We're going to wait for a little bit warmer day. Then we'll reintroduce her to her friends out there but she'll be spayed so she won't be bringing us more any more kittens."
The Sheldon Veterinary Medical Center is hosting a tip night at Pizza Ranch on Monday, March 2 from 5 to 8 p.m.