SPENCER—Okoboji native Caeona Krivolavy knew from a young age she was different from the majority of her peers while growing up in the predominantly white Dickinson County community.
The 2014 Okoboji High School graduate, who was adopted at 3 years old by a white family, recalled instances of racism throughout her childhood to a crowd of more than 550 people Thursday evening at East Leach Park in Spencer.
"Before you say that 'The past is in the past, why bring up slavery?' To that I would say: There was a modern-day lynching in Minnesota last week where a man cried, 'I can't breathe!'" Krivolavy said.
She was one of nine speakers who took to the stage after a crowd marched through downtown Spencer demanding justice for 46-year-old George Floyd and other black people who have died in police-related incidents throughout the years.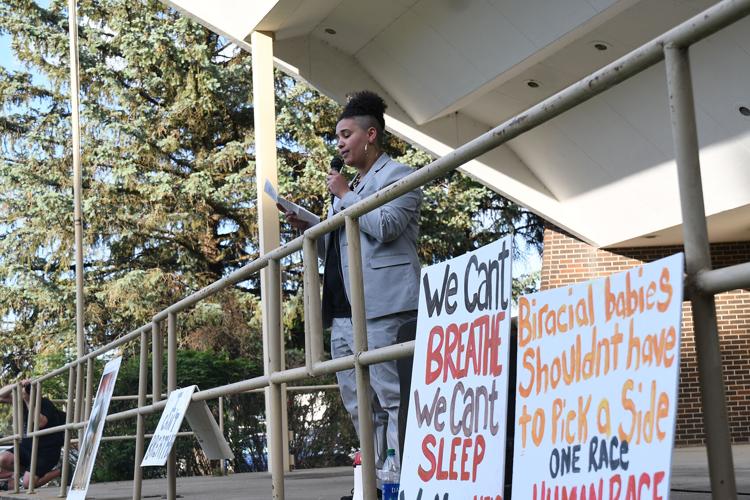 Floyd was a black Minneapolis man who died in police custody May 25 after an officer knelt on his neck for nearly nine minutes. Floyd's death has ignited Black Lives Matter protests around the country in which demonstrators have been calling for an end to police brutality and a reckoning of the United States' ongoing legacy of institutional racism.
The march in the Clay County seat community was peaceful, yet not without passive opposition by some onlookers along the downtown sidewalks.
Some onlookers had signs warning marchers not to start looting. Several businesses had their windows boarded up as a precaution against such action, which did not occur, and some businesses and spectators provider bottled water. A few bystanders watched the march silently while holding assault rifles by their sides while others drove parallel to marchers in large trucks with 2020 re-election flags for President Donald Trump streaming behind them.
Racial slurs hurled against marchers also could be heard in between the demonstrators' chanting of phrases such as "Black Lives Matter!" "No justice, no peace!" and "Say his name, George Floyd!"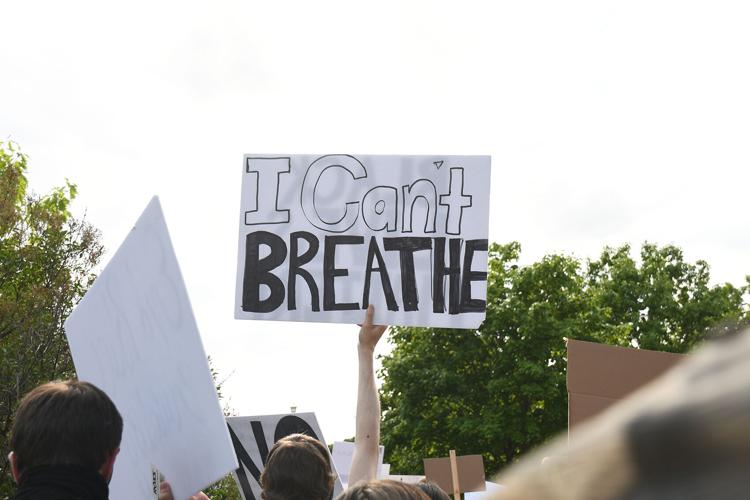 Such opposition did not deter Krivolavy and others from sharing their stories.
Another speaker was Ty Jackson, who explained how he was one of the first black people born in Spencer. His father was the first black man to move to the community in 1989. In 1990, Jackson's sister was the first black baby to be born there.
"All the nurses, doctors, everybody, rushed to the rooms because they had to see what this mixed baby looked like," Jackson said.
"Nobody had seen anything like that around here, right? Growing up my whole life, we were the only two black kids growing up here and it was tough. By the time I was 5, I probably already started fighting people already for racial discrimination. By the time I was 8, I had another kid pull a knife out on me. After that, I've had it happen again."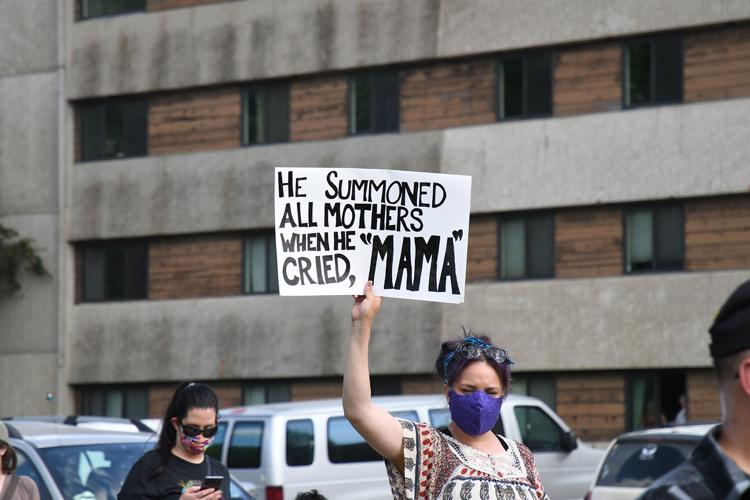 Jackson also recalled instances where he had been shot at in places, such as Hartley and Sioux City, and when a Spencer police officer searched his car at the town's skate park.
He explained such acts of discrimination have become so common for him, he has grown numb to it.
"I have to hold it," Jackson said. "Like it still affects me, but I have to hold it in. I can't show it."
Jacqueline Johnson, a black woman who moved to Spencer in 2015, recounted her multiple experiences getting pulled over by the Spencer Police Department and getting tickets within a few months of moving to the town.
In one such instance, which happened near her home, the officer asked her what she was doing in the neighborhood since he assumed she did not live there.
"I went inside my home and cried that night, and as the night went on sleeplessly, I became livid," Johnson said.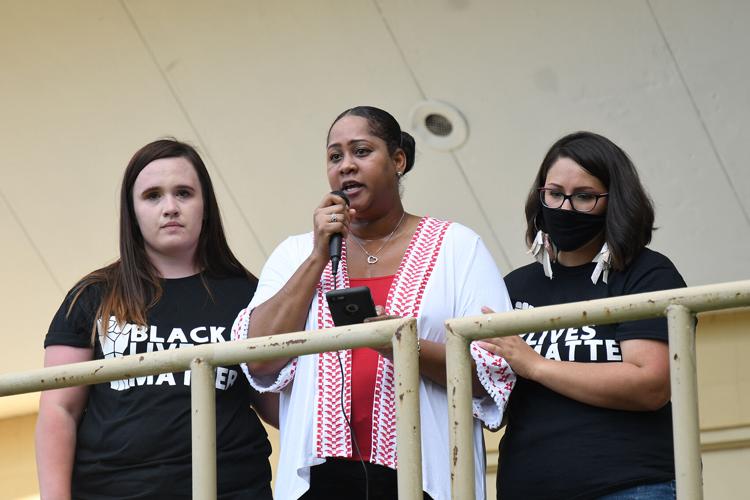 It was not until she went to the police department's supervisor with her husband, who is white, to describe her encounters getting pulled over by the police that she noticed a change in how the department treated her.
When she got pulled over again after having spoken with the supervisor, Johnson said the officer treated her kindly and did not issue her a ticket after she explained she had been speeding because she needed to use the restroom.
"That moment, I experienced empathy and understanding and the officer asked me kindly to drive safely home without further incident," Johnson said. "I am fair in my reporting of all my encounters because I want to let you know that not all officers have intentions to harm or harass those that they swear to protect. In George Floyd's case, he was not fortunate to live to share his story. I am."
One of the organizer's for the march, Sheldon resident Morgan Mack, also spoke to the crowd about the opposition she faced in organizing the event.
"I got threats thrown my way. I received messages from people such as, 'If this goes wrong, your name is on this and you won't be hard to find," she said.
She also recounted racism her family has encountered for being a mixed-race family. Her husband, Stephen Mack — another co-organizer of the march — is black, and the couple have five children.
"My son is currently in fifth grade, super smart, one of the funniest kids you'll ever meet," Morgan said. "So tell me why it's fair that I have to hold him crying because kids at school tell me he can't participate in something because of his skin color or crying because on the bus, he'd been called names, such as the N-word?"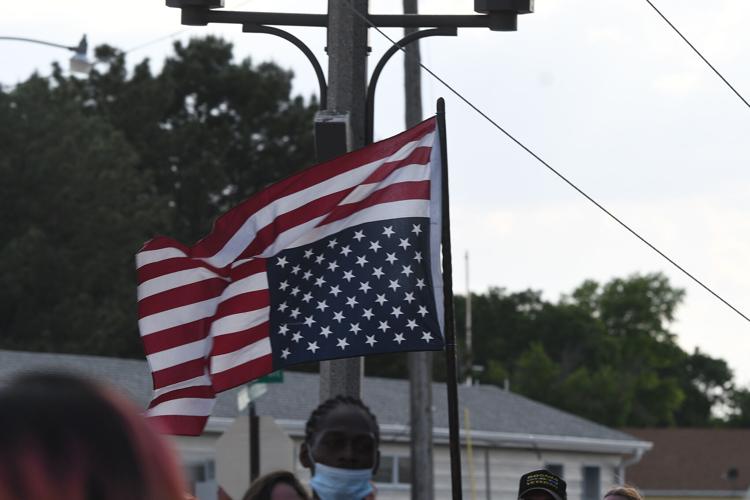 The march attracted people not only from Spencer but residents from surrounding northwest Iowa communities who believe criminal justice reform needs to happen.
"Things need to be equaled out," said Gary Willrett, a 46-year-old Ruthven resident who came to the march. "For every person of color or a person of low-economic background that you see arrested, there's probably three or four middle-class, white people that got a warning for the exact same thing."
Storm Lake resident Dwayne Banks, 37, agreed with Willrett's comments, saying police should not treat people differently based on their skin color.
"That's unfair to us as humans, period, because just like he said, they say, 'All lives matter.' Of course all lives do matter, but how can you say that if black lives don't?" Banks said.
Despite facing opposition, the marchers also were met with support from people, including Spencer Fire Department chief John Conyn, who handed them free water bottles.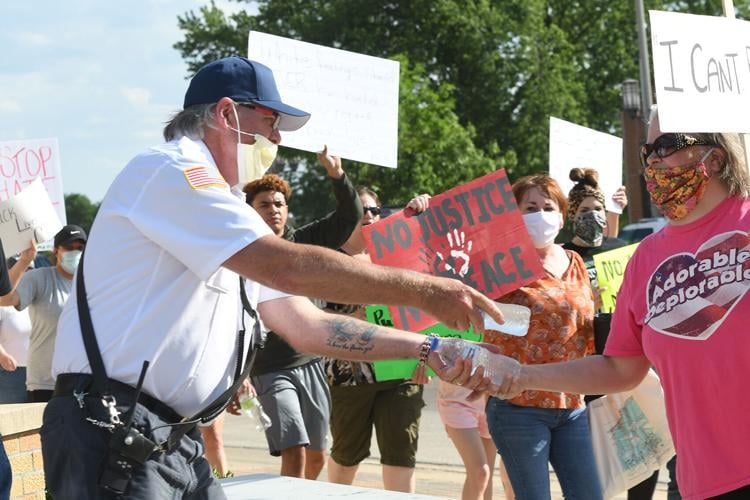 The event also had the support of Spencer mayor Kevin Robinson, who addressed the demonstrators when they arrived outside the police department after walking from the park along Grand Avenue.
"My prayer for you is to find your personal mission in this movement," Robinson said.
"I'm not the only official here today from the city. Earlier, there were a couple councilmen that were down there welcoming people. Our chief of police, Mark Warburton is here. Donavon Wunschel from the city council. Amanda Mack, our city manager. My pledge to you as mayor is to continue to work on diversity and policy and awareness. I appreciate you being here. I appreciate your message of peace."