PRIMGHAR—During South O'Brien Elementary's Veterans Day program on Nov. 11, fourth-grader Kate Dau presented the school with a new U.S. flag.
Principal Michael Morran called Kate up to the front of the gymnasium partway through the program. He explained how she had won the flag from a raffle the O'Brien County Democrats had put on during the county fair this summer
Karen Sterk, chair of the O'Brien County Democrats, joined Dau at the microphone to formally give the flag to her.
"I just want to congratulate Kate and encourage others to remember that all of our political parties support America and that we are all very proud of our flag and how it represents our veterans," Sterk said. "What a perfect day to remember that."
Kate then handed the flag off to the principal, who thanked her for it and said it would be flown in front of the school soon.
The Veterans Day program also featured members of Primghar's Chateau Thierry American Legion Post 36, who presented the colors at the start of the assembly and held a flag-folding ceremony.
As other members of the Legion performed the ceremony, post member Joshua Haack took to the podium to explain the folding process.
"Traditionally, during military funerals, the flag is folded immediately at the conclusion of the ceremony," Haack said.
During the funeral itself, the flag usually is draped over the casket. Two pallbearers then take the flag and perform the folding ritual before presenting the flag to the family of the deceased veteran.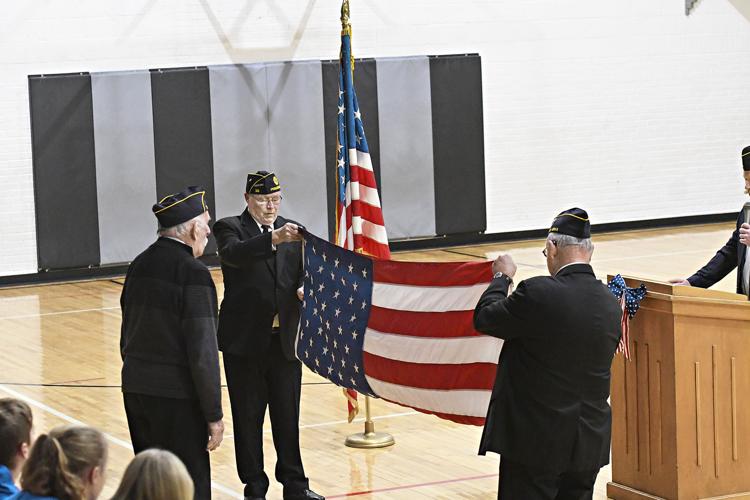 After the Primghar veterans finished the flag-folding ceremony, members of the student council took turns speaking about the history and unique responsibilities of the different U.S. military branches.
Before the veterans retired the colors at the end of the program, Morran offered closing words regarding the theme for this year's Veterans Day: service.
"Service is the sacrifice of one's own desires, time and energy to benefit others. It is being selfless instead of selfish," Morran said.
Since it is easy to be served by others, he said people often overlook instances when they are being served. As an example, he said the faculty and staff at schools serve students every day just by doing their jobs.
Morran said everyone is able to be of service to someone else, no matter their age, level of education or how much money they have.
He concluded by explaining how those in the armed forces serve the country by defending it from hostile forces. Even after completing their time in the military and returning home, veterans often find ways to serve their communities.
"They serve in city governments and on school boards and they get involved in community activities and celebrations," Morran said. "Today we are here to recognize, honor and give a huge thank you to our Primghar veterans."
This story was originally published in the Nov. 16  edition of The South O'Brien Sun.