PAULLINA—South O'Brien High School's FFA chapter has been shining bright in what's been a year unlike any other for the agriculture education organization.
For the third year in a row, the chapter's meats judging team captured first place at the statewide Iowa FFA Meats Career Development Event.
However, this year's event, held Sept. 26, was by hosted by Iowa State University virtually.
Then on Oct. 7, South O'Brien FFA's soils team competed at Buena Vista University near Storm Lake and was named district champion in the competition.
"As everywhere else, it's been different and challenging," said South O'Brien FFA adviser Eric Kumm. "It's been nice there's been some virtual things that they've been able to do, some contests."
The state meats judging competition usually takes place in August and in person at the ISU campus in Ames. However, due to the coronavirus pandemic, the event was livestreamed over Zoom and teams competed remotely.
South O'Brien's FFA team competed against 22 other chapters across the state in the meats judging competition.
Members of the South O'Brien's first-place team were sophomores Kyan Kruse, Hudson Oolman, Leo Sells and Abby Stout. Individually, the students achieved the following rankings out of the 78 students who competed statewide:
Fifth place: Oolman.
Sixth place and top retail identification: Stout.
Eighth place: Sells.
12th place: Kruse.
For the contest, the students identify 25 cuts of retail meat by classifying them as beef, pork or lamb. They also identify from which part of the animal the cuts originate and grade them based on their quality. The students similarly evaluated wholesale cuts of meat and performed a problem-solving activity.
Unlike the meats team, South O'Brien's soils team was able to compete in person.
The team consisted of seniors Bryce Rasmussen, Eric Mars, Abigail Boardman and Jack Farquhar. The students competed against 16 other teams from northwestern Iowa.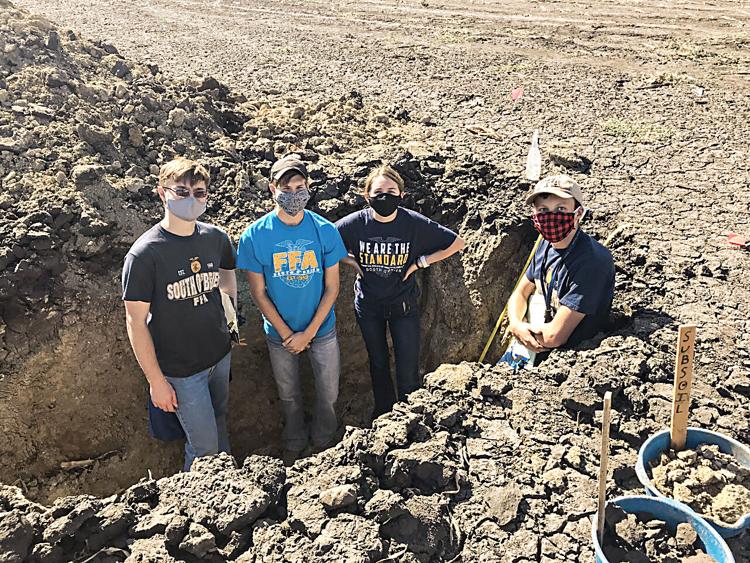 Kumm noted there had been somewhat of a challenge finding a location to hold the soils contest as some college campuses had restrictions on in-person gatherings.
"Buena Vista was generous enough to let us go out to their new ag learning farm that they've set up there with the college," Kumm said.
"Everybody was required to wear masks and we had two rotations of groups of teams that went through. Usually, everybody's there at once, but we had half the teams in the morning and half the teams in the afternoon so we could keep kids spaced out a little bit better."
The contest consists of two parts: The first part is a 40-question general knowledge test and the second is evaluating soil in four pits outside.
"They're looking for the amount of topsoil and subsoil, checking for the texture of that. That tells you how much clay or sand is in there, which can tell you some things about water-holding capacity and fertility, how productive the soil is going to be," Kumm said.
The students also evaluate the soil's fitness for potential projects, such as installing a septic tank or a basement.
Individually, Farquhar was named overall champion out of the 66 competitors while Mars placed third, Rasmussen finished fifth and Boardman took 12th.
Although the four seniors were the only South O'Brien students who competed, five other FFA members came to the contest to observe and prepare for when they compete next year.
"Most years, we have one or two contests that are workshops that we'd go to ahead of this, but the spring one was canceled and the fall one they weren't able to have this year either due to restrictions," Kumm said.
This story was first published in the Nov. 7 print issue of The South O'Brien Sun.