ORANGE CITY—When 53-year-old Michael Smith returned to college to finish his degree, he had been out of the classroom for nearly a quarter of a century.
"It was quite the adventure, I would say. Being a nontraditional student, you almost feel out of your element," he said.
Smith has lived in Orange City with his family since 2012, but as a member of the Winnebago Tribe of Nebraska, he grew up on the reservation, where he attended kindergarten through eighth grade at St. Augustine Indian Mission, a Catholic institution.
Smith's father was the tribe's historian and manages its finances, and Smith, just out of high school, decided to follow in his father's footsteps and pursue a degree in finance. He enrolled at Western Iowa Tech Community College in Sioux City in 1988 after graduating from West High School in Sioux City.
"I found out it wasn't for me, so then I dropped out to go to work full time," Smith said.
Smith spent 18 years working in public relations in Sioux City casinos.
"I'm a people person, and so anything with the public is what I live for — you get to talk to people to get to know them," he said.
Several years after moving to Orange City, his wife Bobbi's hometown, Smith got the itch to return to school. He enrolled at WIT again, prepared to get his associate degree and pursue a four-year degree in psychology after that.
"I've always had a love for psychology. I find it very interesting, why people do what they do," Smith said. "Anything interesting keeps my attention."
At WIT, Smith scheduled all his in-person courses to meet on two or three days of the week, and he spent five years commuting to Sioux City and later to Vermillion, SD, where this spring, Smith completed his psychology degree at the University of South Dakota.
Nontraditional student
Each semester, Smith augmented his schedule with an online course, and during his five years as a full-time student, Smith also was working.
"At that time, I was doing three part time jobs," he said.
He worked in Orange City at the Dutch Bakery, Don's Food Center and Pioneer Memorial Home, an assisted living facility, squeezing in his classes and homework in between jobs. When he first went back to school, two of his six children, who range in age from 19 to 31, still lived at home.
It was daunting, but he fell into a rhythm of studying at his kitchen table, or stretched out on his bedroom floor.
"I find it relaxing to lay on the floor, and have my books and stuff spread out — but then it's not very comfortable after about an hour or two," he said.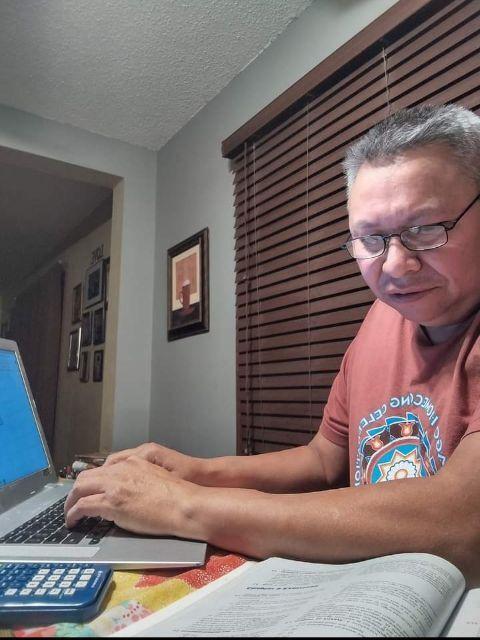 He also spent hours studying near a favored window at the Orange City Public Library, or in study rooms at the DeWitt Library on Northwestern College's Orange City campus. In a particularly rough stretch during his course of his studies — Smith was on his second try to pass a statistics course required for his major — he received regular tutoring from a Northwestern College math major.
"I really needed help with that," Smith said. "She was really nice. She really helped me."
He and his tutor met at the DeWitt Library every week or two, and slowly, statistics revealed to him its mysteries.
After dropping out of the course the first time, Smith passed with an 82 percent.
"But it's hard, right? You need that dedication," he said. "I felt that I did harder work than your average kid — the work was harder. They're coming out of high school, and they're already ingrained with math. They're ingrained with writing. They're ingrained with computers. I had to put more work and effort into it."
Plus, being an adult comes with adult responsibilities.
"I've got a mortgage. I've got car payments," he said.
Smith settled on the University of South Dakota during his first semester at WIT. He visited the South Dakota campus on a trip coordinated by the Federal Trio Program, which provides support and services to students who face financial and other barriers to thriving in higher education.
"That's when I fell in love with USD. I'm like, 'I'm going to go here,'" he said.
Family
Through the five years he spent working, commuting and attending school full time, Smith carried his youngest daughter's calculator with him. She had initially lent it to him when he was working on homework.
"They would see dad sitting at the table, doing homework and asking them for help — especially with algebra. My daughter would come over, and I even borrowed her calculator that she had from elementary," he said. "I used her calculator and carried it with me for the last five-and-a-half years — kind of like she's with me."
Like his children, his nine grandchildren also paid attention to what their grandfather was doing — all those hours with his nose in a book, or typing research papers, scribbling his way through math problems. They were curious, and they learned his habits.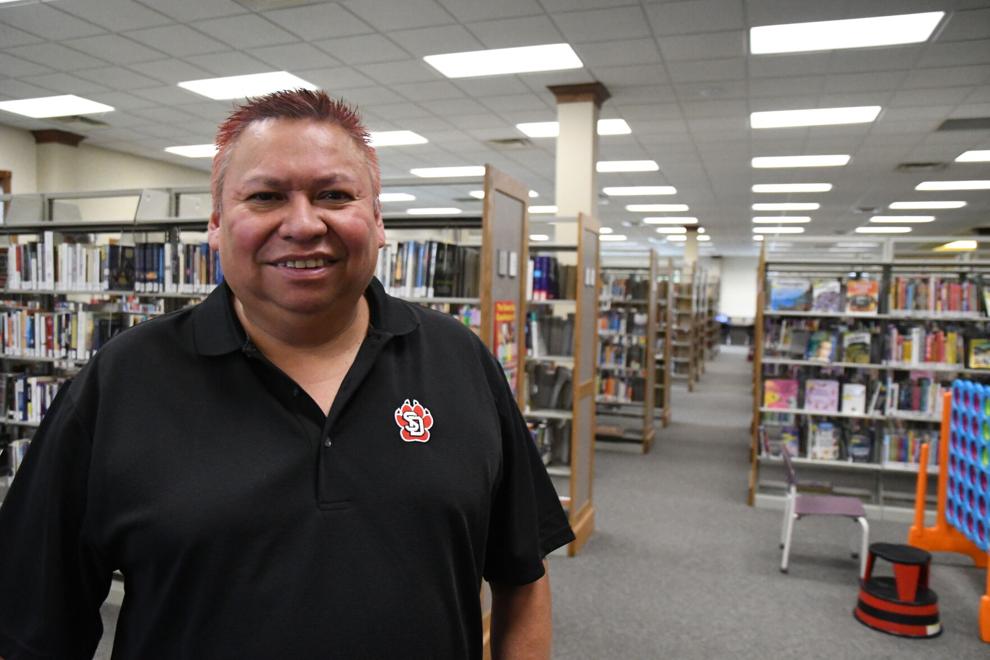 "One of my granddaughters knows I need to have study candy — I got into a bad habit," he said. "And she was at the grocery store with my daughter, and she said, 'I'm going to grab some candy for Coka.' She ended up getting me some gummy bears."
Smith's grandchildren call him Coka, pronounced cho-kah, the word for "grandfather" in Ho-Chunk, the traditional Siouan language spoken by the Winnebago tribe. Along with passing along the value of lifelong education, he has done his part to keep his children and grandchildren connected to his tribal traditions and history.
Tribal tradition
At some point early in childhood, each of his grandchildren receives a tribal name at a naming ceremony on the Winnebago reservation. Smith also has gotten his children involved in the annual Winnebago Pow Wow, a five-day celebration each July that features traditional costumed dances and ceremonial songs.
"Our pow wow is the oldest in the country," Smith said.
The event, first celebrated in 1866, honors the last true war-chief of the Ho-Chunk people, Hoonk-Hoo-No-Kaw, or Little Priest, who died from battle wounds that same year. Today, the celebration honors all Winnebago veterans of war.
"My grandfather on my dad's side was the Head Male Dancer for many years, and he got all his grandkids or his kids and his grandkids into pow wow," Smith said.
His maternal grandfather was deeply involved in the The Native American Church, which teaches a combination of traditional Native American beliefs and Christianity and is distinguished by sacramental use of peyote, a cactus plant that can induce alterations in perception and cognition.
"It's almost like I had two cultures — I had the pow wow culture, and then the Native American church," he said. "My grandfather got my mom and my uncles into the church, and then their grandkids got into the church. And now my grandkids are in the church — you know, it's all part of keeping our traditions going. It was good to pass that stuff down."
Smith danced in pow wow dances when he was younger, but he stopped in his teens.
"And then it was like 15 years ago, and I was like, 'I'm going to get back into it,' and so I had someone who made me my first outfit," Smith said. "After that, I used that as a pattern, and I've made probably four or five different outfits since. You know, I'm in the process of making a new one right now."
Smith has been deliberate about sustaining his children's and grandchildren's connection with their tribal heritage. Living in Orange City, they are otherwise unlikely to encounter the stories and traditions of their rich heritage.
"I'm proud to be a Native American," he said. "I'm proud to be a Native American here in this community."
Smith said many people living in N'West Iowa don't stop to consider native histories, even while many of its names, including Sioux County, are haunted by the memory of the region's earliest inhabitants
"Or Pottawattamie County — right down the street," he said.
Still, Smith said he feels at home in Orange City.
"I was in the paper a couple years ago, and I made the quote that, 'I found it. I found my home. I found where I feel comfortable.' I can walk down the street and people will honk at me. People wave at me," he said. "It's being kind of planted in the community, where it kind of spreads."
Next
Now that he has his bachelor's degree, Smith hopes to pursue a career in criminal justice, and after a short breather, he would like to return to school, perhaps to earn a master of social work degree. In the meantime, Smith enjoys his work managing a team at Walmart in Sioux Center. He said it's a role that benefits from a deep understanding of human psychology.
"It changed my ways of thinking, you know — you kind of step outside the box," he said. "I pick up things, and I observe more."
Smith said being a nontraditional student, working and taking classes full time, isn't for the faint of heart, but perseverance and good time management got him through it. He also made regular time for rest.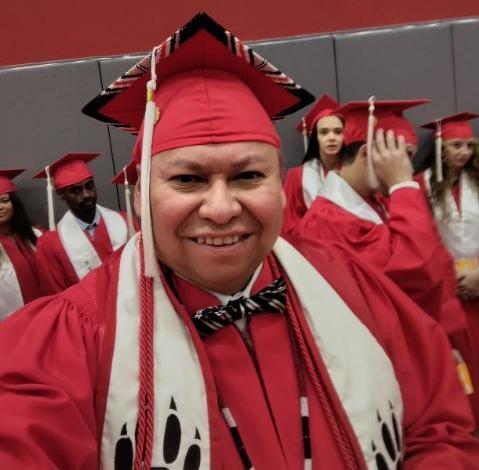 Ultimately, though, he said getting his degree would never have been possible without the patient support of his wife.
"She's been my rock. My best friend," he said. "I wouldn't have been able to do it without her."
All of Smith's grandchildren attended his graduation ceremony, but his wife was the person he locked eyes with last before he lined up to graduate.
"I took one last look at my wife — took one last turn. And she kind of gave me the thumbs-up, and I smiled," he said.
"And that's when I went on stage."