SIBLEY—Matt and Elizabeth Ascheman like to call their business "Amazon for skidloaders."
They own Matt Ascheman Equipment Inc., which recently moved from Jackson, MN, to Sibley and sells used skidloaders and skidloader attachments across the United States.
"It's good quality used equipment at half the cost of new," Matt said. "We try to keep our numbers low and try to move a lot of them."
Over Thanksgiving, the business moved into the former Capital Armament building in the Osceola County Enterprise Park at the intersection of Highway 9 and the Highway 60 expressway north of Sibley. They previously were based out of Jackson, MN, where Matt and Elizabeth grew up, but had long outgrown that site and were looking for a new location.
The couple got married in September and were on their honeymoon when a friend shared the listing for the property, which Matt said fit the needs of their fast-growing business.
"We've never had highway frontage, we've never been involved with community directly," Matt said. "We've sold a lot of skidloaders around here and in Sibley, and so when we saw the property was available we knew it would be a good spot."
Repairing and reselling construction equipment is something the 22-year-old has been doing since he was 16, when he rescued his first skidloader from a pile of old implements on someone's farm.
"I pulled it apart and completely fixed it the next day and then sold it," Matt said.
He started buying snowblowers at auctions, repairing them and selling them. Then he added lawn mowers and eventually branched out into four-wheelers and snowmobiles.
"I always wanted to wrench and I wanted to fix stuff," Matt said. "I'd pick up machines people were literally throwing away, fix them and sell them."
Matt grew up near Jackson, MN, and farmed with his dad, but continued fixing up machines in his spare time, usually averaging two or three skidloaders a week. When he finished high school, he took a break from repairs to work as a customer applicator, but only so he could save up enough to turn his side gig into a full-blown business.
"I knew this skidloader thing was my deal," Matt said. "I knew it was going to work, I just needed to build up my base. I started with $500."
He started Matt Ascheman Equipment in 2018, and he and Elizabeth, who were just 20 at the time, quit their day jobs to get it off the ground.
It was slow going at first. Although Matt was confident in the business concept, it took time to connect the dots between the used pieces, parts needed for repairs and a steady stream of customers.
In the first year they sold about 15 skidloaders. In 2019, they were up to 50. So far in 2020 they have sold 300 and counting.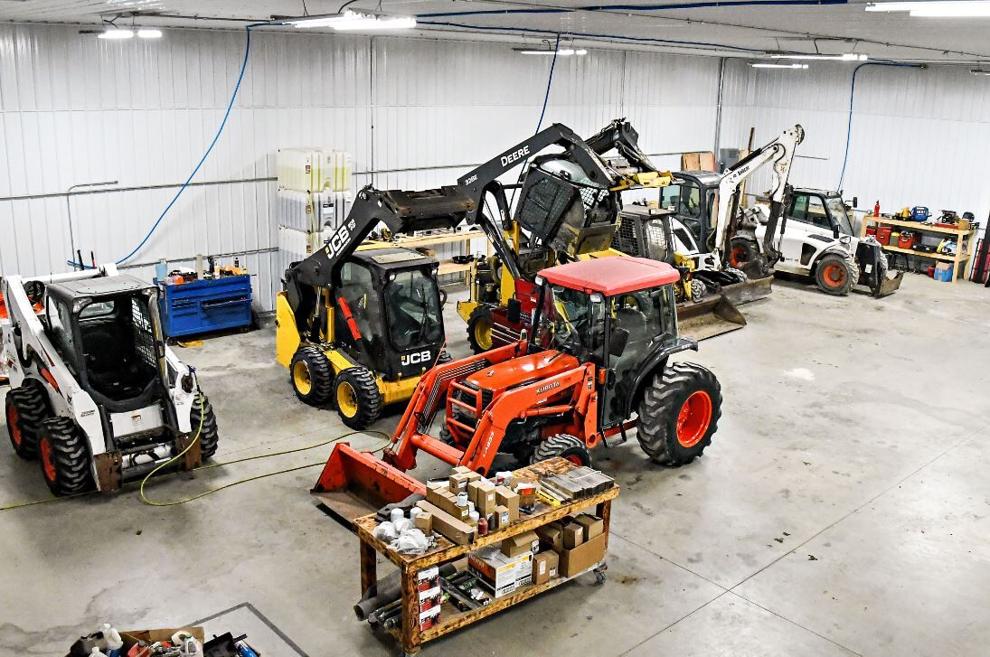 Both credit social media as the driver of this growth. They launched a Facebook page in January and began advertising with targeted ads on social media, helping them reach a wider audience. They have made almost 10 times more sales this year than they were getting a year ago.
"We went from really trying to sell our stuff to not being able to get enough," Elizabeth said.
"I knew it was going to happen, but I didn't know it was going to happen so fast," Matt added. "We're so fortunate to have the customers we have. I never thought we'd be doing these kinds of numbers per year."
Working with used equipment also has helped the business stand out, allowing them to keep prices low, move product quickly and tap into a market where they do not have as much competition.
"Not everybody can afford to go out and buy something new. Everything is getting to be so expensive that it's more customer-friendly to do used," Elizabeth said.
They buy skidloaders from all over the country, tapping into dealer trade-ins, rental companies and auctions to find used equipment. Before the pandemic, Matt would purchase 10-20 pieces at a time and he and Elizabeth would fly out to meet dealers almost every month to build partnerships.
Attention to detail also sets the business apart. Besides completing fixing each skidloader in their full-service shop, machines are deep-cleaned before being sold. They come out looking almost like new, something Elizabeth said has helped increase customer satisfaction.
Inventory is low at present, since they did a big Black Friday sale before moving so they would not have to haul so much equipment. They hope to build that inventory back up and maintain 20-30 skidloaders and more than 100 attachments on site at all times.
With the new site and additional space, the business also will offer repair and maintenance services for skidloaders in the area.