ORANGE CITY—Don't ever forget to get a mammogram.
That's the advice two sisters-in-law have for every woman 35 years old and up.
A mammogram is an X-ray image of an individual's breasts used to screen for breast cancer. It can be used either for screening or for diagnostic purposes.
"I had one every year since I was about 35 years old just because I knew it would be good for my health," said Lanette Korver of rural Sheldon. "I had skipped for a couple of years due all the things going on in my life, which isn't that bad, but look what they found."
The 62-year-old was diagnosed with Stage 1 breast cancer Feb. 6, 2018.
"It's thanks to my husband," she said. "I'm an only child taking care of my parents and they were having issues — my mom had a stroke and my dad's health has gone down hill. I hadn't had a mammogram in a couple of years because of that and my husband said he wanted me to take care of myself for Christmas. He sat me down and said he really want me to do this. I did and they found something."
The pea-sized mass located "in the lower inner quadrant of the right breast" was not detectable in a self-examination.
"That's another reason a mammogram is so important," said Linda Korver of rural Orange City, a sister-in-law to Lanette. "They say it all the time — have the mammogram — and they're right because neither one of us could feel our lumps. For me, they found a spot way in the back on the chest wall. I could self-exam all day and not have found my cancer."
Linda, 71, was diagnosed with Stage 4 breast cancer in the winter of 2015.
"I had been getting them every year because my sister had breast cancer more than 20 years ago, so I did it based on family history," she said.
Each have variations to the rest of their stories.
Lanette had surgery to remove five lymph nodes. Linda had surgery to remove 12 lymph nodes and her right breast.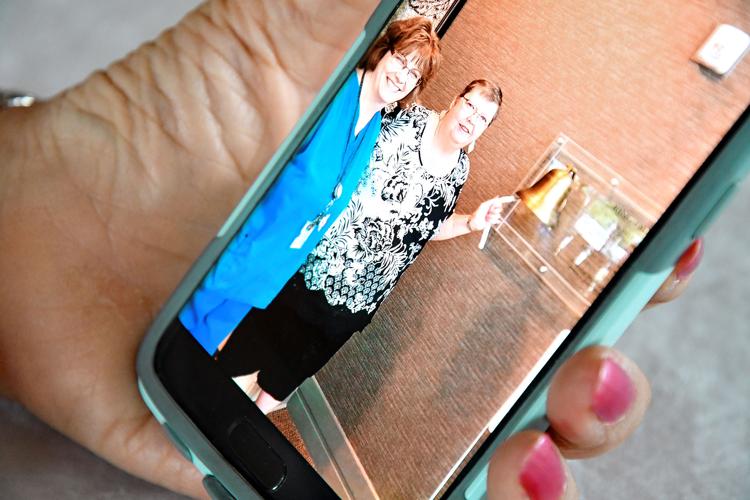 Lanette was able to skip chemotherapy and had 18 daily blasts of radiation while Linda went through two rounds of chemotherapy, the second of which resulted in an allergic reaction, "feeling like death" and losing her hair, all before she had radiation that burned parts of her skin black.
"Hearing Linda's story, know what she went through, I was scared for what I was going to go through," Lanette said, "and yet, while I'm not glad she had cancer, I'm glad I had Linda for support and to talk to about what was happening each step of the way because I hadn't known anyone else with cancer."
Although fear and worry crept into both their stories, one thread remained the same.
"When I realized I was going to have a breast cancer diagnosis, I prayed I could still see the blessings in my life," Linda said. "Even through the bad, and it was bad at times, God was there. Like raising kids. In the midst of it sometimes you wonder why you wanted to have kids. It's hard, it doesn't always turn out like you want, but you have to put in all in God's hands.
"It was going to be a win-win situation for me — I'd either fight the cancer and live to tell my story or go home to be with the Lord. He chose to let me tell my story. I have one boob, but I thank the Lord every day I have life to live yet."
She, as is Linda, also are thankful for the support of her husband, family and church.
"I believe I survived the year on prayer and the prayers of others," Linda said. "Because of that support system and prayer, I don't remember worrying. I felt lousy a lot, but I wasn't worried. There were times I thought I was going to die, but God and my support system pulled me through.
"I look back on it as an experience I'd rather not have had," she continued, "but I lived and hope that sharing my story, being a listening ear for others, is helpful to them."
"It's so helpful," Lanette said. "Many women are frightened but talking with Linda helped me see that I didn't have to worry about the unknown, just focus on one step at a time."
That first step should be the annual mammogram.
"I can't say its comfortable and there's some unknown there for women who've never had one," Linda said, "but it's worth it."