SIOUX CENTER—For the past five years, Wednesday evenings in Sioux Center have meant one thing for bicycle enthusiasts: group bike rides led by Brothers Bicycle Shop owner Nathan Nykamp.
The 33-year-old has owned the bike shop for three years but has led the evening bike rides since 2014 while still an employee.
"It was just really born out of a desire to build community among bike riders," Nykamp said.
He added that the first evening rides were also geared toward people wanting to train for The Des Moines Register's Annual Great Bicycle Ride Across Iowa.
Each bike ride is free to attend and usually has up to two dozen participants. The rides start at 6 p.m. Wednesday evenings at the bike shop, located at 44 Third St. N.W. Nykamp said the routes change week to week depending on how far the cyclists are wanting to ride.
The bike rides used to include routes on paved roads, but Nykamp and other riders recently decided to only use gravel roads for safety reasons.
"We've been having some interactions on the road that were uncomfortable, let's put it that way," he said. "Also, the gravel riding has become increasingly popular in this region."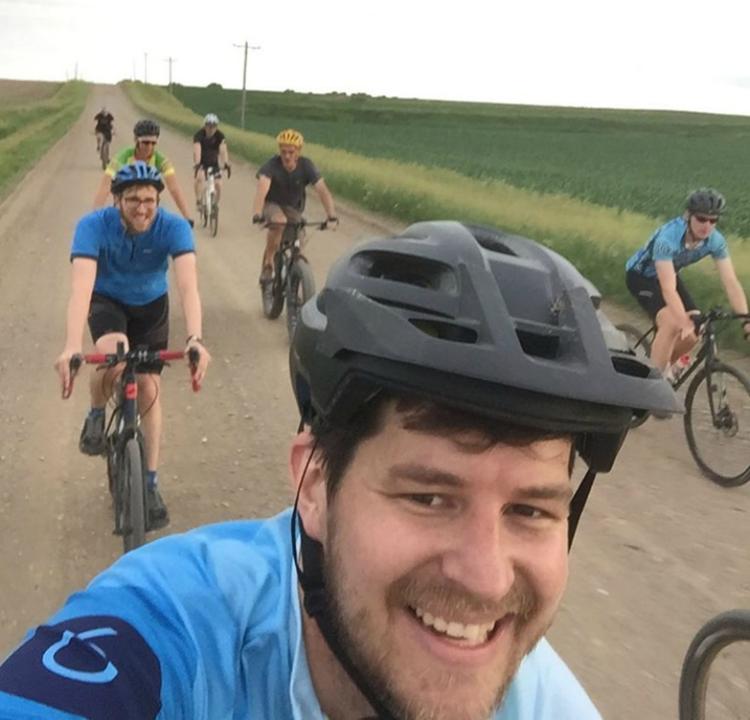 Some nights the group will ride 30-40 miles while other nights it will only go half that distance. Nykamp said the group has ridden to Orange City a few times to eat at a taco truck that is open Wednesday nights.
A few cyclists come from Hull to go on the rides, but Nykamp said most of them live in Sioux Center, Rock Valley and Orange City. The ages of the riders also varies, with people in their late 20s to those in their early 60s.
The evening bike rides have given the new pastor of First Christian Reformed Church in Sioux Center an opportunity to meet new people.
The Rev. Kurt Monroe, his wife, Jennifer, and their four children moved to Sioux Center from Binghamton, NY, at the end of May.
The 43-year-old pastor said he likes long-distance biking and had learned of the evening bike rides through word-of-mouth from people in Sioux Center.
Monroe said he has been participating in the evening rides for more than a month and enjoys the camaraderie of the group.
"It's nice to have a time when you can ride in a group of people who enjoy cycling and who enjoy being outdoors," Monroe said. "It's a really pleasant group of people, frankly."
The evening rides also have allowed him to become familiar with different routes he can take when he bikes solo, which he said he does four to five times a week.
"For me, learning kind of which roads the gravel is good on and everything has been helpful," Monroe said.
While most of the evening rides are longer treks on gravel roads, the most recent ride on Wednesday, July 31, was an exception.
That evening was the annual Tour de Sioux Center, a citywide bike ride that goes about 4.5 miles around Sioux Center and has seen more than 200 bike riders in recent years, according to Nykamp.
"We'll see 4-year-olds and people in their early 80s out for that ride," Nykamp said of Tour de Sioux Center. "It's a blast."
Before the ride started at 5:30 p.m., Nykamp offered free bike tuneups to riders at the All Seasons Center to make sure their bikes were good to go.
The recently opened Siouxnami Waterpark offered free swimming to the cyclists after the bike ride, and Pizza Ranch donated free food.