SIOUX CENTER — One bite is all it took to get Taylor Vonk of Sioux Center hooked on quality, smoked meats.
The 17-year-old wanted to be like his grandpa Bruce Vonk of Sioux Center, who competes in grilling competitions under the name of Spark BBQ.
Four years after his grandpa encouraged him to do just that, Taylor Vonk's trophy collection — he competes as Endless Smoke BBQ — is a testament to his dream to be like his grandpa.
"And I like to eat good food," Taylor said, noting he doesn't go out to eat much. "If I can make myself, I'm going to."
Even if that means eating supper late in the evening like July 21 when he slid a pork loin cooked rotisserie style off the rod onto a cutting board around 8:30 p.m. The loin went on the charcoal grill about two-and-half hours before that and had rested for a good half-hour before he cut into in.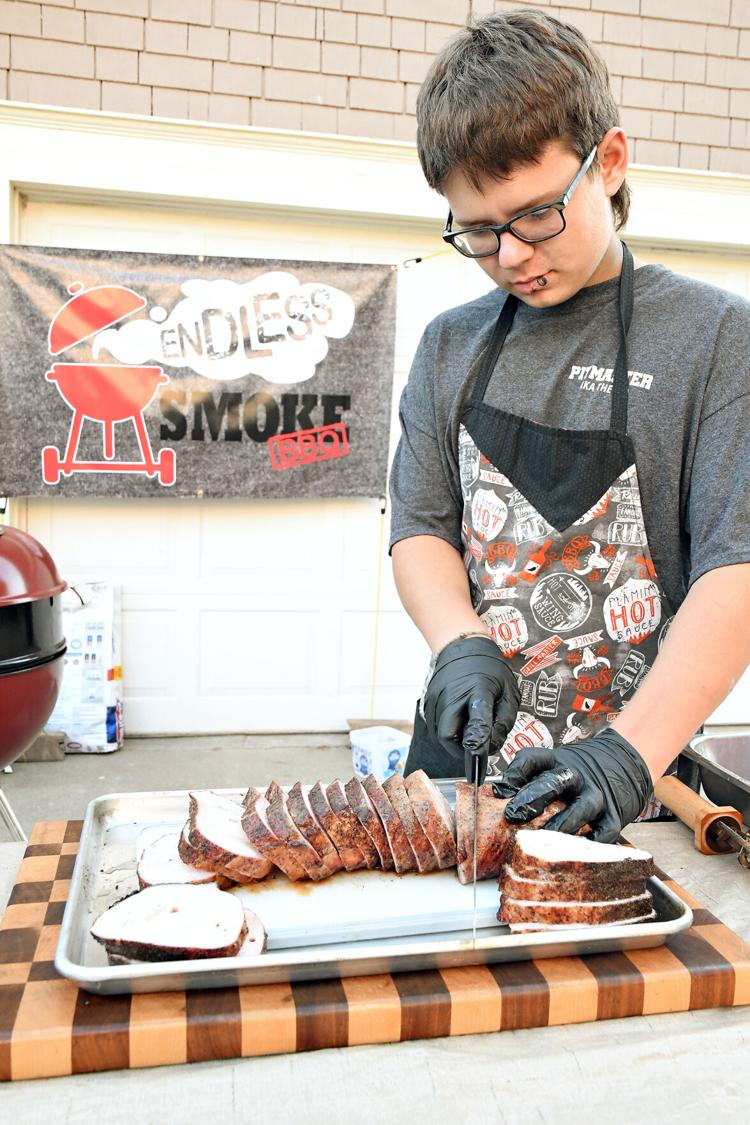 "I suppose it takes time, but good food is always worth waiting for," Taylor said.
His mom, 40-year-old Brandie Vonk, said that's a family belief.
"We're a family who loves to eat, but we want to eat good things — things with flavor," she said. "That's what got my dad and brother interested in cooking competitions."
The pair entered their first competition in 2009 and came in last, but they weren't deterred.
Bruce, a trucker by day, spends many hours away from home. Getting involved in meat-cooking competitions became a way for the whole family to give their opinion on recipes along with helping set up before and clean up after the competitions and, of course, taste test.
Spark BBQ entered about five competitions a year for a while. Taylor joined his grandpa's side in 2016. A year later, Taylor opted to compete against is grandpa.
"I'd been watching what my grandpa's done for a long time and realized I could do it," he said. "I wanted to cook like him."
As a 13-year-old in 2016, he took fifth in the LeMars Ice Cream Days Cook Off. The next year he took second place in the competition and his grandpa took first.
That same year he earned first-place ribs and reserve grand champion overall of the 2017 Tracy Box Car Days BBQ Cook Off in Minnesota. He earned both again in 2018 but, in 2019, not only did he win first place he also became grand champion. He also earned his nickname.
"When we came back that second year to Tracy, everybody was whispering if 'the kid' had came back because he's the youngest competitor to take first place in ribs there," Brandi said. "The regular competitors there started calling him 'pitmaster — aka the kid.'"
Though the coronavirus has limited competitions, Taylor took first place in Paullina's Fire Department Cook Off last month. He's planning for an event in Sioux City and another in Ireton later this summer and hopeful the 2020 Tracy Box Car Days returns, but that's yet to be decided.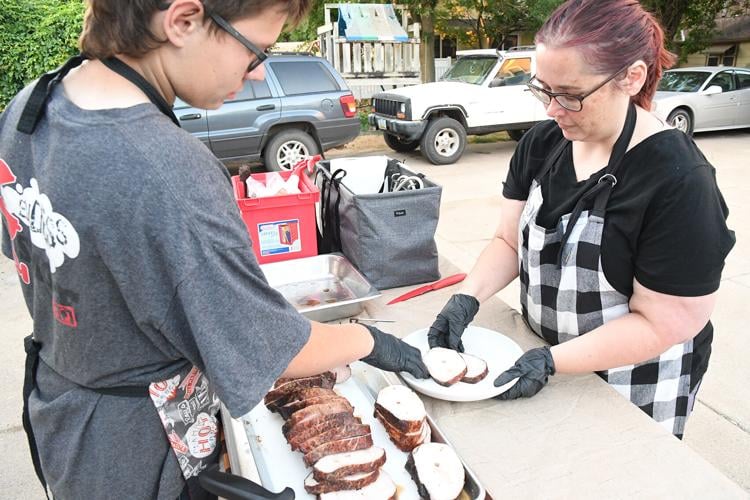 Perhaps his success is because he knows his grandpa's secrets.
"It takes a few tries of a recipe before you get it right," he said, noting some of his favorite ingredients to use are brown sugar, coffee, chocolate, maple syrup, apple juice, salt, a mix of spices he won't elaborate on and possibly more brown sugar.
Exactly what he blends together all depends on if he's making ribs or a pork loin.
Brandie, too, has taken part in the family tradition by competing against her son on occasion the past couple of years.
"It's a fun way to hang out together," she said. "I always try to beat him. Anybody else it doesn't matter."
His grandpa has tried everything from Asian to sweet barbecue sauces and his mom enjoys peach-jalepeno-bourbon-type sauces but Taylor prefers glazes.
"It gives the meat this darker look; I just really like it," he said.
Though ribs are his favorite entree, he's cooked more than just meat on the grill.
"You can cook anything — ribs, chicken wings, fruit pizza," he said.
One year for the desert portion of the Tracy Box Car Days competition, he and his mom soaked peaches in bourbon, grilled them with some brown sugar and served it over grilled angel food cake topped with whipped cream and candied bacon.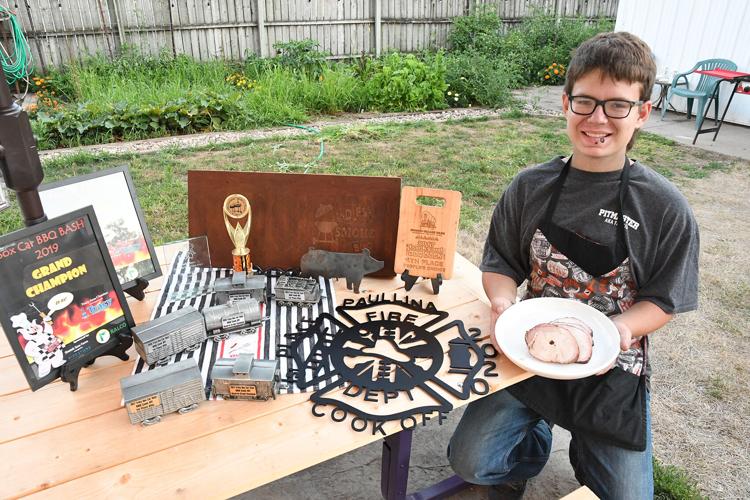 Often, winning a competition means a cash award rather than a plaque, which helped him buy a new red grill to match his Endless Smoke logo. He has five charcoal grills total.
"That's kind of where my name came from," he said. "If I could do this all the time, if I had all those grills going, there's endless smoke."
Next to the grill is right where the upcoming junior at Boyden-Hull High school likes to be.
"It's just fun, I can't explain it," he said. "I just know what I like and that's cooking meat, especially ribs."