SIOUX CENTER—With a dive off the low board, Bob Hulstein splashes into the indoor pool at the All Seasons Center in Sioux Center during his visit Monday, Dec. 31.
The 69-year-old Sioux Center resident enjoys visiting the pool twice a week.
"There's something fun about swimming," Hulstein said. "And it's something I can do."
After buying a condo in a community that had a pool last year, Hulstein found he enjoyed swimming over the summer and wanted to keep it as part of his weekly routine.
He found the indoor pool at All Seasons Center offered the perfect option and started coming to Senior Swim Days about two months ago.
Senior Swim Days are public swim time set aside for those who are 55 years of age or older.
Fall, winter and spring hours are 12:30-1:30 p.m. Mondays and 11 a.m.-noon Thursdays. Hours change to noon-1 p.m. Mondays and Thursdays in the summer.
Such a time has been offered since the first Sioux Center pool opened in 1971, said All Seasons Center director Dave Reuter.
"It's really been a staple all these years," he said. "It's a great option — a way to exercise and for some, an encouragement to get out of the house and socialize."
Eighty-one-year-old Bill Roelofs of Sioux Center agrees. He started coming to Senior Swim Days at the old pool before the All Seasons Center opened in 2003.
"I was looking for exercise that was easy on the joints and this really is a full-body exercise," he said. "But I also enjoy the social interaction. Some days I just enjoy the water and the company more but that's OK."
Roelofs said Senior Swim Days are an example that shows the value of the All Seasons Center.
"There are people who come to town just for this place," he said. "We've had seniors come not just from Sioux Center but Orange City, Rock Valley, Hudson, Hawarden and LeMars."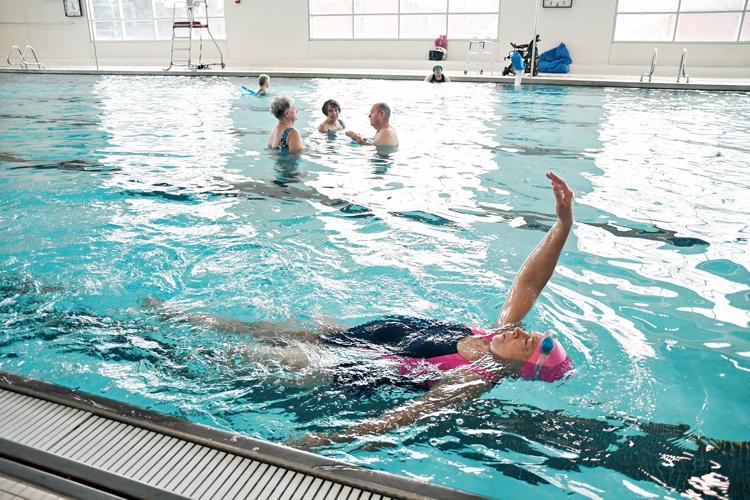 Sixty-five-year-old Ruth Kocisko of Sioux Center has been coming for more than 10 years.
"I started coming before I was technically a senior, but they didn't send me away and I've always enjoyed it," she said. "I like the senior swim time because you don't have to fight kids or fast swimmers."
She tries to complete 21 laps, or a little more than a mile and a half, each visit.
"I used to do 27, so that's showing my age, but I still can do them," she said.
Kocisko credits the swimming exercise as the reason for feeling younger than she does.
"It's almost as fun as zip lining and white water rafting," she said, which she got to do recently on a vacation to Costa Rica. "I was older than what was allowed for those things but I talked about the swimming I did and they saw how active I was, they let me do those things. Swimming helps keep me feeling good."
The two hours of swimming each week may just be the most relaxing parts of her week.
"When I'm doing the back stroke, I don't have a care in the world other than doing the move right," she said. "I can let life's troubles float away."