ROCK RAPIDS—When Linda Silvey set about making a quilt from leftover fabric, she didn't initially plan on having it be on display at Sanford Health Rock Rapids Clinic.
"I didn't need to toot my own horn, but I thought, 'You need to share that because a thank you needs to go out to all these people that have been risking their lives,'" said the 63-year-old, who lives on a farm southwest of the Lyon County seat community with her husband, Loren.
At the top of the quilt is a message thanking health-care heroes while the bottom half consists of extra squares of fabric Silvey had in her sewing room from when she was making face masks last year in light of the coronavirus pandemic.
"My hat's off to any health-care worker because I could never be in that field in the first place. I just couldn't. That's not my forte," Silvey said. "I'm just a farm wife. I live on the farm, I drive a tractor and I drive a semi."
Early on in the pandemic, Silvey got a message from her daughter, Amanda, who lives in Council Bluffs, with a link to a sewing pattern for making cloth face masks and the words, "Mom, you need a project?"
"I thought, 'Oh, yeah right,' but then I realized how important it was going to be," Silvey said. "I have a sewing room and I had all this cloth, quite a bit of fabric lying around. My thought was to make quilts out of it someday, and I thought, 'Well, I have all this fabric. They need masks.'"
She ended up making about 450 of the coverings in 2020, which she distributed to various health-care facilities in Lyon County as well as the public-health agency office and the county ambulance garage located in Rock Rapids.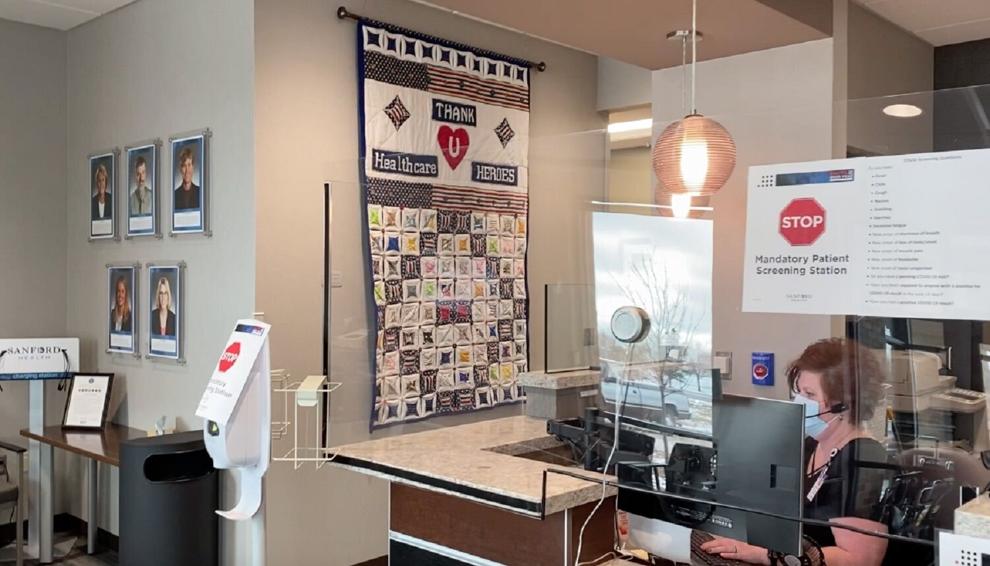 The idea for making a quilt came later in the year while Silvey was moving her sewing equipment to a different room in her house and came across a bag full of the extra fabric from her mask-making project.
"I took all the little pieces of fabric and ironed them and I thought, 'I'm still going to make a quilt. It'll be of all the masks,'" she said.
She crafted the quilt over a period of a few weeks, beginning shortly before Christmas and completing it early this month.
Along with the message of gratitude at the top and the square mask patterns on the bottom, the quilt features red, white and blue designs similar to the U.S. flag.
"I'm very partial to patriotic colors, the flag and everything," Silvey said.
At each corner of the mask squares, she stitched on buttons that used to belong to her late mother, who also was a quilter.
"That's why I'm getting the quilt back someday because those are my mother's buttons. When she passed, I took her buttons," Silvey said.
She mentioned her quilt to the Sanford Health Rock Rapids Clinic during a virtual appointment. She showed it to April De Wit, a registered nurse care manager, and eventually was able to deliver it to the facility where it hangs along a wall next to the front desk.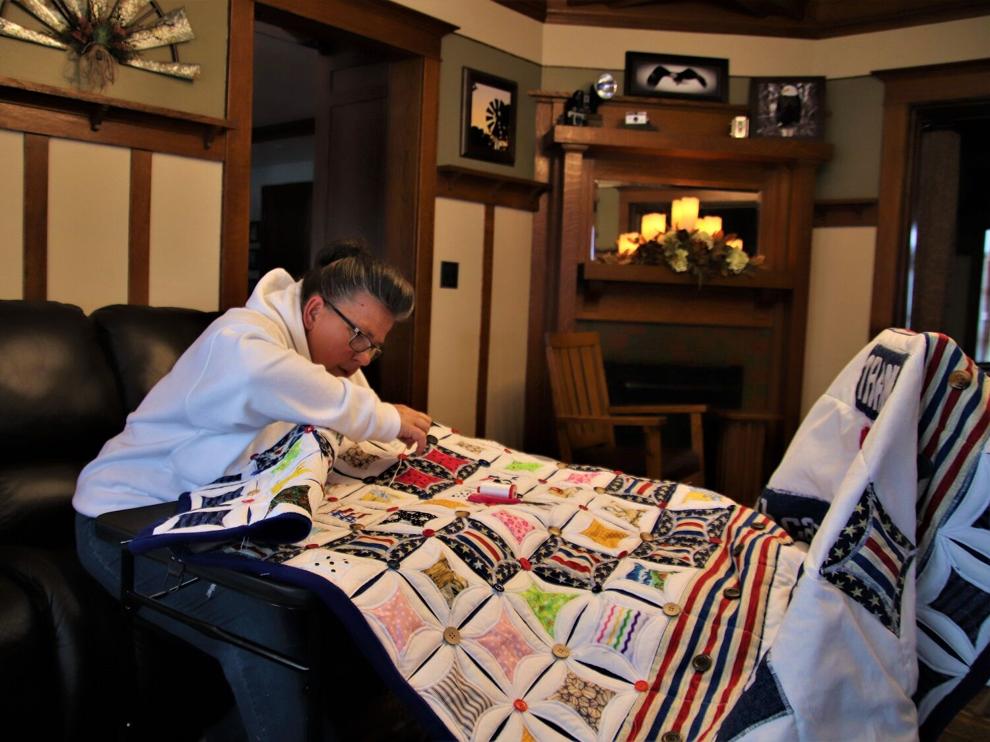 She plans to have it remain at the Sanford clinic through mid-February before moving it to Avera Merrill Pioneer Hospital in Rock Rapids, then the ambulance garage.
She also would like to have it displayed in long-term care facilities in town but has yet to reach out to learn their protocols for accepting outside items.
"I thought, 'These masks and the scraps have gone throughout our whole community. The area is full of health-care workers that deserve a thank you,'" Silvey said.
Sanford Health Rock Rapids Clinic director Laurie Jensen said Silvey's work creating face masks and the quilt has been rewarding to the clinic staff.
"Her sewing helped us provide masks to our patients to keep them safe. Now using that same material to commemorate her work, she sewed a gorgeous quilt that honors the work our health-care heroes are doing," Jensen said.
"We've displayed it proudly and hope that as she shares the quilt with other health-care workers in the area, the hours of work involved in sewing it will be acknowledged. She's such a talented seamstress and a wonderful, caring person."
Silvey said she doesn't yet have a plan for the quilt when it is done being on display at the different locations around Rock Rapids.
An idea she mentioned was to hang it up in one of her house's five bedrooms, each of which is decorated according to a unique theme. The room she had in mind has a military theme.
"Those health-care heroes are fighting for us, so we could look at it like that," Silvey said. "It would fit very well in my military room because that's a patriotic room."