SIBLEY—Mindy Nasers needed one final pitch, and like an all-star closer, she came through in the clutch.
Nasers won the Northwest Iowa Regional Dream Big Grow Here pitch-off competition for small businesses on Nov. 14 at Oscar Carl Vineyard in Sioux City.
Dream Big Grow Here is a program run by the University of Northern Iowa's Center for Business Growth and Innovation and grants funds to support entrepreneurs and small businesses that are under three years old.
Nasers, who own and runs Grace Boutique in downtown Sibley, said her final pitch involved a six-minute PowerPoint presentation and then the judges had five minutes to ask questions.
"It is hard to get everything in six minutes," she said.
Nasers said that she and the other finalists were scored on different categories during their pitches like the businesses' competition, marketing, sustainability and what they would use the funds for.
"You had to make sure that you had all those," Nasers said. "You wanted to do a good enough job so that they didn't ask you a bunch of questions. You're kind of on the spot."
Nasers said she was overly prepared and was glad she put in the extra time to get ready for the pitch-off.
"They didn't ask me a lot of questions, which was good, but I had all the information just in case they did," Nasers said.
The other finalists were:
• Northwest Iowa Firearms of Hull, owned by James Van Veldhuizen.
• Awaken Yoga of LeMars, owned by Carmen Ohm.
• SnSLabz of Rock Rapids, owned by Daniel Stillson.
• Brightside Cafe & Deli of Sioux City, owned Juan Munoz.
Entrepreneurs submitted their dream to start or expand a business in the Northwest Iowa Dream Big Grow Here grant contest in October and recruited family, friends and customers to vote for their entry.
Nearly 8,000 votes were cast with the top three vote-getters along with two additional entrants chosen by a selection committee advancing to the regional competition.
Brightside Cafe & Deli placed second and received $2,000 while Awaken Yoga finished third and received $1,000.
As the winner, Nasers received $4,000, and she already knows what she wants to use the money on too.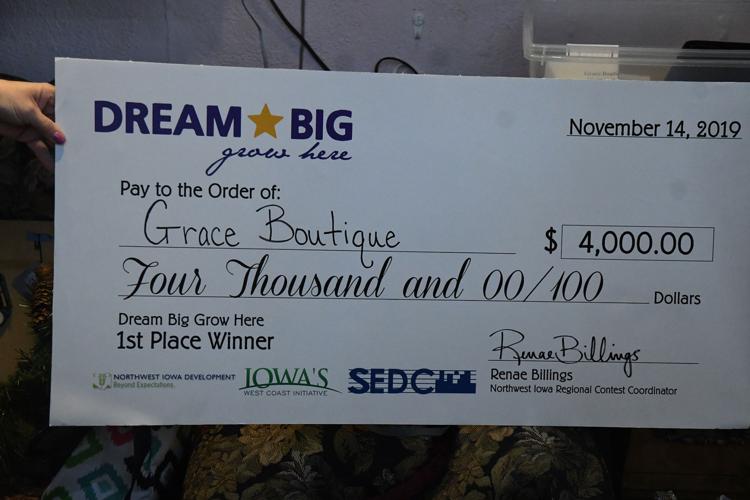 "Part of the money will be used to train the employees for marketing and website," Nasers said. "The rest of it, I'm either going to add on or purchase another building and it will be used for retail fixtures and mannequins because it'll be a bigger building. It will include kids and infant clothing."
Nasers opened Grace Boutique in April of 2018 because of her love for thrift store shopping and the clearance rack.
"I liked small town shopping and we just didn't have anything in town," Nasers said. "This building came available and I thought this would really go over well. I wanted it to be a consignment store, but you feel like you're in a boutique. Sometimes people don't realize that this is a consignment store. They think it's just a regular boutique, which is what I want to happen."
A consignment store, or secondhand shop, is a business that specializes in selling used goods for owners. The store then gets a percentage of the money after an item is sold.
Before Nasers ultimately decided to open Grace Boutique, she texted people she knew asking if they would consign or buy things at her store.
"I had an overwhelming amount of positive feedback," Nasers said. "If I had a lot of people saying no, obviously I wouldn't, but it was positive feedback."
Grace Boutique sells men's and women's clothing, furniture, handbags, jewelry and decor. Nasers said one of the hardest aspects about running the store is keeping up with the inventory.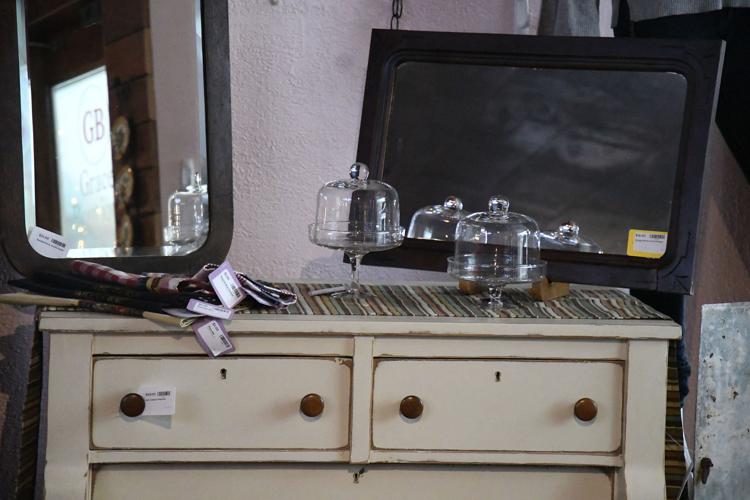 "One of the things that we do, I don't know if any other place does it, but we have a big commercial steamer," Nasers said. "It can steam up to 24 items at a time. Every piece of clothing that comes in gets steamed. That's probably the hardest part is to get that done and through and then up here."
Nasers said she could not think of any specific strange items she has sold. She did say there are times she guesses wrong on how quickly something sells though.
"With some things I think, 'Oh, that's never going to sell' and it does," Nasers said. "Then there are things I think will sell right away and they don't."
Ultimately, Nasers said she just wants to make things easier for the consignor.
"Especially if it's like putting your mom in the nursing home or something like that," she said. "It's hard enough to do that."
Nasers said there have been times adult children of a recently deceased parent have asked her to come over and see if there is anything she wants.
"How many people pass away and the kids go through everything and think 'We've got our stuff, now what?'" Nasers asked.
There are even times people do not want money and just ask Nasers to keep the profits.
"I don't feel right doing that, so we just put it under donate," Nasers said. "This year we'll be adopting two families. It's kind of giving back. Let's use it for something good. I just try to pay it forward."
She said she likes helping people.
"We'll be adding tuxedo rentals in December," Nasers said. "I've had a lot of people asked me about that. It'll be nice because they can drop it off Sunday morning after prom and they'll be done with it. I'm sure they won't drop it off, Mom will drop off, but it's just another kind of convenience."