SIBLEY—Peter Carlson is ready for band practice to be moved out of the auditorium and into the newly expanded band room.
The Sibley-Ocheyedan High School band director, who is entering his 20th year teaching at the school, said the expansion began in May and will double the size of the rehearsal room.
"That's what the project is going on right now, just allowing a little bit more space for all the equipment and the students that we have in the program," Carlson said.
He said the bigger space will make for more functional indoor rehearsals, especially given the variety of musical ensembles Carlson directs such as jazz band, pep band, concert band and marching band.
About 100 high school students participate in band, which Carlson said has been a steady number through the two decades he has taught in the district.
"It's pretty much averaged right around there, so this isn't really occurring because of more numbers or anything like that. This really could have happened a long time ago," he said of the bigger space.
The construction for the expansion was supposed to be finished before the start of the 2019-20 academic year, but Carlson said the completion date was moved back to mid-October due to logistic reasons.
As a result, he said indoor practices have taken place in the auditorium since classes started. Rehearsals for marching band, meanwhile, have been held outside in the high school parking lot.
Superintendent James Craig, who began leading the district in early July after Bill Boer's retirement, said work on the project began last spring.
"Construction started just before school was out, but I think they've been working on it for quite a bit of last year, planning the project," Craig said.
The Sibley-Ocheyedan board of education approved the expansion as well as a project to improve the high school's heating, ventilation and cooling system, during a special board meeting on May 6.
The construction project cost about $2 million, Craig said, which includes the cost of upgrading the HVAC system.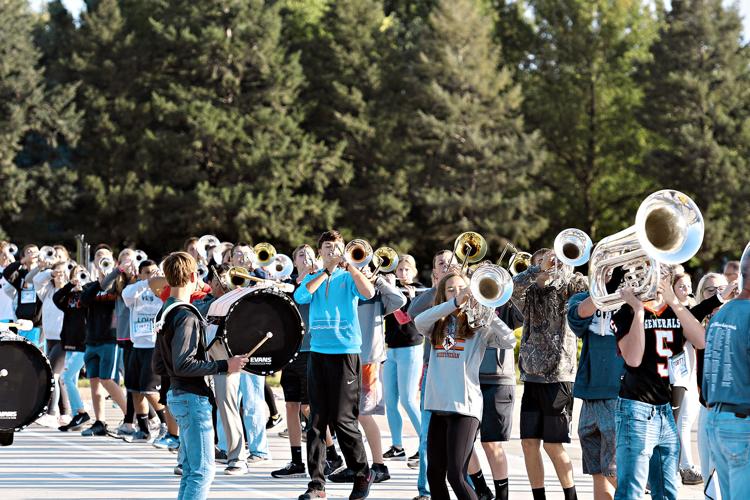 Earlier this year, the Sibley-Ocheyedan School District was named one of 623 school districts across the country to be named Best Communities for Music Education in 2019 by the National Association of Music Merchants.
Only three other school districts in Iowa received the same recognition, including the nearby George-Little Rock School District.
Carlson said the recognition for Sibley-Ocheyedan was not only a result of the band program at the high school but of all music education at the district's schools.
"Really, that award was based on our whole entire music program from band and vocal, K-12," he said.
"That's based on the number of teachers you have teaching music in your district and what they teach and as far as the activities that the teachers do with the students and groups."