SIBLEY—Wednesday morning, Oct. 9, marked the partial end of a 20-year tropical era for Sibley resident Dennis Poppen.
The 59-year-old farmer cut down the taller of two palm trees he has been growing in his side yard since 1999.
Poppen said maintaining the 20-foot-tall tree had come to be too much work. To keep the exotic plants thriving in the cold winter months, he first wraps them in burlap and heat tape then sets up a greenhouse around them with help from Ed Strouth of Ed's Electric.
"He's about ready to retire and his boom truck died. So I didn't have a boom truck to help put the greenhouse up this year," Poppen said.
Poppen mentioned another problem the tall tree caused: It was blocking too much light from the sun for the smaller tree to properly grow.
"The little one wasn't getting any light, so it was almost dead in the winter," he said.
With winter weather on the way, Poppen thought it best to just take the taller tree down to allow the smaller one to grow.
Poppen felled the tree with his chain saw, cutting a wedge out of the trunk's base so the plant would fall down at an angle. His neighbor, Junior Rassmussen, then guided the tree down with a rope tied around the upper part of the trunk.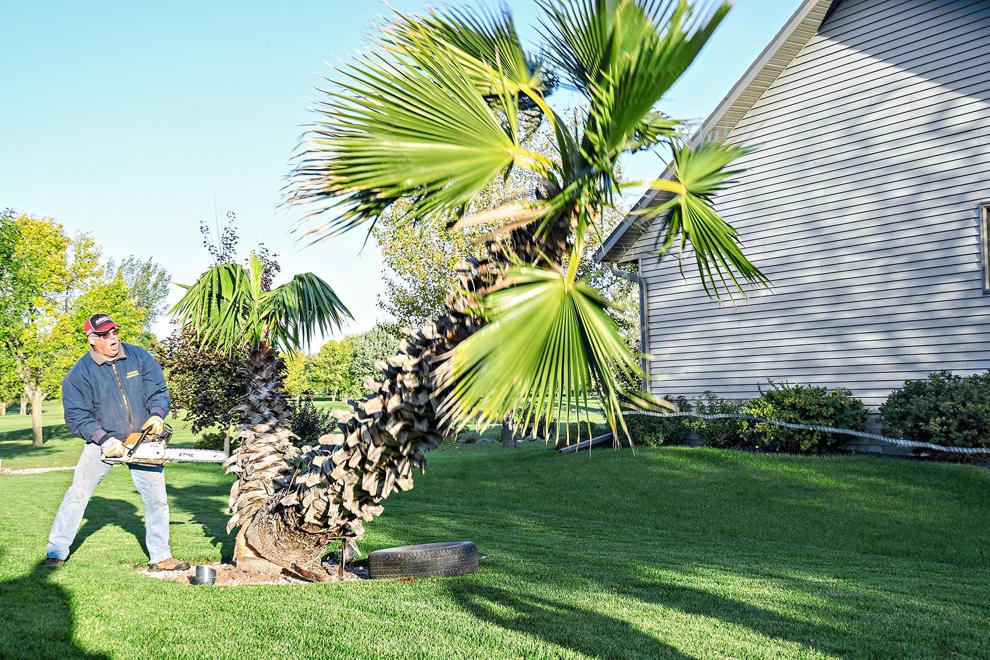 Since it is only about half the size of the taller one, Poppen said the smaller palm tree will be easier to manage.
"Now I can put up a 10-foot greenhouse this year instead of a 20-foot one. I had it in sections, like the first one was eight foot, then a four-foot piece and a 30-inch piece and a two-foot piece and 30-inch piece on the top," he said.
"It's a lot of work putting four pieces all the way around."
The decision to cut down the tree wasn't an easy one for Poppen, given how much effort he has invested in growing it.
"It feels a little bit sad when I drive by and it's just the other one there because I put a lot of work into it over the years," he said. "A lot of enjoyment looking at it."