SIBLEY—Maggie Gisch grew up attending services at First Presbyterian Church, so being able to celebrate the church's 125th anniversary will be especially meaningful to the commissioned lay pastor.
"This church has kind of raised me up to be who I was and it's just special to celebrate that," Gisch said.
The church turned 125 years old on May 31. A weekend celebration was planned for June 6-7 but had to be postponed to Aug. 29-30 because of the coronavirus pandemic.
Gisch explained the August dates still are tentative and no exact times for the festivities are scheduled yet.
The plan for Saturday, Aug. 29, is to have former pastors of the church return to give short presentations and have an ice cream social afterward. On Aug. 30, the congregation will hold a large meal following Sunday services.
"It could be outdoors now just because of COVID, but it was all planned inside the church," Gisch said.
Gisch, a 2008 graduate of Sibley-Ocheyedan High School in Sibley, received her bachelor's degrees in art and religion from Wartburg College in Waverly in 2011. She then received her master's degree in divinity from Fuller Northwest Theological Seminary in Seattle in 2016 before returning to First Presbyterian in Sibley.
She reflected on the church's impact on the Osceola County seat community.
"A lot of people have celebrated many things there, whether it's just fellowship with one another, serving people like raising fundraisers for people with families who've had losses in their lives or just fundraisers for our youth who go on mission trips," Gisch said.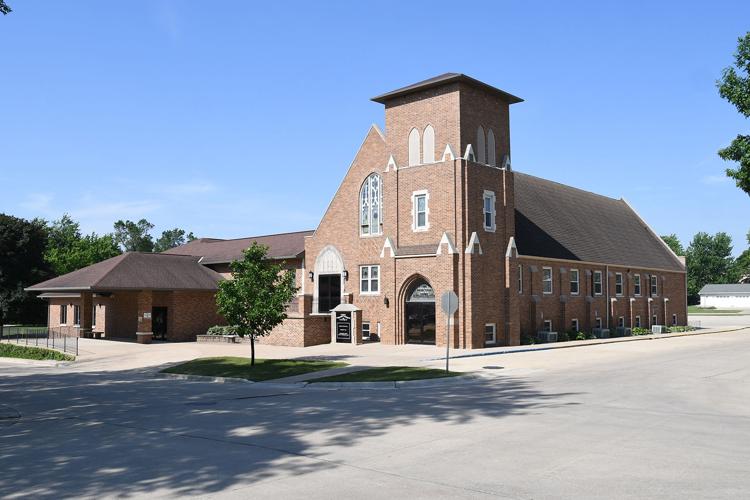 Besides moving its 125th anniversary celebration, the Sibley church pushed back its Vacation Bible School from the first week of June to Sunday-Thursday, Aug. 2-6.
"This year, we're going to try to do most things outside if we're able, and our main program was going to be in the fellowship hall so we can space kids out safely," Gisch said.
Children will eat their meals at the shelter house located in Sibley Central Park and play games in the grassy space across the church's west parking lot.
Some of the activities, such as crafts and science projects, will take place in the church's newly renovated basement.
This year's VBS theme is "Knights of North Castle" and will revolve around the armor of God in Ephesians 6:10-20.
During the pandemic, the church has been holding drive-in services where members sit in their vehicles in the parking lot as Gisch or the Rev. Terry Simm speaks from a wooden podium set up outside. Deacons meanwhile hand out bulletins and prepackaged communion cups and wafers.
"A lot of times we'll include things like if we say a certain word like 'Amen,' or Pastor Terry has said things like 'Praise the Lord' then they honk in response if they would like," Gisch said.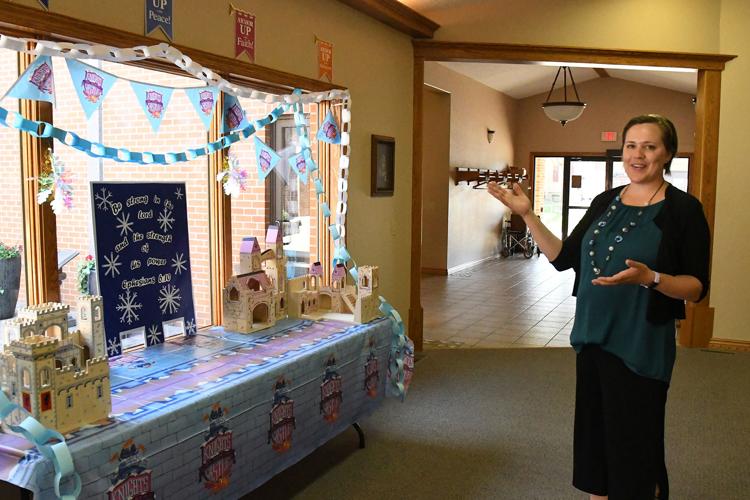 The church recently began holding a 10 a.m. indoor Sunday service while still providing an outdoor service at 9 a.m. Every other row of seating in the sanctuary is marked off so people can space themselves out during services. Hand sanitizer also is offered to everyone as they enter the building.
"There are some people who have come to both, they went to the 9 a.m. and then they came back to the 10 a.m. because a lot of these people might be in the range that was recommended to stay home when this started," Gisch said.
"A lot of them just really miss that community they have and they enjoy being able to see each other and even talk from a safe distance with one another."