SIBLEY—The Iowa Drying and Processing in Sibley sustained nearly $3 million damage from a fire Monday night.
No injuries were reported in the blaze although one firefighter was treated for heat exhaustion, according to Sibley fire chief Ken Huls.
The Sibley Fire Department was paged at 8:05 p.m. and arrived at 1020 Fourth Ave. near downtown at 8:14. The Ashton Fire Department arrived about 10 minutes later and the Sheldon Fire Co. about 25 minutes later.
When Huls arrived on scene, he said he noticed flames and smoke coming from the third story of the building on the southeast side.
"Fortunately, we had a former plant manager and two former employees of that building and business when it was AMPI (Associated Milk Producers Inc.) before, so they knew the drying system," he said. "They knew exactly where it was because we reported that the dryer was on fire."
Huls said cloth tubes in the dryer ignited to start the fire. The tubes connect to a tunnel that extended to the ceiling of the building and the roof caught fire.
"The roof was on fire because it had rubber and you name it up there," he said. "Remember, we're three stories high, so our biggest issue was we don't have an aerial ladder truck that can reach that height."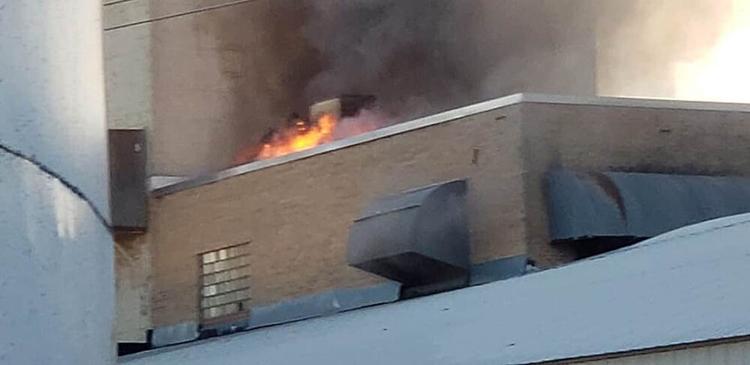 The Sheldon Fire Co. does have an aerial ladder and took care of the roof.
"They were meticulous on that roof and we couldn't have done it without them," Huls said. "There's no doubt in my mind there's. It's impossible to get up there with heights without that ladder truck. That's a godsend."
Huls said the good news is that internally, the fire was confined to the room with the dryer where there were not many combustible materials. The roof did have combustible materials though.
"Fortunately, when that dryer overheats, which it was, it shut down immediately. That's a safety measure," Huls said. "They usually let it cool down and go in later after it cools down and figure out what the problem is. But when they went after an hour they went back up check on it, they opened it and the temperature wasn't going down so then of course they immediately opened the door and discovered the fire itself."
Eleven firefighters from each department responded for a total of 33.
The Ashton Fire Department was having its monthly fire meeting and was doing drills when paged. Huls said the Sheldon Fire Co. left around 11:30 p.m. and the Ashton Fire Department left shortly after that. The Sibley Fire Department left at 11:48 p.m.
"There was significant water damage in the room itself where this dryer was located," he said. "That's on the third floor. There was a little bit of water that seeped through because they're all concrete floors."
Huls said a Sheldon firefighter got overheated.
"He was taken care of at the ambulance and was fine," Huls said. "Just a little heat exhaustion. Other than that, all our firefighters were safe and happy."
Huls said the fire is not under investigation anymore.
Iowa Drying and Processing specializes in the contract manufacturing and processing of food and feed grade products, such as high-protein animal feed supplements for companion and domestic animals.
The plant has been the center of controversy since it start operating in 2013.
Iowa Drying and Processing has gone back and forth with Sibley in Osceola County district and magistrate courts over the smells caused by the company since the city started issuing code violations in regard to environmental nuisances in July 2015. Because of numerous code violations, the business has been issued more than 40 citations by the city of Sibley — although none since April
2018 — and has paid more than $40,000 in civil penalties and court costs, plus interest.