SHELDON—About two months before her 72nd birthday, Ardis Bonestroo received the best gift of all: A new kidney.
The Sheldon woman resident found out in 1976 she has polycystic kidney disease, a genetic disorder that causes many fluid-filled cysts to grow in a person's kidneys, according to the National Institute of Diabetes and Digestive and Kidney Diseases.
Ardis has lived with PKD for more than 40 years and got on the waiting list for a new kidney through Sanford Health about four years ago.
During an October vacation, Ardis started feeling ill.
"We got back and in November I had ended up in the hospital," Ardis said. "My kidney function had dropped enough that they were talking about me going on dialysis."
When she was released from the hospital, surgery was set up for Ardis to have an arteriovenous fistula placed in her left arm that would allow her to receive dialysis treatment.
"You have to have that in a while because it has to mature before you could use it," Ardis said.
Fortunately, Ardis's kidney function stayed high enough that she did not have to start dialysis To boot, one of her brothers offered a kidney and started going through the process to become a donor.
"We found out he was a match so we were pretty excited about that, but there's so much testing that as they progressed through the testing they found out he was high risk for kidney stones so they had to stop it right there," Ardis said. "That was kind of a letdown, but it's the way the Lord wanted things to go."
'I'm a giver'
Over the new few months, Ardis kept her normal routines including working shifts for the Sheldon Community Ambulance Team of which she has been a member for 31 years.
However, because of her own health issues and the detrimental effect the coronavirus can have on people with preexisting conditions, Ardis cut back on her volunteer time with SCAT after discussing it with leadership.
"They wanted to know if I felt safe enough to stay working with COVID patients and I really wasn't; I was kind of worried about it so they decided I'd stop taking calls for a while," she said.
"We've kind of been in quarantine since March just to protect me."
For a long time, Ardis said she kind of keep quiet about her kidney issues but slowly started to open up. This included asking the congregation of Bethel Reformed Church for support as well her SCAT family.
Dianne Wolthuizen, a longtime SCAT member and friend, called Ardis up one day and asked her where she was registered at for her organ donation.
Ardis told her she was registered through Sanford Health in Sioux Falls, SD, and gave her the contact information.
"I knew she was looking for one and I'm a giver," Dianne said. "So I asked about blood types and we're the same blood and I said I don't know what all is the process of it so let's start the process and see what happens."
Ardis remembers Dianne telling her they were the same blood type — A positive — a tidbit Dianne apparently remembered from a SCAT meeting.
"I thought, 'Oh, my, this is too good to be true,'" Ardis said.
'Her first choice'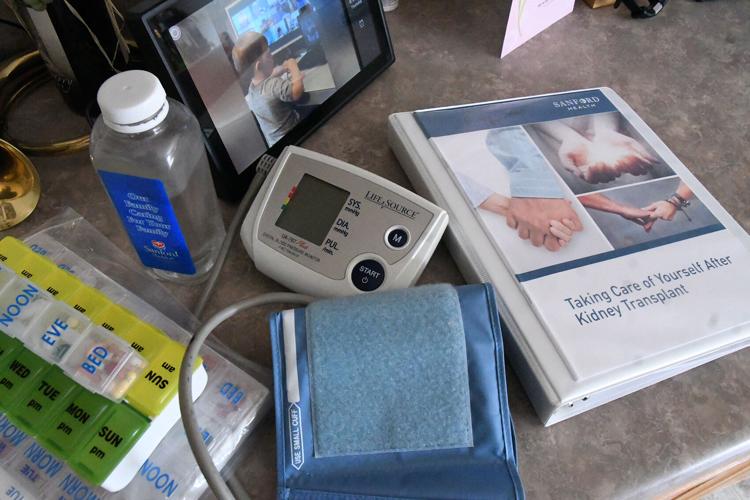 The checklist to donate a kidney is substantial, according to Sanford's guidelines. Donors must be screened for infectious disease, illness that may affect kidney function and increases risks for surgery.
Other screenings may include a Pap smear, a mammogram, colonoscopy and prostate-specific antigen test. There also may be blood tests, urine tests, chest and kidney X-rays, heart rhythm tests and more depending on your health history.
Knowing how extensive the process was, Ardis tried to tamper her expectations and keep an even keel.
"She kept going through all the testing and here we found out she's a total match," Ardis said. "She said if she was a match, I was her first choice to donate a kidney to."
They found out Dianne was a match on Friday, June 19, and the surgery was set for Tuesday, June 23. That Saturday, they each had COVID-19 tests done and the pastors for their churches alongside close family and friends held a prayer gathering for them that morning.
After that, they had to stay in quarantine until Monday, June 22, when they checked into the Sanford Transplant Center in Sioux Falls.
When Ardis checked in that day, she said her kidney creatinine level was at 4.92 — .5 to 1.1 is considered the normal range for women, according to DaVita Kidney Care.
The surgery was a success and on her 72nd birthday, Ardis said her kidney level was .92 and the best its been since her operation was .84.
"And that's great; that's really awesome," Ardis said. "My kidney function is just looking amazing."
'Didn't bother me'
Ardis had to stay in Sioux Falls for a while after the surgery, but Dianne was able to go home much sooner.
"I was off work for two weeks is all — because I was on a 10-pound lifting restriction — but I could go back to work and they said six weeks and then I could lift everything," Dianne said.
She said she really did not have any major concerns about it giving away a kidney.
"I visited with them — the people that in charge of how it all works — and they said there's really no ill effects or anything and there's nothing really I have to do," Dianne said.
"The only thing different I really have to do is watch medications I can't take."
She also said her family, including husband, Wally, another longtime SCAT member, were incredibly supportive.
"He said if he could he would but he's had kidney stones so that doesn't work," Dianne said.
Ardis recalled having conversations with Wally about her need for a donor.
"I wouldn't have imagined it would be somebody off the ambulance team that I knew," Ardis said.
"There's been so many times where her husband, Wally, and I were on transfers together and we'd talk about different things and I never would have thought that his wife was going to give me a kidney someday."
Dianne noted she is fully recovered from the operation.
"I'm 100 percent, no problems and I've probably been that way since six weeks out," Dianne said.
"Never had any issues; you have pain that first week because, of course, you have an incision and they did surgery and they moved stuff around but, otherwise, I've felt good the entire time."
Ardis also is doing well and said her husband, Earl, has been an excellent caregiver.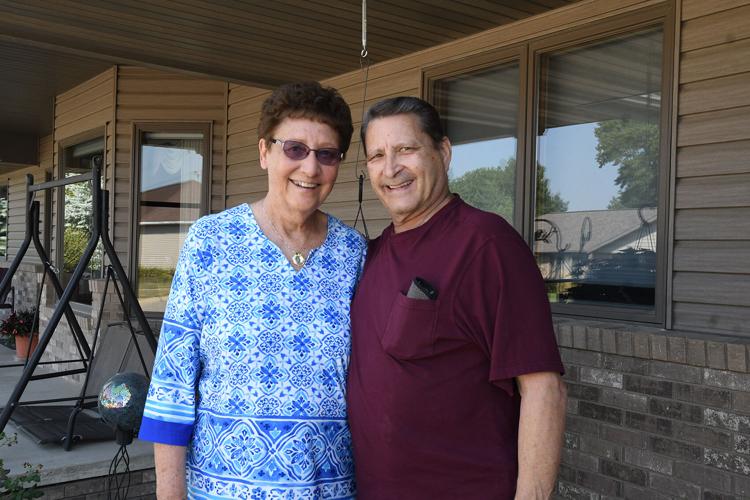 "Never thought I'd have to hold a woman up while she's puking in the stool," Earl joked.
"I felt so bad for him," Ardis said.
"It didn't bother me a bit," Earl said. "I have seen worse and I have done worse; I was a plumber by trade — plumbing, heating and air conditioning."
The couple spent their sixth wedding anniversary in a Sioux Falls apartment during her post-operation recovery
'Beautiful person'
Ardis still has to take tests twice a day, has a lifetime daily a regiment of up to 42 anti-rejection pills and at one point had to monitor her fluid intake and outtake levels to ensure correct kidney was function.
Sanford provided an extremely detailed binder to help Ardis and Earl keep up with her schedule.
"It's just amazing because it's so helpful," Ardis said. "I write down all my blood pressures, my weight — because they want to know if you gained more than three pounds or lost more than three pounds a day because that can be a thing."
Considering the alternative, Ardis can more than handle her new schedule. She remains extremely grateful to Dianne and all the people who prayed for her.
"Dianne is such a beautiful person that God chose to give me a kidney; I was so blessed to be able to have that," Ardis said. "If it wasn't for Dianne and if the Lord didn't prepare me, I wouldn't have a kidney today."