SHELDON—A Sheldon veteran has a new best friend.
The Anthon-based nonprofit organization Partners for Patriots delivered a service dog to the former service member's home on Thursday, Sept. 12.
The Sheldon veteran did not want to be identified by name in this story but agreed to appear in the related photos.
Partners for Patriots was started in 2009 by Cindy Brodie, who previously made her living training dogs to work with law enforcement.
The organization provides veterans with canines that have been trained to be service dogs at no cost to them.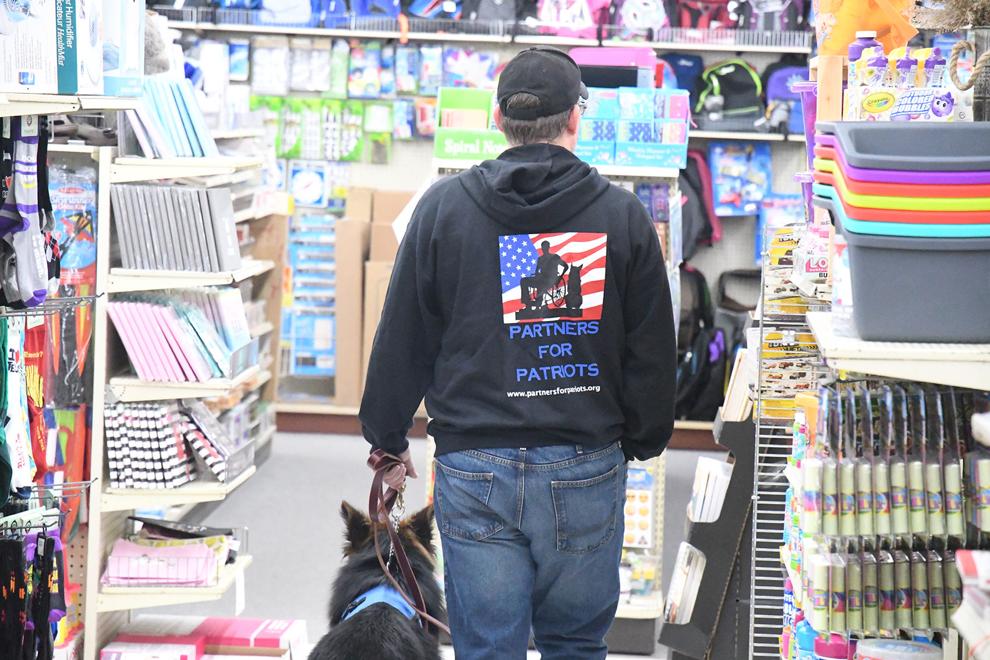 Under the service dog banner, the pups can act as guide dogs, hearing alert dogs, mobility dogs, seizure and medical alert dogs, post-traumatic stress disorder dogs and/or any of the listed combinations, according to the organization.
Gerry Holtrop of Hospers, a former deputy with the Sioux County Sheriff's Office, has volunteered with Partners for Patriots since retiring from the force.
Brodie reached out to Holtrop about two months before he was going to retire and said she needed help because of how much the program was growing.
The long-term vision for Partners of Patriots is to open a complex where up to 60 dogs can be trained at a time.
Holtrop was the one who delivered Roger, a 1-year-old German shepherd long hair, to the Sheldon veteran.
To get a dog through Partners for Patriots, veterans submit an application to the organization explaining their specific needs and how a dog could help them.
Brodie trains the dogs to meet those specs and the organization gives out five to 10 of them a year. Holtrop noted for-profit services sell services dogs for $20,000-$40,000.
For the Sheldon veteran, PTSD is his challenge. The veteran, who is a member of the Sheldon American Legion, heard Holtrop speak to the group about Partners for Patriots in November 2017 and thought he would give it a shot.
"I thought that sounds really beneficial," the veteran said. "I just decided to apply and I got accepted. It was kind of a stab in the dark. The VA, I'm not saying that they don't help many people — because they do — but they like to hand out pills and those aren't for everybody."
Before Holtrop's presentation, the Sheldon veteran never thought about a service dog and assumed he would always have to struggle with his issues.
His PTSD stems from his time as a truck driver in Iraq in 2004 while he was in the U.S. Army.
"He saw a lot of junk, he saw a lot of death and these things — especially at night — can cause nightmares that are tremendous," Holtrop said. "It's like he's right back there again."
The Sheldon veteran makes his living as a truck driver and he noted his occupation is not exactly ideal.
"I can't do anything else; it's all I know how to do," the vet said. "So my occupation is a trigger. We all have good days and bad days."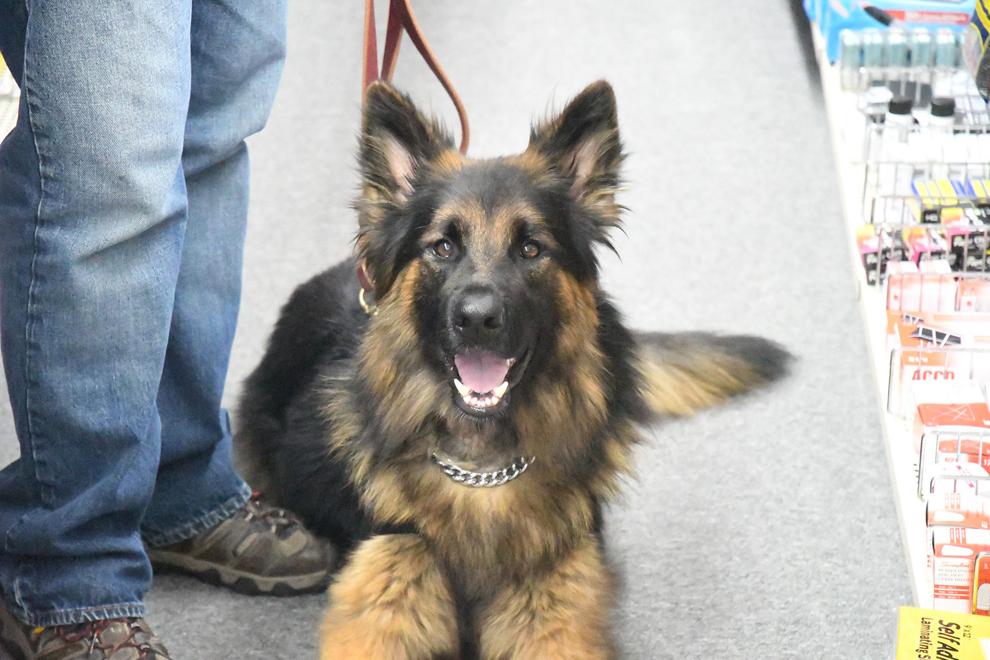 Holtrop explained how the dogs help with PTSD.
"If they are awake and getting triggered on the inside, that anger, that anxiety, that fear building, the dog is able to sense it," Holtrop said.
"And if he's sitting, the dog will jump and start licking his face. We tell the veteran that when the dog does that, the dog knows — maybe you don't even know yet or consciously aware of it — but you're ready to explode."
When the dog leaps onto a veteran's lap to lick his or her face, they have to pet it approximately 30 times.
"You count one, two, three — not 29 times, not 31 times — 30," Holtrop said. "So he's concentrating on the number and petting him as the dog is licking him and 95 percent of the time by the time they get to 30, that anger, that tension, that anxiety is gone."
If a veteran is having a nightmare, the dog is trained to jump in the bed and lie on their chest.
"He will wake up to the dog on top of his chest licking him and waking him up from his nightmare," Holtrop said.
The process still blows Holtrop's mind.
"How these dogs can sense that is amazing," he said. "They can just get to know you so well that they can feel what you are feeling and that the tension is growing."
Whenever Holtrop delivers a dog to a veteran, he spends a few days with him or her to train them on how it all works. This tutorial includes going out in public with the dog, something that's a struggle for a lot of PTSD sufferers.
"A lot of don't like public, don't like being out and when you have a dog, you're out and about," Holtrop said.
"You're out in public and dealing with people wanting to pet the dog and ask questions. Those are things we work with because that will become a part of it."
When the dog has own its vest, it is working and people are asked not to try and pet it. When the vest is off at home, Holtrop said the dog acts like a normal dog.
Partners for Patriots also makes custom baseball cards with each dog's likeness that explains their training on the back so that veteran can give them out when approached by children.
While volunteering for the organization, Holtrop has delivered dogs as far as California and Florida and is enjoying the experience.
Even before his time with Partners for Patriots, Holtrop understood the benefits of a furry best friend.
During the last decade of his 42-year career in law enforcement, Holtrop had a canine partner named Jeb, who was a drug-sniffing dog.
"Having a dog with me was the best 10 years of my career," Holtrop said.