SHELDON—Ricardo Rubio missed his family's summer vacation to South Dakota's Black Hills because he organized a protest in his hometown to protect Black lives the same day.
The soft-spoken 17-year-old incoming Sheldon High School senior was the lead organizer of Sheldon's peaceful Black Lives Matter Protest on Saturday, June 13.
Ricardo was inspired to hold the event in his community after attending similar rallies in Sioux Falls, SD, and Spencer.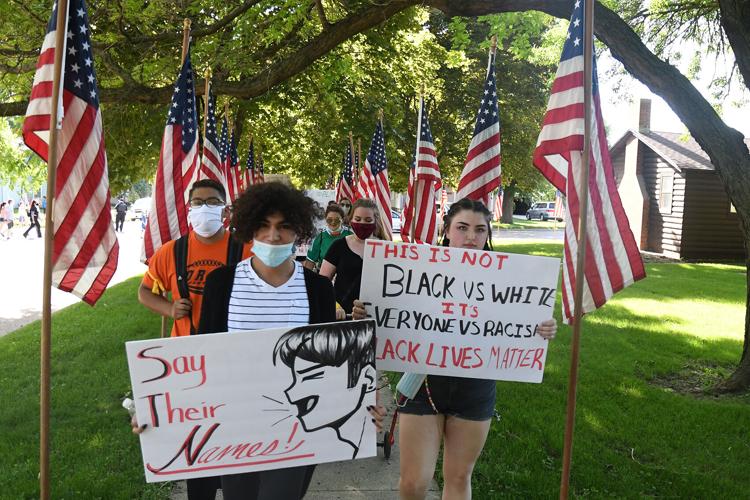 He said he was more nervous about coordinating the event since he had never organized a protest before than he was about the reception it would receive.
Ricardo said he noticed lots of people posting negatively about the racial justice movement online with comments such as "all lives matter" and "this is stupid" so he wanted them to see what it was about for themselves.
"I just thought that was dumb and people needed to know what was happening," Ricardo said.
"We were there to tell them, 'Hey, yes, all lives technically do matter, but right now we need to focus on the African-American community and don't be racist, pretty much.'"
Ricardo felt compelled to do this, which helped him overcome any fears about attaching his name to the event.
"It was more of something I felt I had to do, so it didn't phase me too much," Ricardo said. "When I got up there and I had to speak to people, it was kind of like 'Ooooooh.'"
The first question Ricardo received from family and friends when he told them his plan was whether or not it was going to be a peaceful protest, which was his only intent.
"I didn't see too much opposition to it; my family was really happy I was doing it," Ricardo said.
About 85 percent of the protests that have occurred in response to the May 25 death of George Floyd at the hands of a police officer in Minneapolis were peaceful, according to research from Ipsos, the University of Chicago and the University of Oxford in England.
Ricardo and the other organizers made sure to have plenty of masks and bottled water on hand for the crowd. He was stunned by the turnout, which was estimated at about 75 people.
"At first when we got there and I saw like a small group of people — I wasn't upset — I was kind of hoping there would be more people who wanted to come and show their support but then after a while — like after 10 minutes — all of sudden the whole parking lot was filled and I was like 'Whoa.'
"I was actually very impressed; I did not think that many people from Sheldon would actually come and vocalize their support and there were some faces there I did not expect to see at all."
Ricardo's willingness to vocalize his support for causes he believes in dovetails around his love of politics and his own personal beliefs.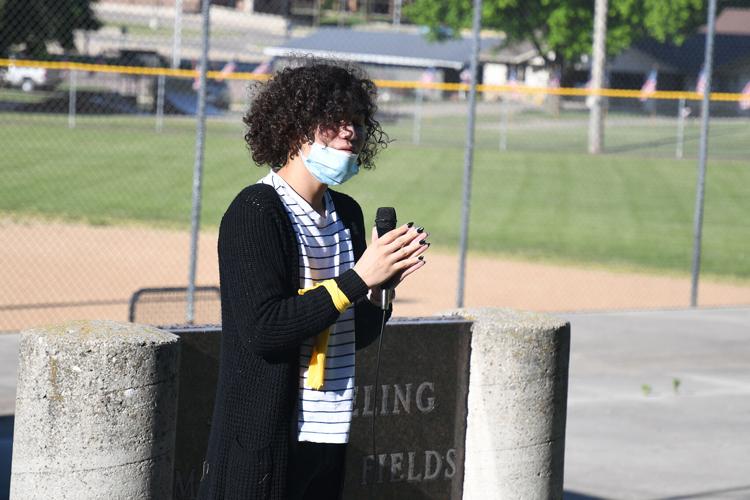 'Not a conservative'
While he is young, Ricardo has a keen interest in politics, which started around the time of the 2016 presidential election that saw Donald Trump voted into office.
Ricardo is a first-generation Latino American and Trump touted hard-line immigration laws as part of his campaign platform.
"I just remembered my parents being really upset about what was going on and then I started looking into it," Ricardo said. "At that time, I had some conservative views myself — mostly because of the people that I was hanging around — but then I started looking more and more into and I was not happy with what was happening.
"I just started looking into it a lot more and then I became very much not a conservative."
Although his viewpoints skew heavily to the left, Ricardo noted it has not caused too much dissension between him and his friends who lean right.
"I'd think that it would be a point of contention — because some people do just kind of divide themselves on their viewpoints and don't communicate with each other, but I have a lot of friends who are conservatives and we openly discuss our different opinions sometimes but I haven't see anything negative about that and they usually don't see me negatively," Ricardo said.
Because he and his friends share their differing perspectives, Ricardo said some of his conservative friends stood up for him when some of their schoolmates started formulating ways to disrupt his protest.
"There were some people who wanted to go and drive around in trucks, which some of them did, but some of my friends who were conservatives — I talked to them about it — and then they were like, 'Yeah, they probably shouldn't be going around and messing up the protest,' so they did actually end up helping us by telling people 'Don't go around driving your trucks and doing the flags; just don't do that,'" Ricardo said.
'Lowest point of my life'
Ricardo started sharing with people that he was gay about 18 months ago.
"Around middle school is when I realized I had attractions toward men, but I don't think I have ever had any sexual attractions to women ever before," he said.
Before accepting himself, Ricardo said he tried to suppress those feelings because it conflicted with his religious upbringing.
"I very much did not want to be — I used to be part of the church, I'm an atheist now — but I was a Catholic at that time and my religious beliefs made me think that I was wrong," Ricardo said.
"Middle school toward the end — especially seventh and eight grade — was just a very difficult time for me. I very much did not want to be a homosexual; that was probably the lowest point of my life."
Ricardo's struggles with how his church viewed his sexuality compounded with some bigger questions about the universe he pondered and that helped him make up his mind to leave the church, which led him to accept his sexuality.
"Leaving the church very much upset my parents and I remember my mom was very unhappy but she didn't talk to me — I think she was really upset at the time because she thought she failed and I just felt really bad at the time too — but at that point I felt great," Ricardo said. "That conversation was negative but didn't last too long; they kind of got over it eventually."
Ricardo started coming out to his friends in December 2018, about a month after he left the church, but he waited another month before he told his mother, Blanca Isela Rubio.
"I never came out to my dad, but I think he noticed," Ricardo said.
Ricardo noted he started showcasing more of his true self around the house, something he previously downplayed while at home.
"He just kind of picked up on it," Ricardo said. "I noticed he had very upset faces when he saw me dressed up but he never said anything. I think he's gotten over it now; it's been like a whole year."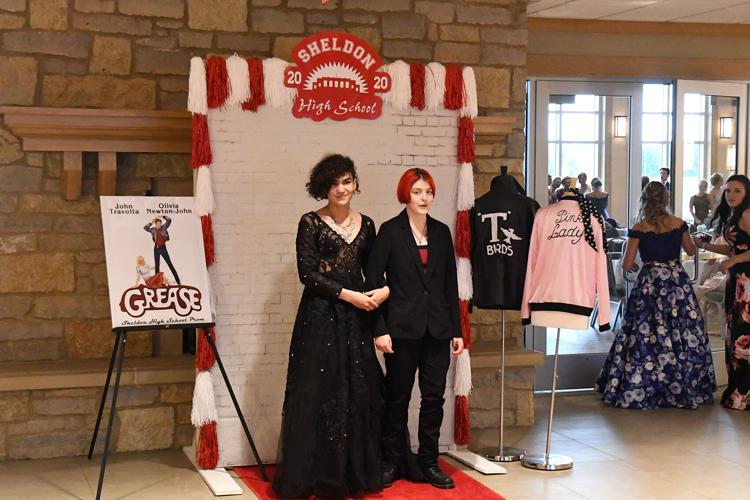 Ricardo said coming out to his mom was easier than having the atheism talk with her.
"My grandma's very, very religious and when my grandma came over my mom was like, 'Make sure you don't tell her because she's going to die if she finds out,'" Ricardo said.
The reception at school was a little different.
"Some of my friends were like, 'Yeah, I knew,' and I was like, 'Yeah, I know you knew,'" Ricardo said. "To some people, they were also surprised too and I was like, 'Really, were you surprised?' It wasn't that much of a shock."
Ricardo said some of his former guy friends from middle school were initially hostile to his news — and some still are — but a few have come around.
"Some vocalize their opinions about how they're very anti-homosexual, but they still talk to me and treat me with respect, which confuses me, but OK," Ricardo said.
'Make a lot of change'
As he prepares for his senior year at Sheldon High School, Ricardo has one big goal in mind.
"I really hope I can get my grades really high — I'm going to be honest — I've had really poor grades especially from earlier on in my life, which I will partially blame for my self-deprecation in middle school," he said.
Ricardo said he has made strides in his schoolwork since coming out because of how it has improved his mental state and knows what he wants to do next.
"I'm just hoping that I can do really good this year because I really want to go to Iowa State to pursue something with politics," he said.
"Maybe political science or international relations or something like that; still haven't decided."
Ricardo also has plans for that higher education once he receives it.
"I really want to be in a higher office and I want to make a lot of change," he said.