SHELDON—Bella Michels is $300 closer to accomplishing her goal of buying an iPhone.
The 10-year-old Sheldon girl won second place in the statewide Money Smart Week Poster Contest sponsored by the Community Bankers of Iowa and in conjunction with Citizens State Bank of Sheldon.
The prize for second place was a $300 certificate of deposit. The first-place winner received a $500 CD.
Bella's placement is the highest of any entrant from Sheldon in the contest's history, according to Heidi Brown, an executive vice president with Citizens State Bank.
In addition to setting new expectations locally, Bella's creation also beat out nearly 1,500 other entries.
Her poster, titled "WHEN YOU KNOW ABOUT $ IT ALL FITS," depicts a colorful array of connected puzzle pieces with each explaining a different area — such as food, health, home, and wants and needs — that a person should save money for and drawings that support the topic.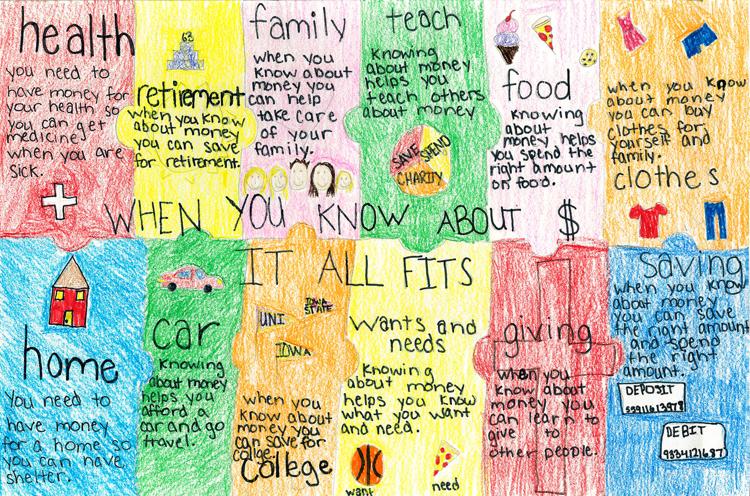 Bella's mother, Sarah, said the soon-to-be Sheldon Middle School sixth-grader chose to enter the contest on her own after seeing an advertisement for it and that she spent weeks drawing her poster.
Brown found out in early May that Bella was a winner and got excited.
Rather just giving her a prize, Brown collaborated with Sheldon Middle School principal Cindy Barwick and Bella's parents to arrange a surprise announcement at the school Wednesday, May 29.
Sarah said keeping the secret from Bella was difficult, especially because the youngster asked for updates.
"She knew at the end of April they were going to pick the winners and I kept saying, 'I don't know,' and then Heidi contacted me so I've known for like two or three weeks that this was going to happen," Sarah said. "I'm glad she quit asking, but I'm proud of her. It was something she worked hard on."
The special assembly was held in the school's media center and attended by all of the building's fifth-grade students. After a short message from Barwick, Brown took over the program and announced the winner.
"I need Bella Michels to come up front because she made this amazing poster and Bella's special guest should come in," Brown said, which prompted Sarah to emerge from her hiding spot in a room attached to the media center.
Bella ran over and embraced her mother after the reveal and then went back over to Brown who relayed the significance of the young artist's accomplishment to her classmates.
Afterward, Bella said she was not expecting to win or the surprise announcement. She did confess to her love of pizza, which is depicted on two puzzle pieces on her poster. Pizza Ranch is her favorite place to get a slice.
Brown thinks Bella's achievement — and the potential monetary gain — will inspire future participants.
"We finally have a Sheldon winner," Brown said. "Hopefully, it will help other kids know that they know you really can win."