SHELDON—The Sheldon School District's first day of classes Wednesday, Aug. 12, had its hiccups, but the district principals said it went well overall during the board of education's regular meeting that afternoon.
"It was awesome," said East Elementary principal Jason Groendyke.
Instead of speaking to his students at a schoolwide assembly the first day, Groendyke had recorded a video of himself speaking which teachers shared with their classrooms.
One thing he told the students in the video was that although every academic year is special, this one has extra meaning to it.
"That energy could be felt from the minute those kids walked into the building, whether it was just them walking in or with their parents," Groendyke said. "Some were wearing a mask and others weren't but every kid had a smile on his or her face."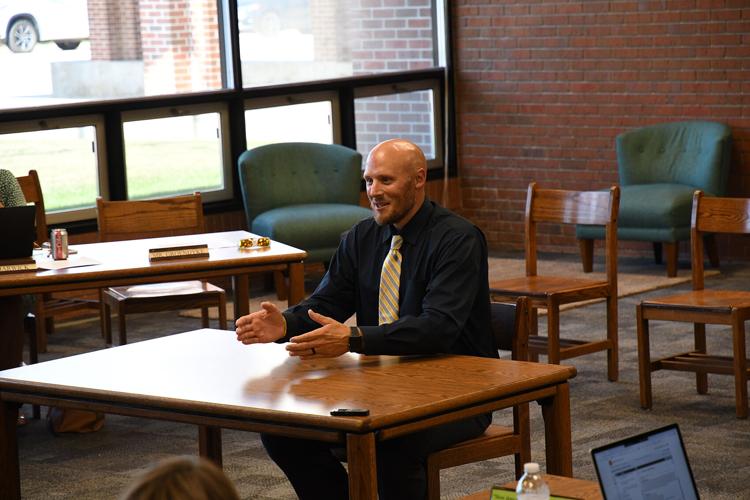 He said there were a few parts of the day that presented challenges. For instance, since students at East Elementary eat lunch in the gymnasium, everyone had to get used to entering and exiting out of the appropriate doors to avoid creating congestion.
Wait times for parents picking up their students at the end of the day also were longer than usual since fewer students were riding the buses and traffic lines extended farther than normal. Normally, pickups conclude at about 3:28 p.m. but the final car did not leave until about 3:45 p.m.
"It was the most I've seen for the amount of kids that have been picked up," Groendyke said. "Maybe that'll change, maybe it won't. But I hope parents are patient with us."
Superintendent Cory Myer said the number of students riding buses was only about 25 percent of what the district had expected going into the academic year.
"Where that will level out, we won't know for a week or so," Myer said.
Middle school principal Cindy Barwick also reported a good first day and described how she virtually connected with students without holding an in-person assembly.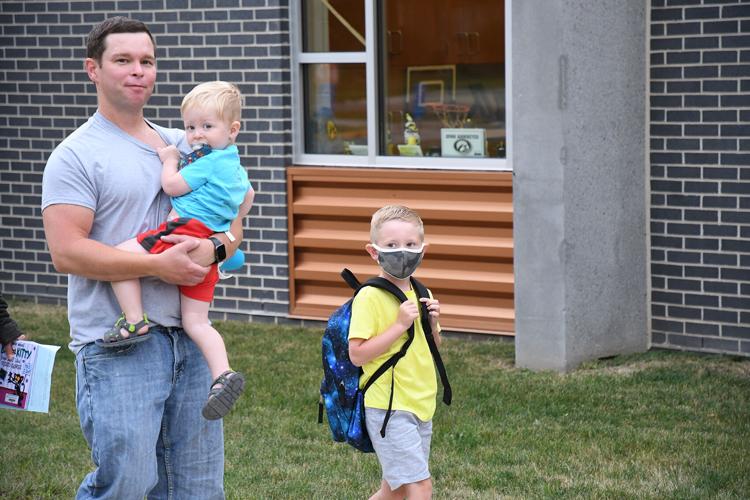 She put her laptop on a cart and walked around the school to different classrooms, where she would video chat with students and teachers using their rooms' Smart Boards. The teachers spoke a little bit about themselves to Barwick and the students, and at the end of the visit, each classroom gave Barwick an orange or black item to wear before she left.
High school principal Sherrie Zeutenhorst also said the first day back was a success.
Students met in their teacher adviser groups at the start of the day to go over health and hygiene by watching a video Zeutenhorst had recorded of herself talking about the rules.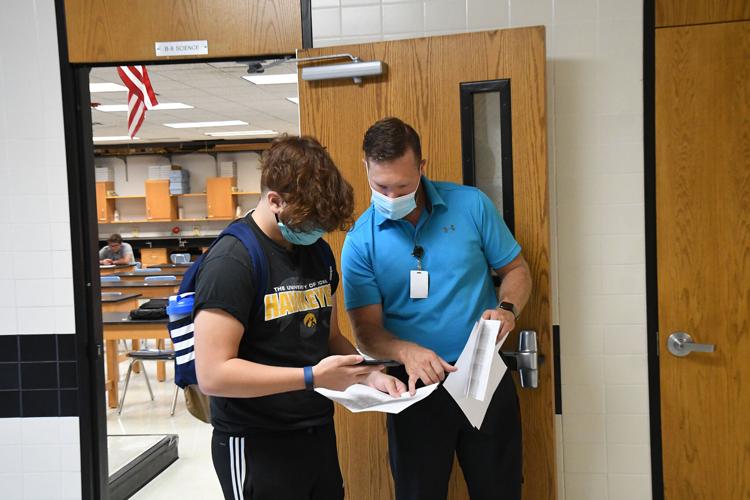 "Prior to that though, our student leadership team put their own kind of spoof on our school rules, which is a bit entertaining, a little more exciting than mine I would say," Zeutenhorst said.
"I feel more serious. Anyway, they did a great job. It was very fun. I would say our students came in just really, really happy to be back."