SHELDON—There will be no physical shelves of books for Sheldon School District students to browse for the annual Fall Book Fair, but there will be virtual ones they can explore.
The book fair, which is being held completely online due to the coronavirus pandemic, kicked off Monday, Nov. 2, and will continue until Sunday, Nov. 15.
District librarian Jan Kinderknecht, who works in all three school buildings and heads up the book fair, said the fair usually happens once in the fall at Sheldon Middle School and once in the spring at East Elementary.
The spring fair of the previous academic year was supposed to happen March 17 but was canceled as part of the school shutdowns that began that week. The fall fair usually coincides with parent-teacher conferences, but since those also are being held virtually, the district gave the go-ahead to also have the book fair online.
"This is something that Scholastic has been promoting. They've always had an online site for the last several years that you could go online during our actual book fair to order, but they offered this as an option," Kinderknecht said.
There are two ways students and their families can participate in the online book fair.
The first is by going to Scholastic's online store for the Sheldon School District — www.scholastic.com/bf/sheldonschools — to browse a selection of more than 6,000, books as well as activity kits and other reading resources.
The second way is by clicking on the Virtual 360 Book Fair link on the website, which takes users to a virtual-reality simulation of a gymnasium.
Book fairgoers can navigate the online space by dragging their cursor around and clicking on different areas. They can zoom in on virtual book carts sectioned out by grade level and then click on individual books to see what they are about, how much they cost. Short "book trailer" videos also are available to view.
"It makes it way more interactive than just a website where you go into a store and look through different books," Kinderknecht said.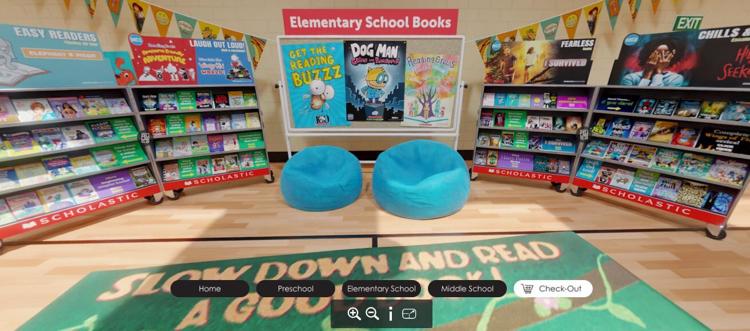 Since the district's book fairs are typically held at the elementary and middle schools, she said the offerings at each location tended to be specific to each school's age range. The online format this year however, opens up the fair to students of all ages and reading levels.
"It's preschool through young adult, and there's probably books on there even adults would enjoy reading," Kinderknecht said.
One downside she mentioned with the fair being virtual is students will not be able to purchase classroom items such as pens, pencils, rulers and highlighters that are usually offered at the fair.
In addition to buying books for their children, families also may get books to donate to teachers so the latter can add them to their classroom libraries.
"We're going to just kind of encourage parents that, if they are interested in buying something for a teacher, contact us or purchase something they like themselves and present it to their teachers through their kids," Kinderknecht said.
Books ordered through the virtual book fair will be shipped directly to families' homes instead of coming to the schools. Shipping will be free for any orders $25 or more.
"They'll get them within about seven to 10 days after ordering, they should be getting their books in, so that's kind of neat that they don't have to wait long for them," Kinderknecht said.
She said the district's book fairs at the elementary and middle schools usually receive lots of support from the community and are events students and their families look forward to each time they roll around.
A percentage of the money generated from the fairs also goes back to the libraries at the elementary and the middle school to purchase books and other additions to the spaces.
"It's nice to have that little extra money that we can use to promote reading," Kinderknecht said.