SHELDON—K-8 teachers in the Sheldon School District are starting a new chapter when it comes to how they teach their pupils to read.
East Elementary and Sheldon Middle School adopted a new reading curriculum at the start of the academic year designed to provide consistent reading strategies for students in the two buildings.
Instructional coach Stephanie Pritts spoke about the updated curriculum — titled "Into Reading" for grades K-4 and "Into Literature" for grades 5-8 — during the Sept. 14 school board meeting at Little Orabs Preschool.
Grades K-2 also will continue to use parts of their Really Great Reading curriculum to establish foundational reading skills for students, such as word identification, efficiency and accuracy. Pritts said other school districts that have adopted the "Into Reading" curriculum told her the two reading programs pair well together.
Similarly, grades 5-8 will continue to read novels as part of their reading coursework, but Pritts said they will apply strategies in the "Into Literature" curriculum while reading the books.
"They can take this novel that they're doing, and they can use the signpost, which is a close reading strategy," Pritts said. "They can use it at any grade level, any novel that they're doing. So, it's nice that they can intertwine those two things."
Teachers in the two buildings completed training on the new curriculum in August, although Pritts said adjusting to it will take time given how many components there are to it.
Educators at the elementary have been dedicating time in their regular Professional Learning Communities (PLC) meetings to going over the curriculum together. Pritts said the school also has a shared document in which teachers can put questions they have about the curriculum. She then can see the questions and provide answers everyone else can see too.
Additionally, Pritts will try to set up meetings with elementary teachers from nearby school districts which have adopted the "Into Reading" curriculum so teachers at East Elementary can collaborate with them.
The Kingsley-Pierson School District, for instance, also is in its first year of "Into Reading," while the South O'Brien School District is in its second. The Central Lyon School District has used the curriculum for a few years.
"They were a great resource," Pritts said of Central Lyon. "When I reached out to their coach, every teacher wrote down, 'These are the parts we like.' Everybody's been very helpful."
At Sheldon Middle School, teachers likewise have been meeting together to mentally absorb the "Into Literature" coursework and work through questions they have about it.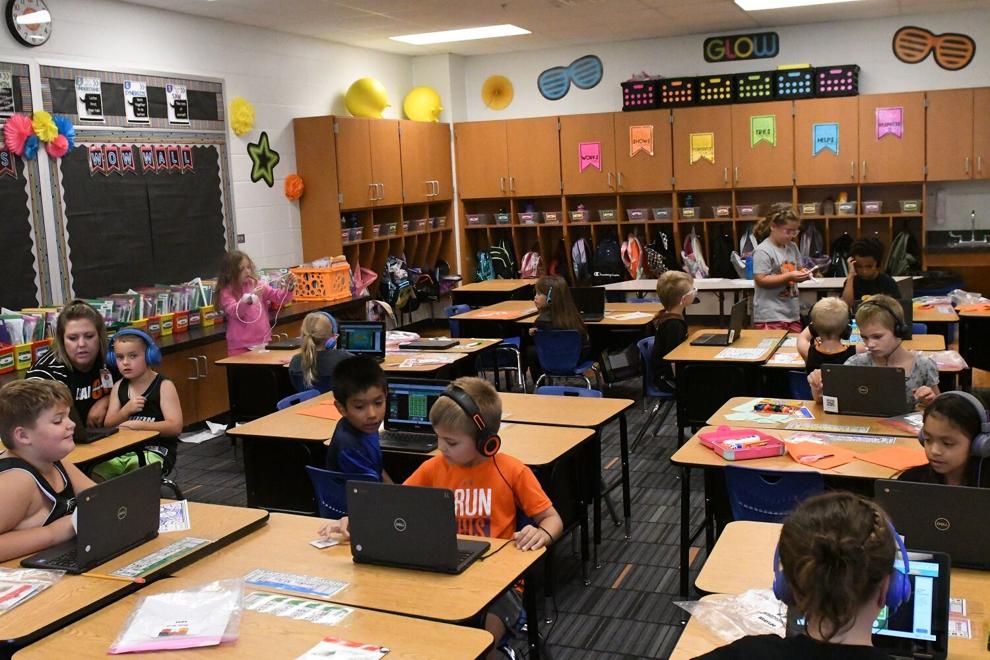 Learning a new curriculum is not an easy endeavor, and Pritts said the educators have been feeling stressed from the task. However, she recalled that was the case when the schools began using the previous reading curriculum and that it becomes easier for the teachers with time.
Pritts also has heard from teachers who enjoy teaching the new curriculum. For instance, she said middle school language arts and reading teacher Heather Keizer has been "taking off" with it.
Middle school Title I teacher Rachel Jurgens told Pritts she likes how the curriculum makes students think deeper about the texts they read and gives students of different grade levels a common language with which to analyze literature.
Another benefit of the curriculum is that students can engage with it through print or online versions of the texts. The latter medium can be translated into Spanish for Spanish-speaking pupils too.
School board president Susan Rensink asked if the students like the curriculum. Pritts said she had not heard much feedback about it from students, but she noted the new reading material was more challenging than the old curriculum.
Nonetheless, she said the updated material also is more engaging and relatable to the pupils.
"Honestly, I will tell you right now, my own son, personally — this is the first time he's ever come home and he shares stories with me of what they're reading about in reading class," Pritts said.
Rensink also asked if the Central Lyon and South O'Brien commented to Pritts about their most recent reading test scores after having adopted the curriculum. Superintendent Cory Myer said Central Lyon was recognized for having among the highest reading scores in the state.
Pritts said a big factor for Central Lyon's reading success is that its teachers are sticking with the curriculum and therefore providing educational consistency to their students.
"I constantly tell that to the teachers, I'm like, 'Stick with what it says.' I said, 'I know in your heart, you want to change it,' but I said, 'Stick with what it says for now, because this is research-based. It's based off the science of reading,'' Pritts said.
School board member Lori Richards asked how long a reading curriculum typically lasts before it should be replaced. Pritts said a curriculum usually stays in place about eight-10 years
"We did a five-year plan, then we'll revisit it after that and see," she said.