SHELDON—The Sheldon School District is less than a week away from welcoming back students to what will be a much different academic year from usual.
The district's first day of classes is Wednesday, Aug. 12, almost two weeks earlier than it would have been if not for the coronavirus pandemic.
"I think students, staff, families, everybody, is going to have an increased level of anxiety as we approach the school year,"  said superintendent Cory Myer. "There's just a tremendous amount of uncertainty and we recognize that but we also recognize the need to educate our kids and to get them back in school."
The district's three buildings — East Elementary, Sheldon Middle School and Sheldon High School — will have in-person classes but are taking several health and safety measures to avoid the potential spread of the coronavirus.
For instance, desks will be facing one direction in classrooms and will be sprayed with cleaning solution and wiped down after each class. The restrooms also will be cleaned frequently throughout the day.
Social distancing measures will be followed during lunches at all three buildings too.
At East Elementary, students will eat at tables set up in the gym to allow students to space out. At the middle school, tables will be limited to four students with one chair to be in between each person.
The high school meanwhile will divide lunch into three waves, with tables designated for students according to their wave.
No all-school assemblies will be held at any building; however, two grade levels will be able to meet in the gyms at East Elementary and the middle school provided everyone is spaced out from one another. One grade level at a time will be able to meet in similar fashion in the high school gym.
Drinking fountains will not be used in any of the buildings except for East Elementary's fountains that have bottle filling stations. Students in all buildings will be encouraged to bring clear bottles with lids to drink water from throughout the day.
Sheldon's private schools also are gearing up for an academic year in the coronavirus age.
St. Patrick's Catholic School will welcome students back to school on Wednesday, Aug. 19. Classes will be delivered in person, although students will have the option of hybrid or continuous learning if they prefer.
Students and teachers will be asked to wear masks and practice distancing in classrooms. The school also will provide face shields for all students and teachers.
"Students should wear masks coming into the building and leaving the building and then any time they are in close contact with other students and teachers," said principal Jessica Schmalen.
Desks and chairs will be spread farther apart in classrooms and at lunch to aid in social distancing. According to Schmalen, students also will be grouped in cohorts to help with tracing potential contamination.
"We're excited to have our students back in the building," Schmalen said. "We want to make sure we can keep everyone healthy and safe throughout the year, and we just look forward to being able to share the year with the students. And we realize that it looks a little different but we will do our best to make sure there is a positive norm in our school."
Sheldon Christian School is implementing similar steps around social distancing and frequent hand-washing for a return to in-person classes on Tuesday, Aug. 25.
"What we're planning on at school is cleaning high-touch surfaces and having some requirements specifically for the kids when they enter or exit classrooms where they'll be required to do hand-washing or sanitizing," said principal Marlin Schoonhoven.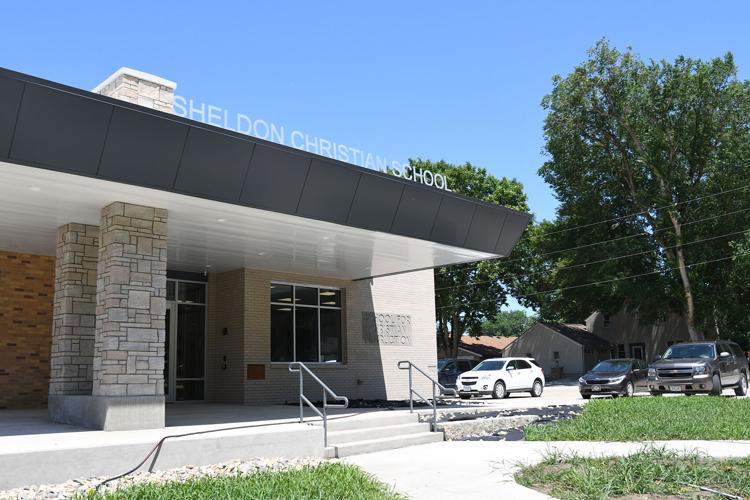 In group classes like music and physical education, the school plans to rotate students in 15-minute intervals or work in small groups.
Students and staff will not be required to wear masks, but Schoonhoven said they should feel free to do so if they prefer.
"We are placing responsibility on parents to do some steps to check their children before actually coming to school," he said. "If someone is not feeling well, we want to make sure they're taking care of themselves and not putting anyone else at risk."
Schoonhoven said Sheldon Christian School has a contingencies ready in case individual students or entire classes are absent due to sickness or quarantine.
"If we would have to shut down, we have a hybrid learning plan we could have going in pretty much 24 hours," Schoonhoven said.