SHELDON—Sheldon High School ushered in the new year with a new look.
The school set into place its new cafeteria furniture in the commons area over the Christmas holiday break.
The Sheldon School District Board of Education had bought the custom-designed tables, chairs, booths, benches and waste receptacles from Premier Furniture & Equipment of Waverly at a cost of $98,619.36. The board approved the purchase at its October board meeting.
Superintendent Cory Myer said the feedback he has heard from students on the new tables has been positive.
"The booth seating and the high-top seating has been a popular item," Myer said. "They enjoy the diversity that it provides, flexibility."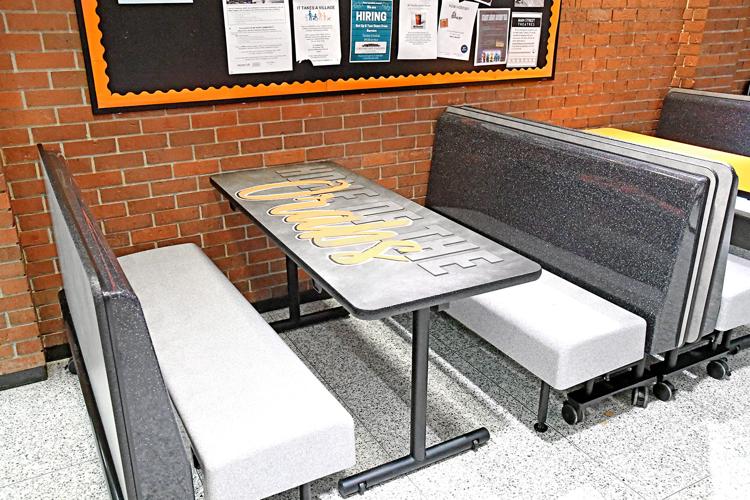 The new furniture includes booths at either end of the commons area, with a mix of high-top tables with unattached chairs and tables with attached chairs arranged in the center of the room. Four benches, which can be converted into long tables, are stationed along the wall outside the auditorium.
The benches, along with four of the tables with attached chairs and four of the booths, are emblazoned with the Sheldon Orabs logo design. All of the pieces of furniture have wheels on the bottom, meaning they can be easily moved around.
For junior Aubren Budden, the new tables are a welcome addition to the school.
"It's kind of a nice change," Budden said, while sitting at one of the new tables with his friends.
"They're nice," added junior Maison Oostra.
The school placed the old tables and chairs in storage. Myer said the school district has been in conversations with various groups in town that have expressed interest in buying the furniture, including the Sheldon Christian School.
"The Sheldon Christian School has interest in it and so I think about half of it's going to go there," he said.