SHELDON—Better too soon than too late is how Lyle Bolkema described his decision to move on from law enforcement after three decades.
Today (Wednesday, Nov. 27) is Bolkema's last day as chief of police in Sheldon, but he already has made peace with the decision, which he notes was his.
A retirement open house was held for him at Crossroads Pavilion event center on Monday, Nov. 25, and on Nov. 6, he delivered a six-minute retirement speech to the Sheldon City Council that ended in applause.
The rural Ocheyedan native joined the Sheldon Police Department in September 1989, was appointed chief on April 4, 2003, served in that capacity for 16-plus years.
"Ever since I was a little boy, I was intrigued by the thought of being a police officer, but I never really pursued that," Bolkema said.
"I really would have liked to have farmed, but that really wasn't an opportunity for me; my dad rented his farm and there was no future there for that."
After graduating from Western Christian High School in Hull in 1982, Bolkema attended Northwest Iowa Technical College in Sheldon.
'I'm grateful'
Bolkema studied agribusiness management for two years while also working at C&H supply in Sheldon.
"It was a farm supply store on the west end of Sheldon; it's were Love INC is," Bolkema said.
Bolkema worked on small engines, stocked shelves, manned the floor and sold items to customers at C&H.
"A little bit of everything," he said. "I really enjoyed that job and I'm grateful that I did it because there are things I still use."
Bolkema got to know a lot of people in town while working at C&H and built some relationships he still maintains. Oftentimes, customers would just grab something, tell him to charge it to their account and walk out of the store.
"They expected you to know who they were," Bolkema said.
While he enjoyed that work, Bolkema realized it was not what he wanted to do for the rest of his life.
He went back to college — this time at Iowa Lakes Community College in Estherville — to earn his degree in criminal justice.
"I knew when I graduated Sheldon PD was going to have an opening," Bolkema said. "I remember passing on a job at a different county east of here."
Bolkema and his wife, Brenda, already owned a home in Sheldon. Plus, she was gainfully employed, so they wanted to continue to plant their roots in the community where they eventually raised a son and two daughters here.
"I remember passing on that job hoping to get the opportunity here and, yeah, I got the police department job," Bolkema said. "That was in September of '89 when I got hired here and I've been here ever since."
'The real deal'
Bolkema remembers the moments where it became real to him that he was indeed an officer of the law.
"When you first put your uniform on the very first time, it's like, 'Wow, this is a lot of equipment, this is really heavy,'" he said.
"That was pre-bulletproof vest days as well, you know, it was like this is the real deal. And when you have this uniform on, people look at you differently."
For the most part, Bolkema said the gaze is respectful.
"You clearly don't look like the general public when you're wearing your uniform," he said. "It does command a certain level of respect from people. That took some getting used to."
Larry Locke was Sheldon's police chief when Bolkema joined the force. When Locke retired, Bolkema applied for the job because he wanted the challenge and the opportunity, a decision he jokingly questions.
"When you go through bad times, you're like, 'Wow, why did I wish for this?'" Bolkema said. "But it's something that was there and it was like, 'If I don't apply for it, I'll probably regret it so I think I need to throw my hat in and try it.'"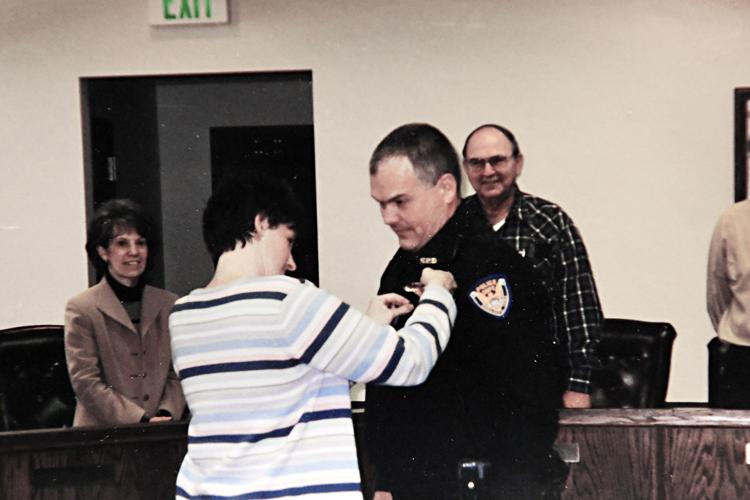 One of the things Bolkema used as a guiding principle during his time as chief was his Christian faith. He grew up in a family that went to church twice on Sundays minus a few weather-related exceptions.
"Hopefully, it guides you in how you do your job every day," Bolkema said.
Although he is retiring from the police department, Bolkema will continue to work and already has something lined up. He considers employment a blessing and plans to be an active member of the workforce for as long as he can.
Office David Dykstra will be sworn in as interim chief at 12:30 p.m. today and the council approved hiring a consultant to help find Bolkema's permanent replacement last Wednesday.
As the city of Sheldon searches for his successor, the outgoing chief has a few words of encouragement for whoever gets the job next.
"Do your best. You will make mistakes along the road, but come to work every day and do your best. Treat people like you would want to be treated yourself," Bolkema said.
"You will soon get to know who your friends are and who your friends aren't and if you can do that, you will be able to look at yourself in the mirror every day and say I did my best."