SPENCER—Sheldon residents Morgan and Stephen Mack have been subject to countless instances of racism for being a mixed-race family living in N'West Iowa.
That did not deter them from helping organize a Justice for George Floyd march on Thursday, June 4, in Spencer or from sharing their experiences with the crowd of about 550 who showed up.
The Macks spoke to the audience after the demonstrators marched through downtown Spencer demanding justice for 46-year-old Floyd and countless other black people who have died in police-related incidents throughout the years.
Floyd was a black Minneapolis man who died in police custody May 25 after an officer knelt on his neck for nearly nine minutes. Floyd's death has ignited Black Lives Matter protests around the country in which demonstrators have been calling for an end to police brutality and a reckoning of the United States' ongoing legacy of institutional racism.
"My son is currently in fifth grade, super smart, one of the funniest kids you'll ever meet," said Morgan Mack, who is white.
"So tell me why it's fair that I have to hold him crying because kids at school tell me he can't participate in something because of his skin color or crying because on the bus, he'd been called names, such as the N-word?"
She also explained backlash she received from people who learned she was involved in organizing the march in Spencer.
"I got threats thrown my way. I received messages from people such as, 'If this goes wrong, your name is on this and you won't be hard to find," Morgan Mack said. "Or other messages saying, 'I hope you know we'll have a welcoming committee here in Spencer waiting for you when you arrive here on Thursday.' I'm not going to lie, it scared me but also made me see that this is all the more reason that we needed to have this event."
The Macks used to live in the Clay County seat community and chose to hold the event there because of it is one of the biggest cities in this corner for the state.
Stephen Mack, who is black, shared an episode of racism he faced a few months after moving to Spencer from Chicago. When his car died in traffic, he went to a gas station in town with his sister to get gas for it. He had given his sister the money to pay for the gas and remembers the cashier inside seeing him give her the money.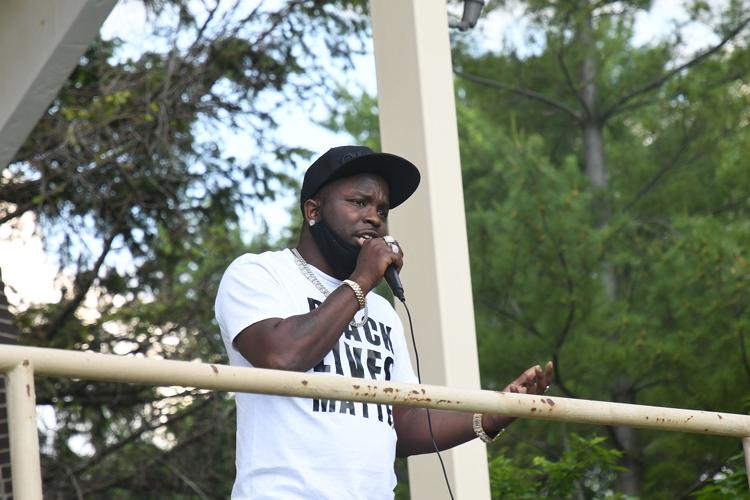 Nevertheless, when he went to fill up his car, a police officer pulled up to him and said the store had called 911 to report that he had not paid for the gas.
"I literally walked in the store and gave my little sister the gas money and she gave it to these people, right?" Stephen said.
The officer told him the store still wanted to press charges against him for not paying.
"It's not the police all the time because I've had very good experiences with police officers. At the same time, I've had very bad experiences with police officers," Stephen said.
Ty Rushing of Sheldon — who is the managing editor of Iowa Information Publishers and Printers, which publishes The Sheldon Mail-Sun — also recounted instances of racism he has experienced.
"I've experienced so many racist moments in my 33 years living as a black man that I've actually forgotten about some," Rushing said.
One such instance was when a group of young white men had driven past him while he was at football practice in middle school in Kansas City, KS, and called him and his friends the N-word.
He also recalled the first time someone called him the N-word for his work as a reporter in an e-mail: Dec. 31, 2017.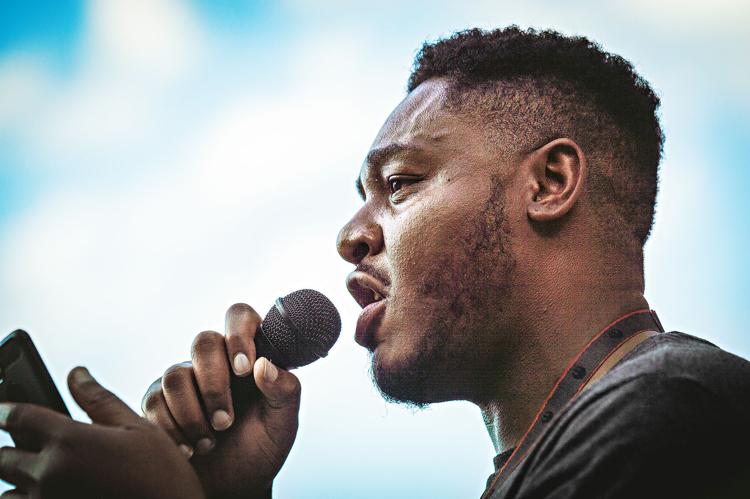 Rushing said the scariest incident of racism he faced was in 2008 while he was a college student in Kansas City, MO. He had pulled over on the side of the road and put his flashers on when his car started acting up.
A police officer pulled up behind him, reached for his service weapon and ordered Rushing to go inside his car to get his license and registration. Another officer later pulled up to the scene.
"The officers then told me they wanted to search my car because I was in an area known for drug sales and they suspected that I was a dealer," he said.
The officers proceeded to search his car and a nearby sewer drain for drugs.
"After they found nothing, one of the officers told me, 'I'm going to call you Houdini next time I see you because I don't know how you made those rocks disappear,'" Rushing said.
"I was a 21-year-old college student when this happened. Just about every black man has a story like this, or in the case of George Floyd, Alton Sterling, Philando Castile, Mike Brown and countless more, it ends in far worse than snarky remarks and sore wrists, which is why we are here today. The system needs to change. We need reform, we need accountability, and most of all, black and brown people need true allies in order to stop the racism, racial profiling and police brutality."