SHELDON—It was a win-win situation at East Elementary's Thursday, Nov. 11, since students were able to exercise their leadership skills while honoring the service of Sheldon military veterans.
Third-graders fanned out in rows along the gymnasium floor as they oversaw the proceedings of the monthly student-led assembly that afternoon while the rest of the school observed from the bleachers.
Since the occasion coincided with Veterans Day, the pupils kicked off the program with the Pledge of Allegiance followed by a chorus of "The Star-Spangled Banner."
The student leaders also recited a readers' theatre-style history of Veterans Day, noting how the holiday commemorates the armistice agreement that ended World War I in 1918.
"An armistice means that the fighting is done," the third-graders said.
The patriotic portion of the program concluded with a slideshow featuring photos of Sheldon veterans past and present as well as their relationship to students, staff and faculty at East Elementary.
"That's just a great way to honor our vets and it makes people feel special, because, 'Hey, I see my mom, my dad, my grandpa — whichever relative up on the wall and it gives you that sense of pride," said East Elementary principal Jason Groendyke.
The school has switched up its Veterans Day assemblies in recent years. Groendyke said in the past, he has led the annual event and the school would have veterans come speak to the students.
The shift to the student-led approach, however, gives pupils a greater sense of ownership and responsibility while still driving home how important military veterans are to the country.
Groendyke compared veterans with superheroes such as Superman and Ironman and pointed out to the students that the former are real heroes, unlike the fictitious comic book characters.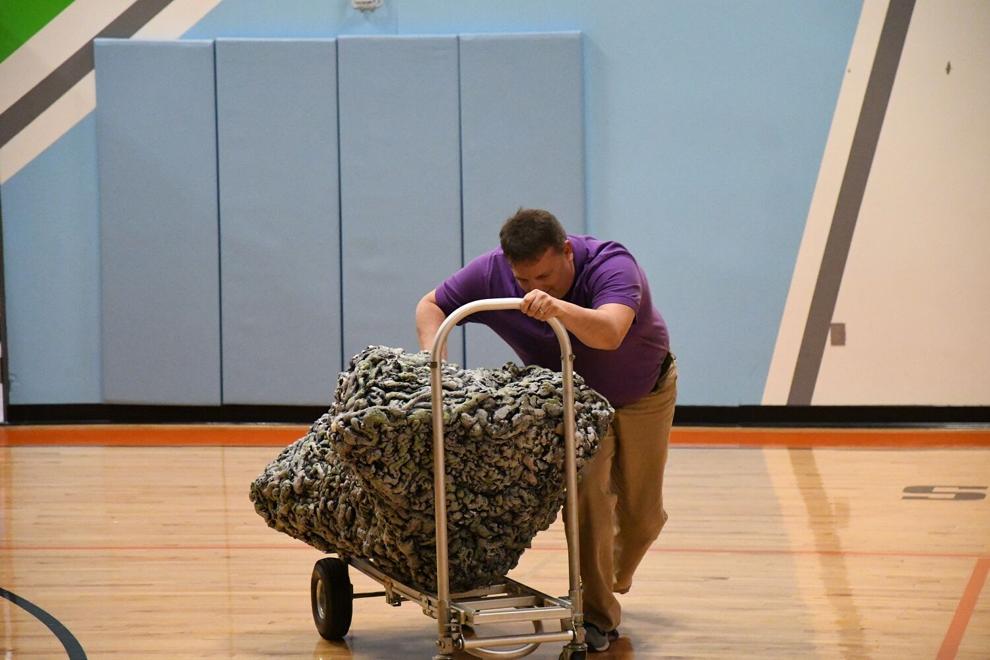 "That's what we want them to understand too: A veteran is an ordinary person," he said. "It's a doctor, it might be a teacher, it could be a mailman, whatever, it's an ordinary person, but they gave that ultimate sacrifice and continue to give that sacrifice."
The second part of the assembly focused on the third Leader in Me habit — putting first things first — from author Sean Covey's 1998 book, "The 7 Habits of Highly Effective Teens."
To illustrate this habit, third-grade teacher Scott Buchholtz set out to fake rocks on either side of the gym floor: a big one and a little one. Then a row of nine students read off different scenarios and asked their peers in the audience if each situation was a "big rock or little rock" — or in other words, if the dilemma was a big one or a small one.
For instance, in one scenario, a student's parent gave them a different snack than they wanted after school. In other, a student has to decide whether or not to wear their winter coat on a cold day. The audience determined the first situation was a little rock while the second was a big one.
"A lot of times we make things bigger than what they really need to be and so, we're trying to teach kids to prioritize what's really important to you. If it's something small, don't dwell on it. It's not a big deal. It's not a big rock," Groendyke said of the exercise.
The third-grade teachers have likewise been discussing this and the other habits for success with their students in class.
Lindsey Wittrock said her pupils completed a similar exercise on their computers in which they had to rank five prompts from biggest to smallest in importance using the rock imagery.
The teachers noted their classrooms — as well as the school more generally — have incorporated the language of the habits for success into their everyday vocabulary.
"We always try to bring it back to: What you're upset about, is this a big rock or a small rock? If it's a small rock, how should we be handling this?" Buchholtz said.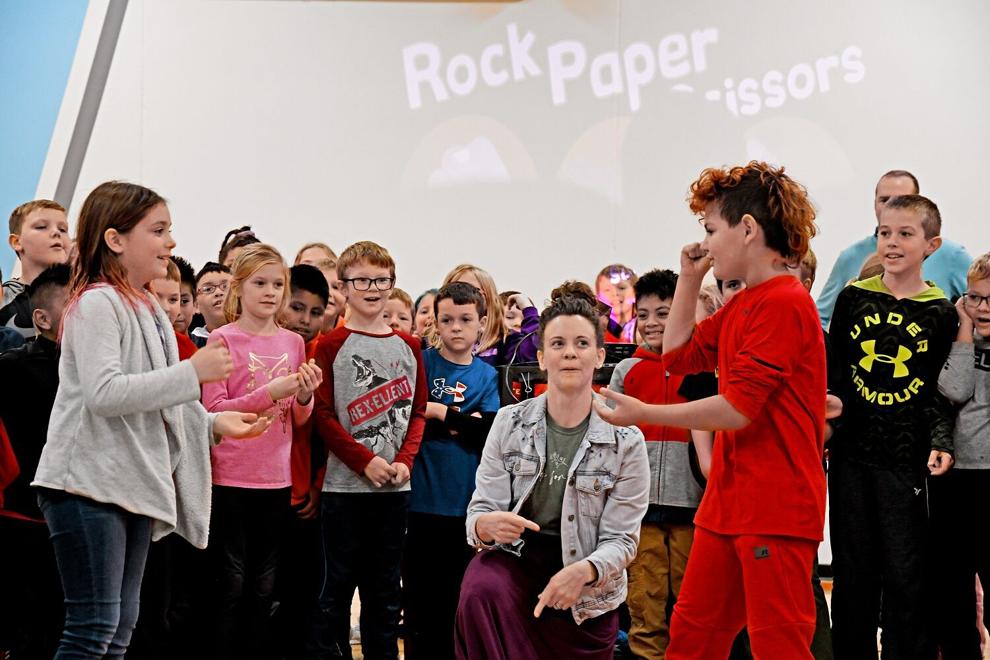 Ann Jansen recalled instances at recess in which she's heard her students mention other habits, such as being proactive or thinking win-win.
"It's becoming part of the norm of their life," Jansen said.
The assembly concluded with competitive fun as the third- and fourth-grade classes broke out into several rounds of rock paper scissors until two champions — third-grader Amelia Winkel and fourth-grader Javier Adame — faced off in a final round. Adame emerged as the victor.
"That's a good way to get them involved and a good way to have that climate and culture," Groendyke said. "It's positivity, that's what we want."