SHELDON—Sheldon High School's dual-credit college welding class is sparking students' interest in pursuing a career in the manufacturing industry.
"I already had two of the kids say they're looking at switching their majors in welding after they get out of here because they've enjoyed it so much, and they're realizing how much potential there is in it as a career," said high school welding instructor Jacob Fox. "That's been a big part of the class."
The basic welding class takes advantage not only of the new state-of-the-art welding lab at Northwest Iowa Community College in Sheldon, but a partnership between Sheldon High School and three N'West Iowa manufacturers that lets students visit the businesses.
Fox's students spend the first few weeks of the course in his classroom learning welding theory and safety expectations. They then spend two weeks at NCC's welding lab for hands-on practice learning different types of welds.
"Having access to the facilities out here, which are state of the art, has been fantastic," Fox said. "You can only do so much at the school shop, and having this partnership with the community college is invaluable. It's been great."
He also noted the students enjoy being at the facility and that several have commented being able to weld in the lab over the noon hour is the highlight of their day.
After the two weeks at NCC, the students spend one week each at Maintainer and Rosenboom in Sheldon and Demco in Boyden touring the facilities, meeting employees and trying their hand at welding.
"Basically, we're just trying to get as much hands-on practice as we can before we go to those businesses so they have that knowledge they need to excel once we get out there," Fox said.
NCC welding instructor Robert Hoting said he enjoys having the high school students visit the college's welding lab, which underwent an expansion in 2019.
The facility grew from about 2,300 square feet of space to 6,000 square feet and went from 18 welding booths to 30.
"It's pretty top notch compared to the old one," Hoting said.
Some of his college students also lend a hand in supervising Fox's 15 students while they are in the lab, which has helped Fox handle a larger-than-usual class size. In the past, the class had about six or seven pupils.
"We had a bunch of kids wanting to join, and we had the extra space so we said, 'I think we can handle this,'" Fox said.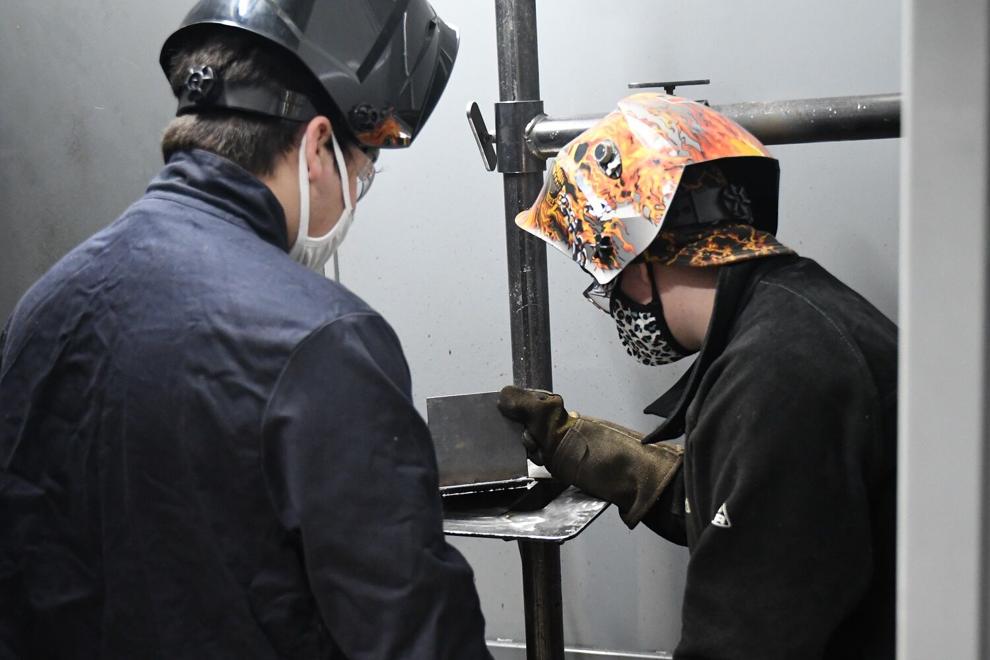 Most of the students are juniors and seniors, although three are sophomores.
The arrangement for the high school students to visit the three area businesses originally sprang out of the need for a welding space as the NCC lab was being renovated at the close of the 2018-19 academic year.
The school district collaborated with Kristi Heisinger, sector facilitator and career coach for the Northwest Iowa Regional Manufacturers Partnership, to form the high school's partnership with the businesses.
"It's really valuable. It gives those kids that hands-on experience, it shows them some careers that we have here in northwest Iowa available to them," Fox said.
The basic welding class is the only welding course Sheldon High School offers, although since students get college credit through NCC, it opens the door for them to further their welding education at the community college if they choose.
Hoting recalled instances in the past in which Sheldon High School students have been able to take enough college welding courses during their junior and senior years that they were able to complete the program just a few months after graduating high school.
"It can be done if it's planned correctly," Hoting said.